Sipping a drink called "Cardinale," composed of caper-infused gin, I ponder the intricacies of Dante's Inferno. Perhaps that isn't as odd as it sounds. After all, I'm staying at Villa La Massa, a hotel in Tuscany's Chianti wine region, not far from where the storied Florentine poet, Dante Alighieri, was born. Shades of him crop up everywhere. I feel Dante in the glow of the golden, late afternoon light, which illuminates the outdoor patio where I sit poised above the Arno River. I hear Dante in the harmonious purr of the water as it flows by. When I study the 13th-century villa's exterior, I notice that Dante, who lived during the time the villa was built, appears metaphorically amongst the building's ornate embellishments and period architecture. Lyrically, Dante melds into the adjacent, eden-like garden, his palpable essence like the heady scent of lemons, olives, and cypress, a perfume redolent of a bygone time. Still, what summons thoughts of the Inferno most at this blissful Tuscan moment is the temptation I yield to as I nibble an enormous charcuterie plate. Dante-style gluttony, this artful arrangement of Tuscan cheese, Prato mortadella, prosciutto, salami, capocollo, house-made pickles, and artichokes surely counts as a sin. Would Dante have put me on the fast track to hell for enjoying this as much as I do? I pray not.
More on how Dante's Inferno Thoughts Connect to Villa La Massa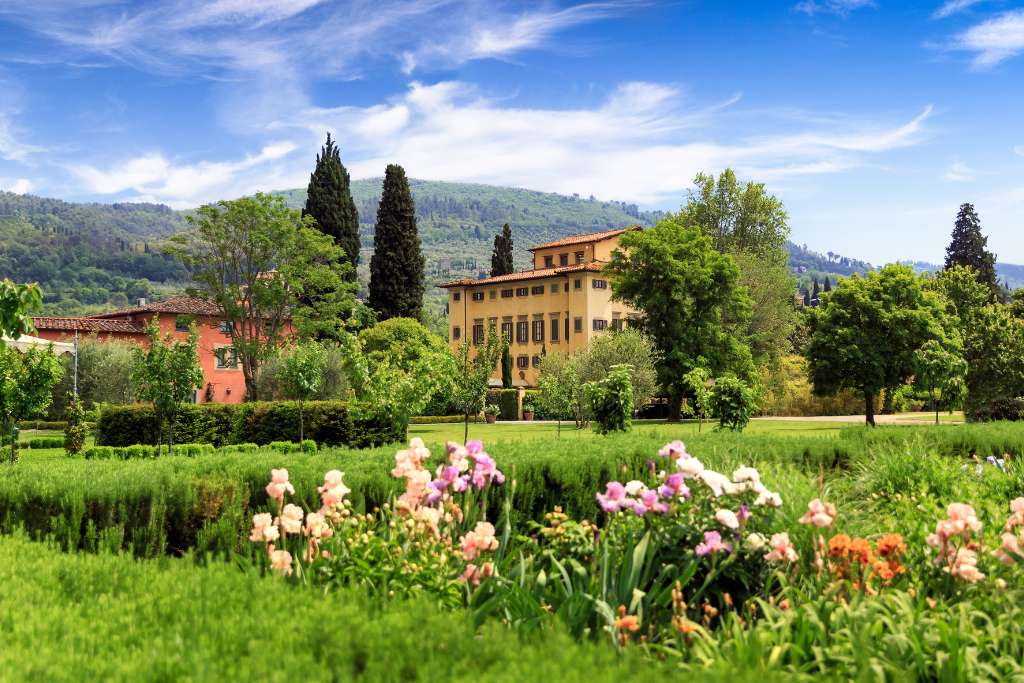 Gluttony, according to Dante, was the third circle of hell, an odious place where overindulgent folks — people much like me who love gastronomy just a little too much — end up ever working off their last big meal in the gym. (Okay, Dante didn't envision the inferno as a gym, but hellish workouts do dance in my head as I seize another earthy crust of bread to pair with a chunk of pungent goat cheese.) In truth, I refuse to label the enjoyment of Tuscany, a phantasmagoria of fine food and drink, as an immoral act. Never could such feasting be called a cardinal sin. So, with apologies to Dante, in my caper gin-muddled head, I redefine the poet's third circle of hell to be a righteous destination where those who eat guilt free reign as the most virtuous. Sipping my Cardinale, gobbling up my aperitivo, I realize that I'm quite proud of reimagining Dante and his damning circles of hell. As if reading my mind, General Manager Elisa Peroli, an epicurean herself, waltzes over to my table, urging me to eat more. "Remember she says: calories don't count in Tuscany."
Six Reasons Why Villa La Massa Will Be the Best Stay of Your Life
The Location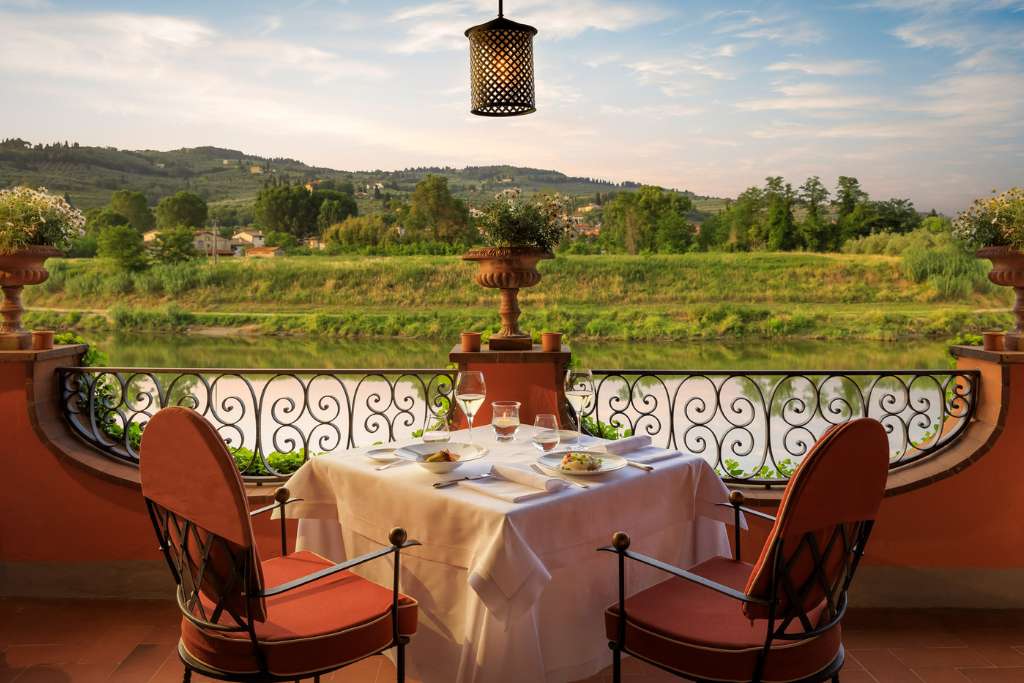 Quintessentially ensconced amid the Tuscan hills on the banks of the storied Arno River, this 13th-century villa lies just a 15-minute drive from Florence's central city. In Chianti's heartland, surrounded by bucolic countryside, it offers both the timelessness of the reclusive Tuscan villa experience, as well as easy access to Florence's buzzy bounties from museums to shopping.
The Pedigree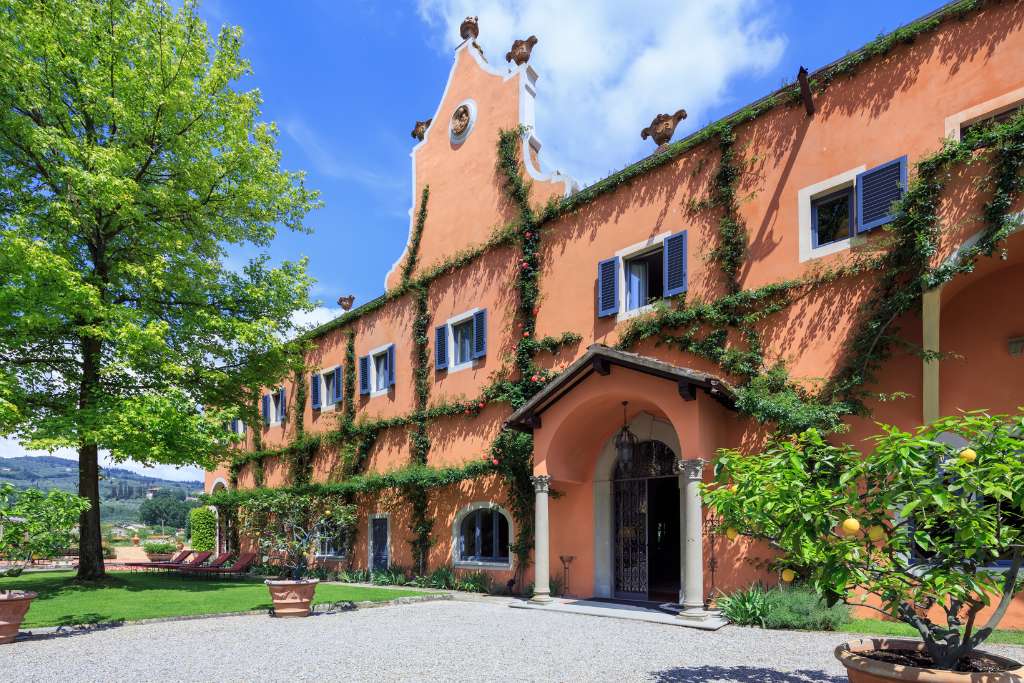 For centuries the residence of peerless aristocrats, tony Villa La Massa vaunts sister status with Lake Como icon Villa D'Este. The two exclusive hotels share world-class service, pampered accommodations, unforgettable dining options, riveting vistas, and unparalleled opportunities to immerse in regional activities and sense of place. Fun Fact: Iman and David Bowie married at Villa La Massa in the 1990s.
The Grounds
Set beside the Arno within a 25-acre garden scape, the hotel features 51 rooms and suites arranged within five unique, classically Tuscan buildings, some of them centuries old. A gorgeous vegetable, herb and flower garden, and an olive grove beautify the property, an inviting pool anchors a lawn, and the original villa evokes Florentine flair.
The Architecture and Interiors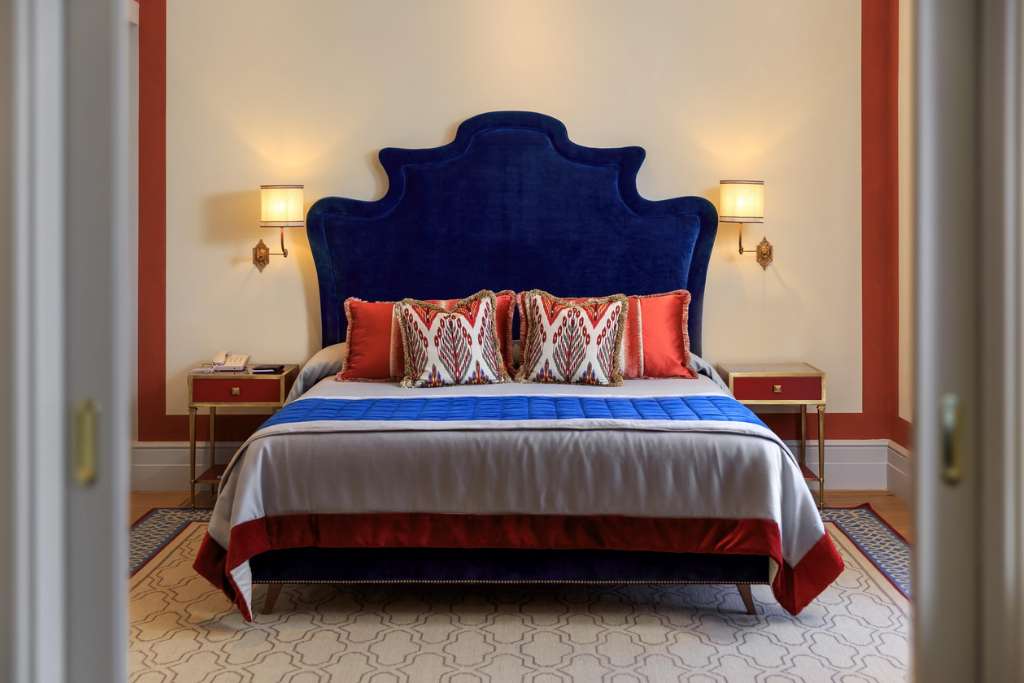 First implemented by the Etruscans, Tuscan architecture draws from the terrain, including elements of rough-cut stone, stucco, baked barrel tiles, and ornate wrought iron adornments. At Villa La Massa, you'll find history reflected in the property's various buildings, each exemplar of the setting. Look for arched doorways, spacious rooms, and oversized windows. Overall, totally renovated interiors borrow from Renaissance lavishness with rich fabrics, canopy beds, frescoed ceilings, marble bathrooms, stucco medallions (you will have seen similar ones in the Uffizi Gallery), and hand-crafted furnishings. Two newer buildings, Casa Colonica and La Limonaia exude more contemporary Tuscan motifs.
Breakfast at Il Verrocchio
The hotel's main dining restaurant, helmed by Executive Chef Stefano Ballarino, rules as a trove of Tuscan gastronomy at any time of the day. But I loved the restaurant's expansive breakfasts most of all, a spread which seemed a love letter to the region. From local honey to house-made pickles to caramelized onions to hearty breads, Il Verrocchio's spread celebrates the terroir. Expect the best cappuccino of your life.

Drinks at the Medicean Bar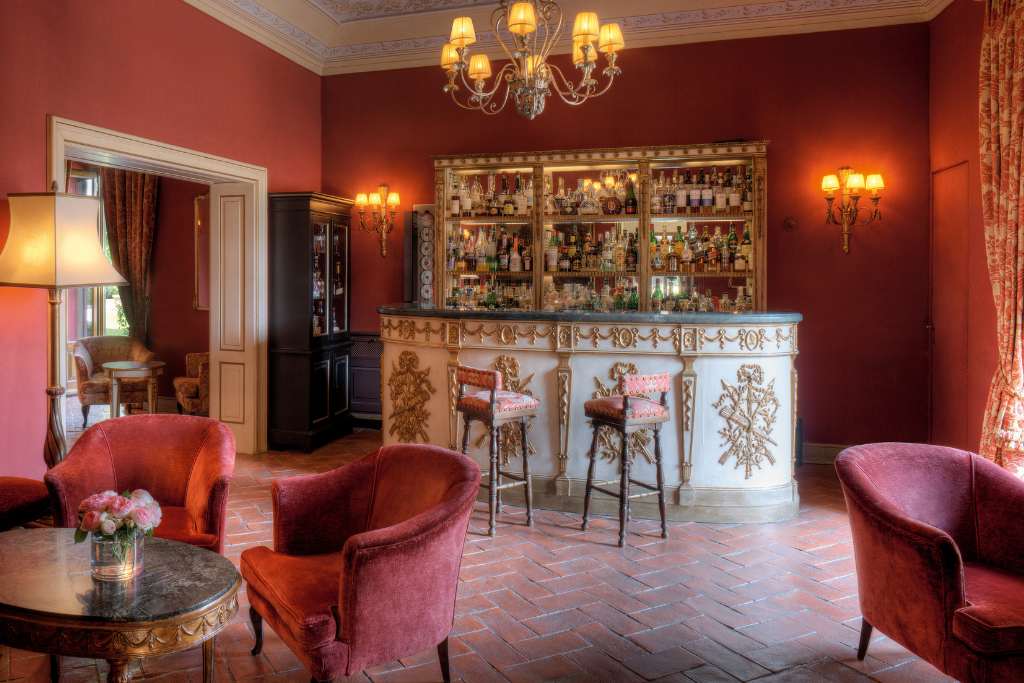 A fanciful nook in the villa, the Medicean Bar sports frescoes, gild, ornamentation — and an astonishing good bartender. Put your thirst into the hands of resident mixologist Alessio Baneschi who has created a tremendously creative cocktail list that honors both the past (think classics made with monk-inspired liqueurs from the renowned Officina Profumo Farmaceutica di Santa Maria Novella) and the present (drinks such as the Cosmo-like concoction, "Like a Virgin," created to honor famous guest, Madonna). He'll also conduct cocktail classes, which I recommend.
Pizza at L'Oliveto Bistrot
Next to the glamorous pool, this casual dining haven excels in simpler Tuscan fare from pasta to pizza. Do yourself a favor and sign up for a cooking class with handsome Lorenzo Bertin, the sous chef at Il Verrocchio Restaurant.