Music City is always a good idea. Creativity runs deep in Nashville, where residents and guests enjoy world-class museums, theater performances, and, of course, live music. But the city is also in the epicenter of Tennessee's culinary scene, with hundreds of new restaurants popping up in and around Nashville in the past few years alone, transforming it into a food lover's mecca. And, of course, you can't leave without exploring the many distilleries producing some of the best whiskey and bourbon in the country. And if you're not a fan of strong spirits, then you'll appreciate Music City's bustling craft brewery scene, indulging patrons in everything from classic Pale Ales to hard ciders. Finally, there's the sheer joy of walking down Broadway Street in downtown Nashville, admiring the eclectic blend of neon signs, honky tonks, and historic architecture.
And if that isn't enough to make you want to book a trip, we put together a list of our favorite Nashville Airbnb rentals — each stands out with unique amenities and character. From Taylor Swift and Dolly Parton-inspired stays to sleek modern houses with panoramic views, here are the best rental homes in Nashville.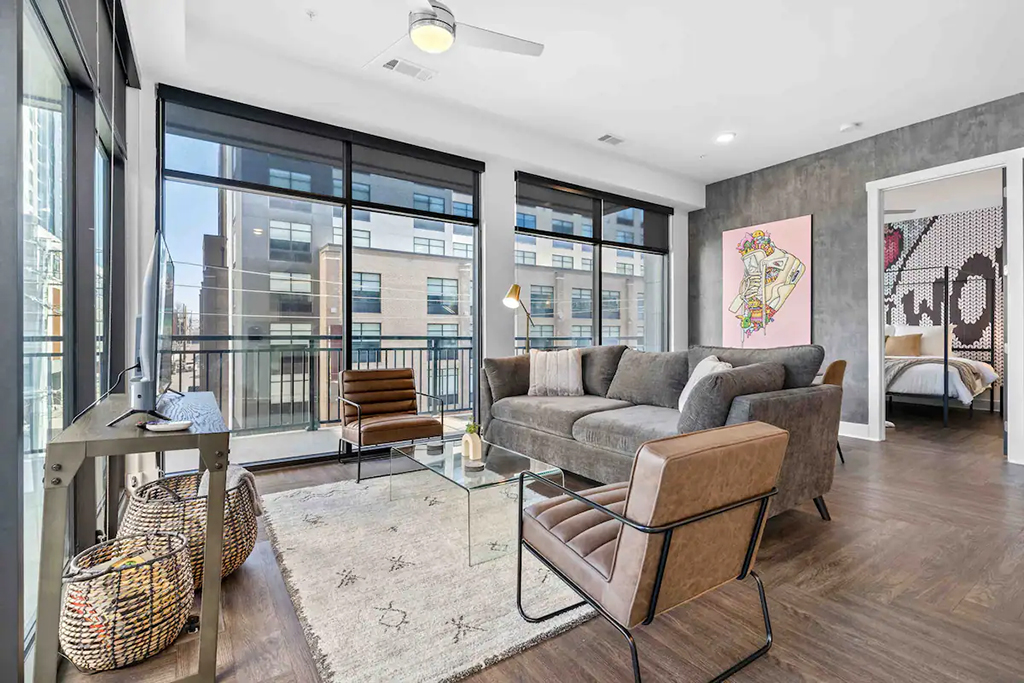 Corner Apartment in Downtown Nashville
This two-bedroom, two-bathroom condo puts you at the heart of all the action in Music City. Enjoy floor-to-ceiling windows with panoramic city views, modern décor with unique artworks throughout the space, a spacious private balcony, and resort-style amenities such as a swimming pool, a gym, and a rooftop lounge.
To book: Airbnb.com
Taylor Swift-inspired Condo
Calling all Swifties! The owners of this bright one-bedroom, one-bathroom apartment have transformed it into a shrine for the former Nashville resident, who started her career in Music City. From the all-pink interiors (that's giving Barbie vibes, too) to the eclectic décor featuring a guitar-shaped table, a red-lips sofa, and plenty of Taylor Swift-inspired artwork, you are up for a memorable stay. There's even a balcony inspired by Swift's "You Need to Calm Down" music video.
To book: Airbnb.com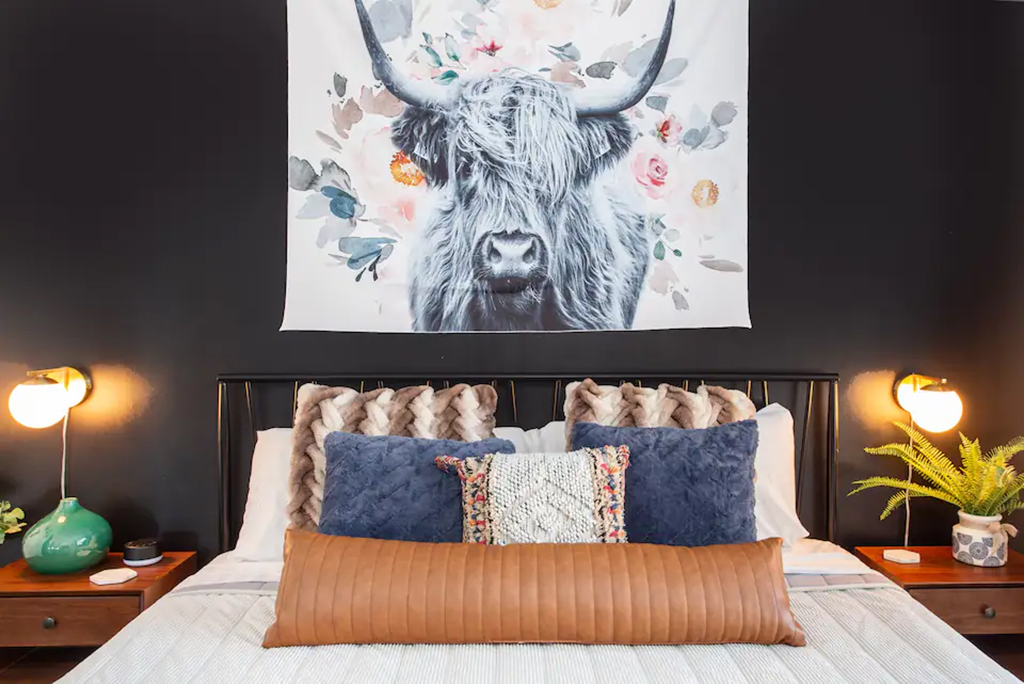 Large Apartment Next to Broadway Street
Booking this two-bedroom apartment means you can walk to some of Nashville's most famous landmarks, live music clubs, and restaurants on Broadway street. The large condo has plenty of sunlight, floor-to-ceiling windows, beautiful décor, and a very Instagram-friendly plant wall in the living room. Guests also have access to the building's amenities, which include a lounge space with firepits and grills, a library, and a gym.
To book: Airbnb.com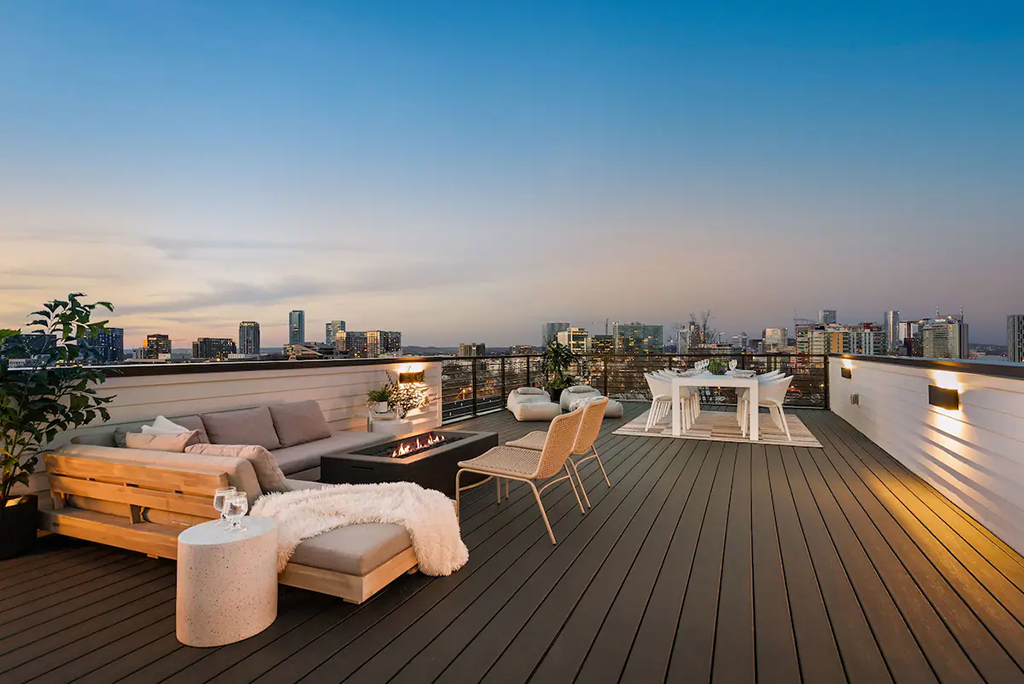 Modern Downtown House with a Hot Tub
Experience the luxe side of Nashville in this ultra-modern townhome within walkable distance from the Gulch. Relax with a drink in the rooftop hot tub while enjoying the spectacular city views. The house has a chef kitchen (and you could hire a private chef to prep your meals), several balconies, soaking bathtubs, and a large fire pit.
To book: Airbnb.com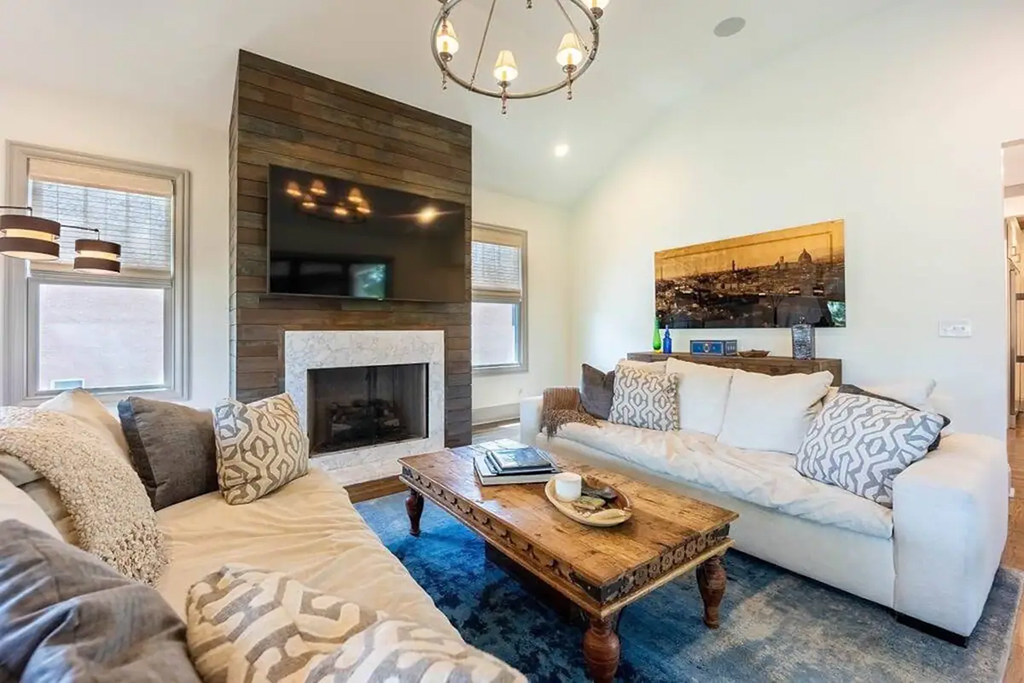 Craftsman Cottage
This house is an excellent option for families or groups of friends who want to stay away from the hustle and bustle of Nashville at night yet close enough to walk to all the bars and restaurants. It's a craftsman-style home with a spacious backyard, fire pit, and many beautiful features like exposed wood beams, brick walls, and a fireplace. There is a covered patio with outdoor lounge furniture and a grill, too.
To book: Airbnb.com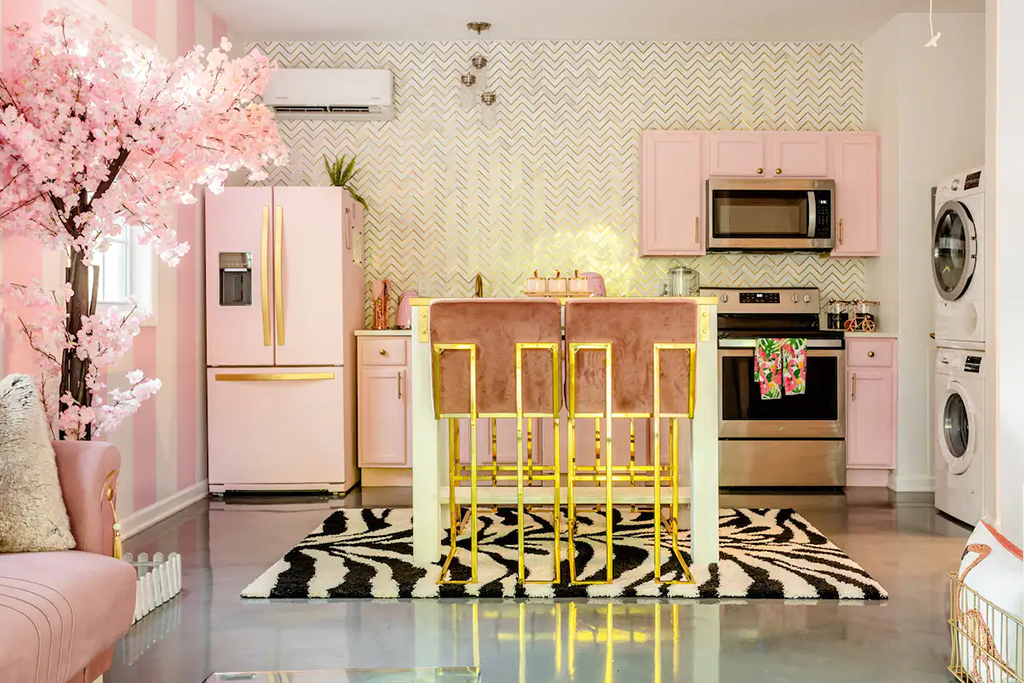 Pink House with a Pizza Oven
Eclectic doesn't even begin to describe this unique home, dubbed "The Nashville Pinky," tucked away in East Nashville, a quick taxi ride to Downtown. The one-bedroom, one-bathroom gem of a house looks like a movie set out of Barbie with its pink striped walls, pink vintage kitchen appliances, and flamingo-printed wallpaper. Outside, you'll find a cozy covered patio outfitted with movie theater chairs, a movie projector, a fire pit, and a wood-fired pizza oven.
To book: Airbnb.com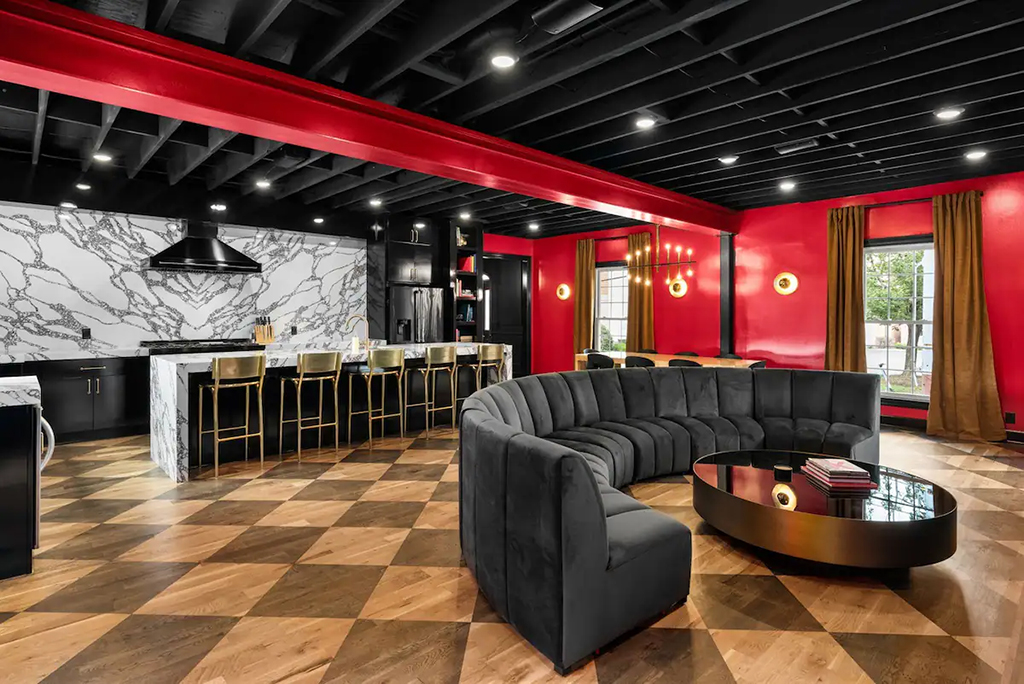 Unique House with a Pickleball Court
You really can't miss the red-hot façade of this four-bedroom, seven-bathroom home, with a private pickleball court in its backyard. But it gets even more interesting from the inside. Each of its beautifully decorated rooms is painted differently, such as the dramatic navy blue bedroom or black living room/kitchen.
To book: Airbnb.com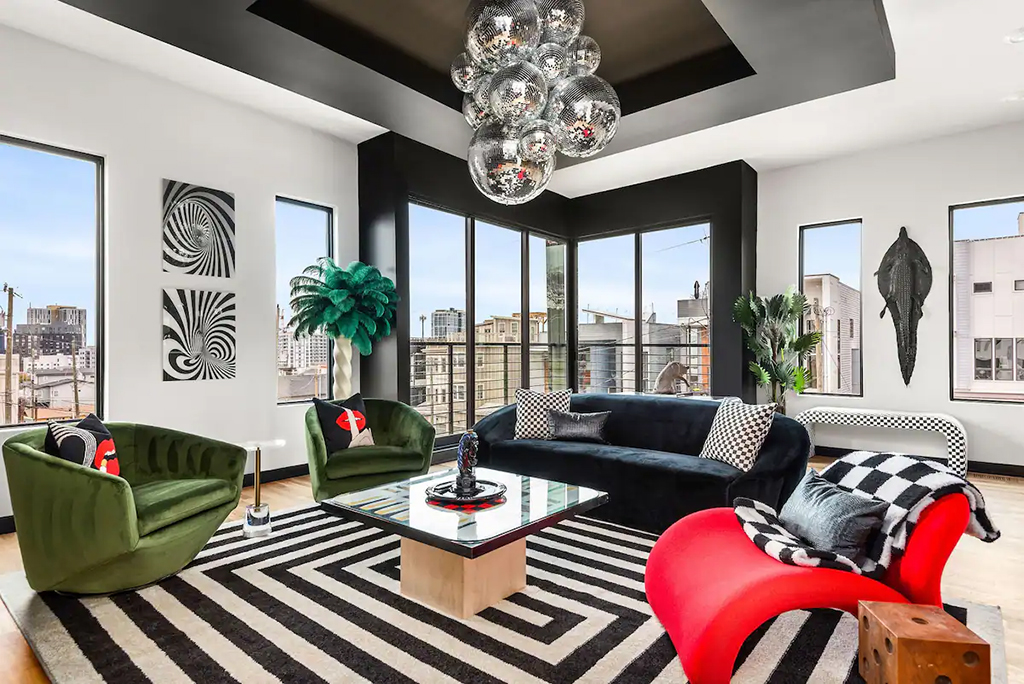 Instagram-Worthy House
This home has a magazine-worthy décor that you won't get tired of looking at — art installations, striking wallpapers, custom furnishings, and modern amenities. Its best feature, though, is probably its rooftop deck, that's been redone as a movie room so you can enjoy your favorite flicks under the stars.
To book: Airbnb.com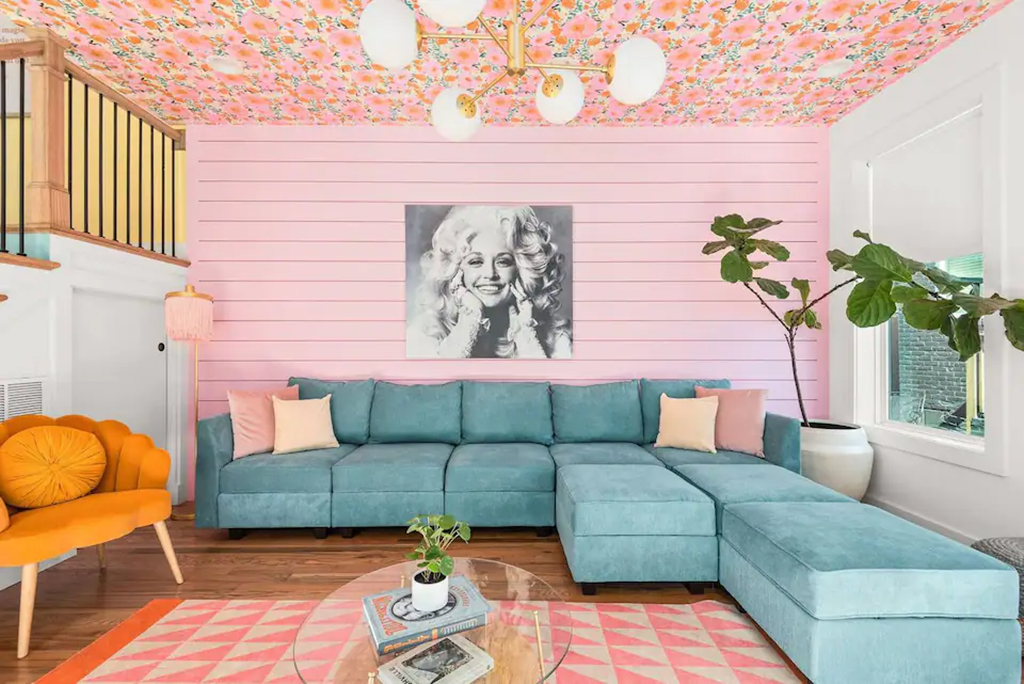 The Dolly House
Of course, there's a Dolly Parton-themed home in Nashville. And this one is a pastel-hued dream that boasts eight bedrooms and seven bathrooms full of color and hotel-worthy amenities. A rooftop deck with a fully stocked bar awaits guests, as well as other thoughtful and on-theme design touches such as a disco ball and Dolly Parton posters.
To book: Airbnb.com