It's taken me a while to get on the whiskey train (the wine train was easier). It might have had something to do with a less-than-ideal first experience with brown liquor, but I suspect it's more about age: young palates sometimes have trouble appreciating lingering, mouth-filling flavors of smoke, peat, and oak. But just as I've come around to the bitter bite of Campari, I've found that whiskey is almost refreshing in its clarity. Sipped neat or with a cube, it makes itself known, then hangs on for a bit, just to make sure you're paying attention.
Unlike wine drinkers, who generally need to open a bottle if they want to get into the good stuff, whiskey aficionados can go where their mood takes them. Luckily, whiskey-centric bartenders are skilled matchmakers, adept at, say converting a drinker from bourbon to rye with a bottling that balances assertive pepper with sweeter spice or uncovering a single-malt whisky with just the right touch of smoke for a stormy evening.
So whether you're a whiskey newbie or an old pro, consider heading to one of these establishments, where choices abound and there's always something new to taste.
Parlour Room, New York, New York
Dark wood, tufted leather, and sumptuous velvet evoke a turn-of-the-century supper club at this Herald Square establishment, where signature cocktails with names like The Raven and The Gatsby Royale were inspired by classic literature, and heritage cocktails are created using vintage recipes. Purists can choose their dram from a collection of more than 500 bottles of whiskey, or partake in one of nine themed flights — a bourbon versus rye smackdown and the chance to taste four rare bottlings from around the world — each curated by beverage director (and former sommelier) David Orellana. Don't miss the aged Scotch experience, which offers sips of 25- and 26-year beauties or the chance to sample Bruichladdich's unpeated Black Art series.
Old Elk Distillery, Fort Collins, Colorado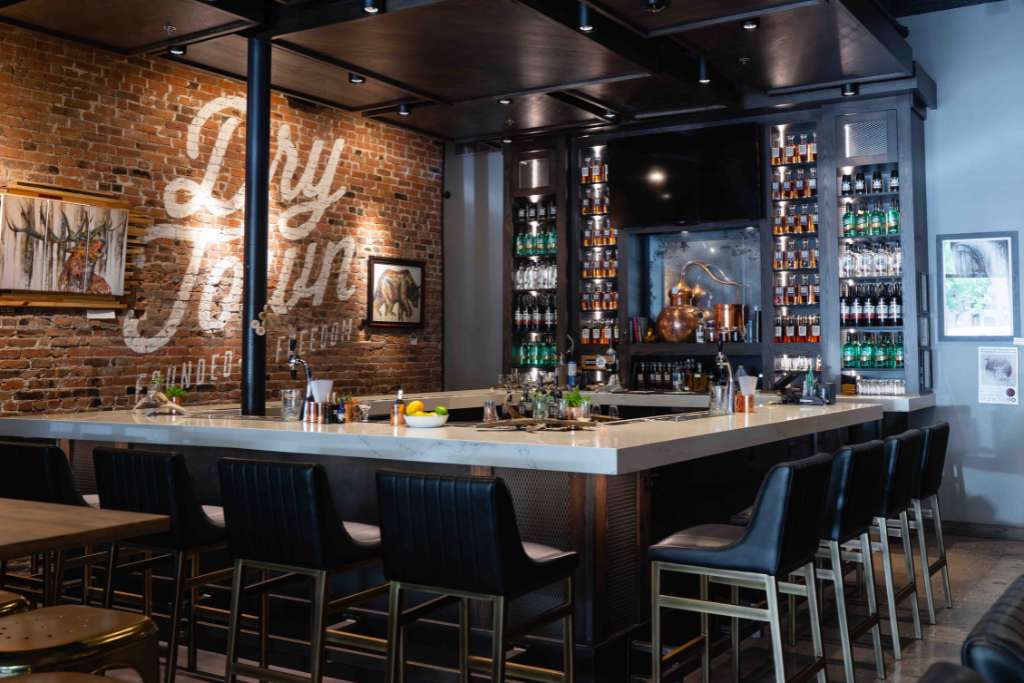 If you find yourself drawn to craft beer and grower Champagne, consider making a trip to Fort Collins, Colorado, where Old Elk Distillery is using an exceptionally slow distillation process to fashion craft whiskeys that overflow with subtle flavors and aromas. It's easy to see why: Old Elk's Master Distiller is Greg Metze, who, in a previous life, is said to have overseen the creation of iconic whiskies for Bulleit, Angel's Envy, and George Dickel. Tastings are available at the Reserve, Old Elk's in-town tasting room, but the real fun is at the distillery, where guests looking to invest in their own barrel can sample an 8-year Signature High-Malt Whiskey, 7-year Wheat Whiskey, 7-year Sour Mash, 6-year Rye Whiskey, and a newly available Martinique Rum Cask Finish Rye Whiskey.
Delmonico Steakhouse, Las Vegas, Nevada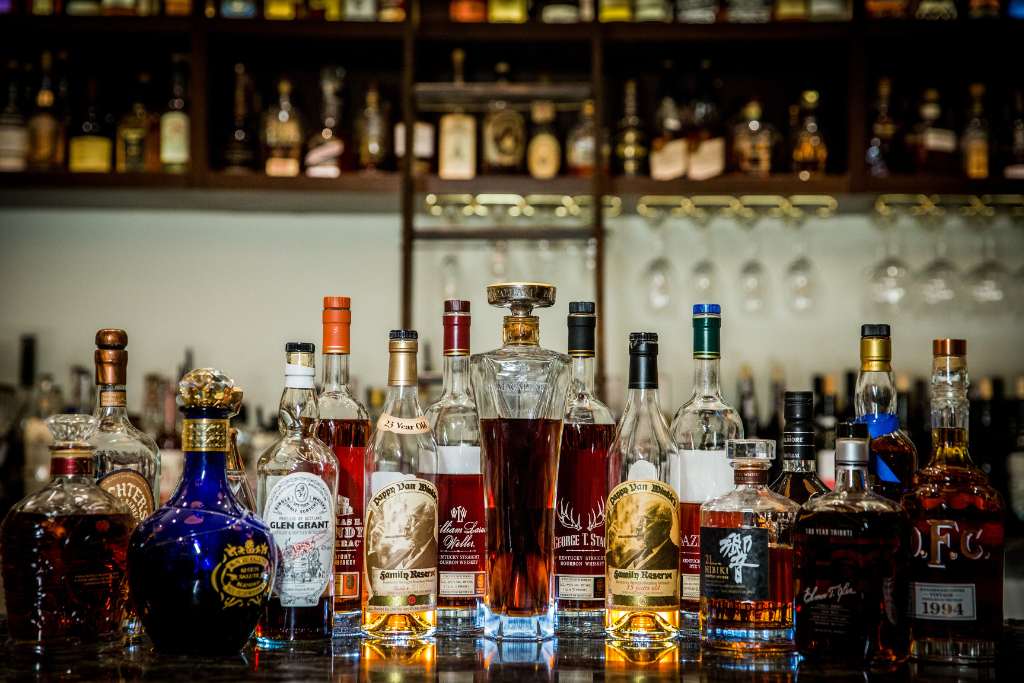 Whiskey lovers will hit the jackpot at Delmonico's, a steakhouse that ups the ante with more than 700 bottlings. Delmonico's began building its extensive library in 2010; since then, rare and special-label bottles that include Pappy Van Winkle 13-year Rye, Talisker 30-year Ardbeg Supernova, Jura 35-year and Chivas Regal 62 Gun Salute, have been added. Special tastings or whiskey dinners can be arranged for the Chef's Table, or just sidle up to the bar and order the signature Strip View cocktail, an enticing blend of exclusive W.L. Weller Antique 107 Single Barrel Select bourbon (which was matured for eight years and four months at the Buffalo Trace Distillery in Kentucky), sweet vermouth, and Yellow Chartreuse.
Eight Row Flint, Houston, Texas
Don't let the casual vibe of these bars fool you — thanks to owner Morgan Weber's passion for spirits, serious whiskey is being poured here. The legendary bottle collection includes 15-year-old Barrell Bourbon, Michter's single barrel 10-year rye and Hochstadter's 18-year Lock, Stock and Barrel; there are also several exclusive single-barrel whiskies, look out for the WhistlePig Bull's Eye, which was aged for 18 years in in Madeira, Sauternes, and Port casks. Perhaps best of all, half pours are available.
WhistlePig Pavilion, Stowe, Vermont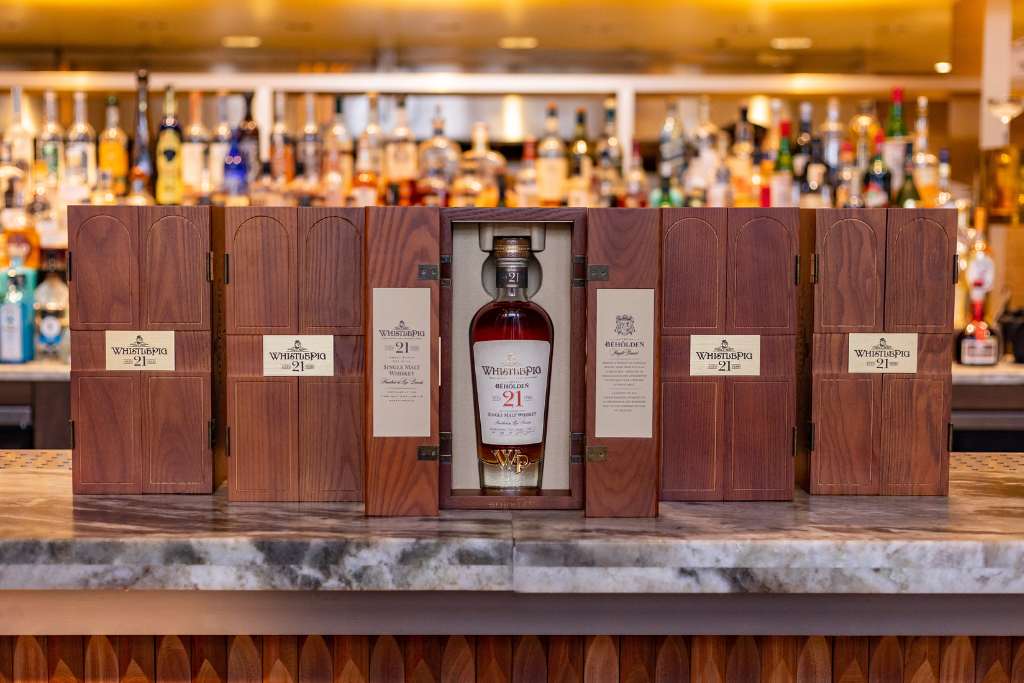 Open for après ski and summer sipping, this enchanting indoor/outdoor space and concert venue at Spruce Peak Resort focuses on WhistlePig, the highly regarded rye whiskey made just up the road in Quechee. Fun libations by bar manager Katie Thompson abound, including a hot buttered rye in the winter and a blueberry julep when the weather warms, but you can also go neat, perhaps with a dram of Beholden, WhistlePig's just-released 21-year-old single malt whiskey.
The Next Whisky Bar, Washington, D.C.
You might come to The Next Whisky Bar for the design — the dramatic space is highlighted by a sinuous wall of 2,500 custom whiskey bottles and voluptuous cherry-red chairs — but you'll stay for the whiskey, more than 280 in all, from around the world. The fact that the bar is located within the infamous walls of the Watergate Hotel only adds to the intrigue.
Featured image credit: Canva