Long a source of fascination and camaraderie for humans, animals — both domesticated and in the wild — humble us, teach us,and transform us. Just ask any pet owner what they feel when they look into the eyes of a beloved cat or adored dog, and they'll likely describe it as a soulful bond, a connection that goes beneath the layers. Beneficial to our health, pets have been lauded in untold medical studies for positively lowering our blood pressure, fending off depression, giving us purpose, promoting selflessness, and teaching us to love unconditionally. But the benefits don't just happen at home. Animals in the wild also positively affect us. They awaken compassion, spark curiosity, and open our hearts — a triad that stands as the centerpiece for transformational traveling, a vacation trend focused on making life (and trips) more meaningful and helping to shift us to a new place.
I've bathed and fed elephants in Thailand, gazed upon tigers in India, had my mood lightened by pandas in China, been enthralled by naughty monkeys in Bali, and gazed at leopards in Sri Lanka — among other amazing encounters in Asia. Below find life-changing adventures, each sure to open your heart, make you smile, and connect you to the universe.
Black Necked Cranes in Bhutan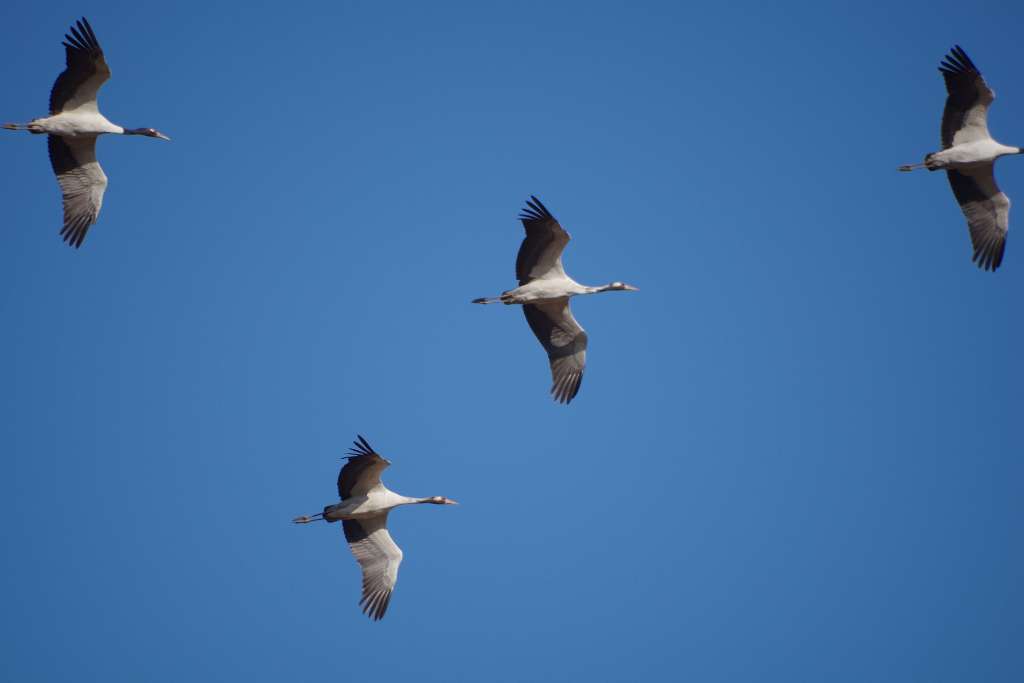 Vibrant, exotic Bhutan was the last country on earth to introduce television. Maybe that's because they had the seasonal opportunity to be entertained instead by the endangered Black Necked Cranes who occupy the remote, tiny kingdom from October to mid-March each year. Check into Gangtey Lodge, a Small Luxury Hotels of the World member inspired by the vibe of a Bhutanese farmhouse. The hotel, hovering above the Phobjikha (Gangtey) Valley, offers a variety of programs to immerse guests into the uniqueness of Bhutan, including the opportunity to gaze upon these special birds, revered as a local symbol of longevity. Take note of their large size, bright red crown, and coal black neck, then yield to Gangtey's traditional Bhutanese hot stone bath to seal your successful bird-watching day.
Proboscis Monkeys in Borneo
Further flung, Borneo with its swampy coastline and mangrove forests reigns as one of the most biodiverse spots on earth. It brandishes some 15,000 plant species, not to mention orangutans and proboscis monkeys in an expanse that ranks as the world's third largest island. Stay within the protected Abdul Rahman Marine Park at Gaya Island Resort, where guests can hike the Proboscis Monkey Jungle Trail deep into the rainforest. Winding through an area that remains the domain of approximately 100 captivating, distinctively long-nosed proboscis monkeys, the trail passes through tangles of vines and beside colossal trees to an observation platform ideal for monkey spotting. Save time for the Mangrove Kayak Tour as well, where you'll paddle through a 100-year-old forest to spot crabs, lizards, birds, and more.
Tigers in India
Approximately 100 endangered tigers roam the brushy woodland of India's Ranthambhore National Park, a reserve in colorful Rajasthan. By far the best way to catch a life-changing glimpse of one in the wild is to join a Micato Safaris trip through India, While you may see pepper growing in Kerala or ride a boat on Udaipur's fairytale lake on this once-in-a-lifetime Indian tour, your highlight will be a stay at Oberoi Vanyavilas Wildlife Resort with your knowledgeable Micato guide for an astonishing tiger expedition. For several days, you'll not only study tigers at the resort, but take twice-daily game drives through the park.
Elephants in Thailand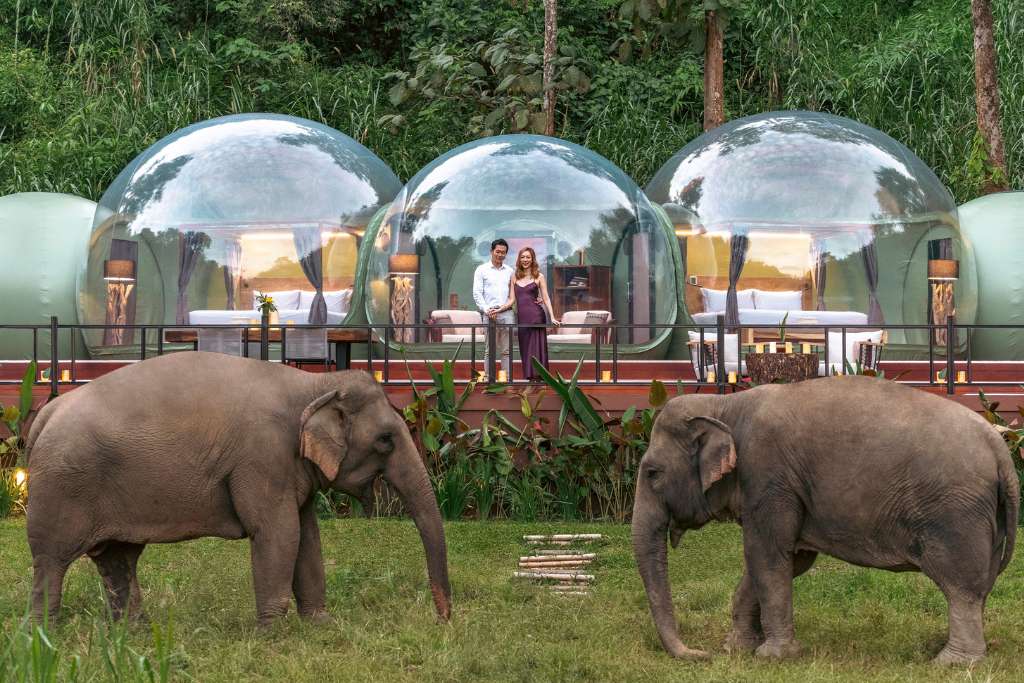 Highly social, elephants communicate by vibrations which they can decipher from miles away. Immensely intelligent, they can recognize themselves in a mirror. As plant eaters, they munch constantly to maintain their girth — and their everlastingly long eyelashes will make you green with envy. Get to know these magnificent creatures at Anantara Golden Triangle Elephant Camp & Resort, a sanctuary for rescued pachyderms in the bamboo forests of far northern Thailand near Chiang Rai. An award-winning eco-resort, the retreat offers manifold ways to gadabout with "ellies," including bathing them, feeding them, walking with them, and watching them from the transparent walls of your Jungle Bubble, a suite with see-through walls.
Monkeys in Bali
Evocative Bali conjures images of sun-drenched beaches, yoga shalas, emerald-green rice paddies, be-flowered trees, mysticism, and hedonism. An Indonesian haven once the retreat for Arab and Indian spice traders, Bali has earned its arresting romantic reputation. Get to know the long-tailed macaque monkeys, the isle's friskiest and most mischievous inhabitants at the Ubud Monkey Forest. The concierge team at Viceroy Bali, a 40-room villa retreat in the Valley of the Kings, can reserve tours to explore Wenara Wana, (the Ubud Monkey Forest) also home to Padangtegal's Pura Dalem or temple of the dead. Let its troop of some 600 monkeys amuse and delight you with their antics and festive play. One word of caution: hold onto your glasses. The monkeys have a penchant for collecting spectacles and other shiny objects.
Leopards in Sri Lanka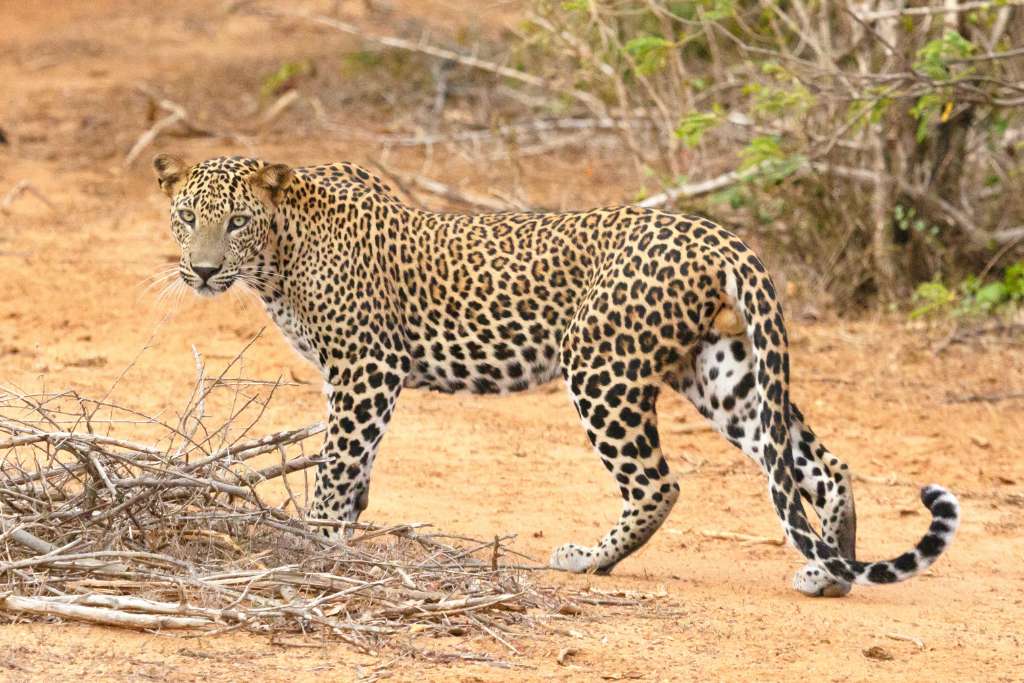 Surrounded by the Indian Ocean, further-flung Sri Lanka has leafy interiors that hold pristine beaches, coconut and tea plantations, Buddhist temples, fortresses poised on cliffs, and inviting beaches. With 8 UNESCO sites and 26 national parks, the island nation's rich fabric boasts countless majestic creatures including elusive leopards and wild elephants. Tuck into stylish Amanwella on Sri Lanka's sunny south coast near the fishing village of Tangalle. While the sumptuous hideaway offers its own diversions, its able team arranges wildlife safaris at Udawalawe National Park, just a 90-minute drive from the resort. With nearly 200 species of birds and 135 different species of butterflies, the park famously features not only leopards and elephants, but crocodiles, wild boar, and water buffaloes, among some 43 other mammals and countless reptiles.
Featured image courtesy of Anantara