Looking for an under-the-radar romantic weekend getaway destination? Pennsylvania's Bucks County and New Jersey's Hunterdon and Mercer Counties, located along the banks of the Delaware River, are home to a number of quaint little villages packed with boutique shops, fine dining spots, and eclectic art galleries.
History buffs can step back in time thanks to the region's many historic sites and museums, while oenophiles and craft beer enthusiasts have several wine and ale trails to explore. A visit to the towns of New Hope (Pennsylvania) and Lambertville (New Jersey), connected by a centuries-old iron bridge, is also a must.
And the Airbnb scene is just as diverse. From cozy cabins and cottages to larger homes full of character and thoughtful details that will make for a memorable stay. Following are a few notables, including an idyllic home in Frenchtown, where writer Elizabeth Gilbert once lived. Best of all? You don't have to break the bank to stay here, as price points for Airbnb listings go as low as under $200.
Check out our favorite romantic home rentals along the Delaware River.
Hidden Downtown Escape, Lambertville, NJ
(Accommodates 2 guests)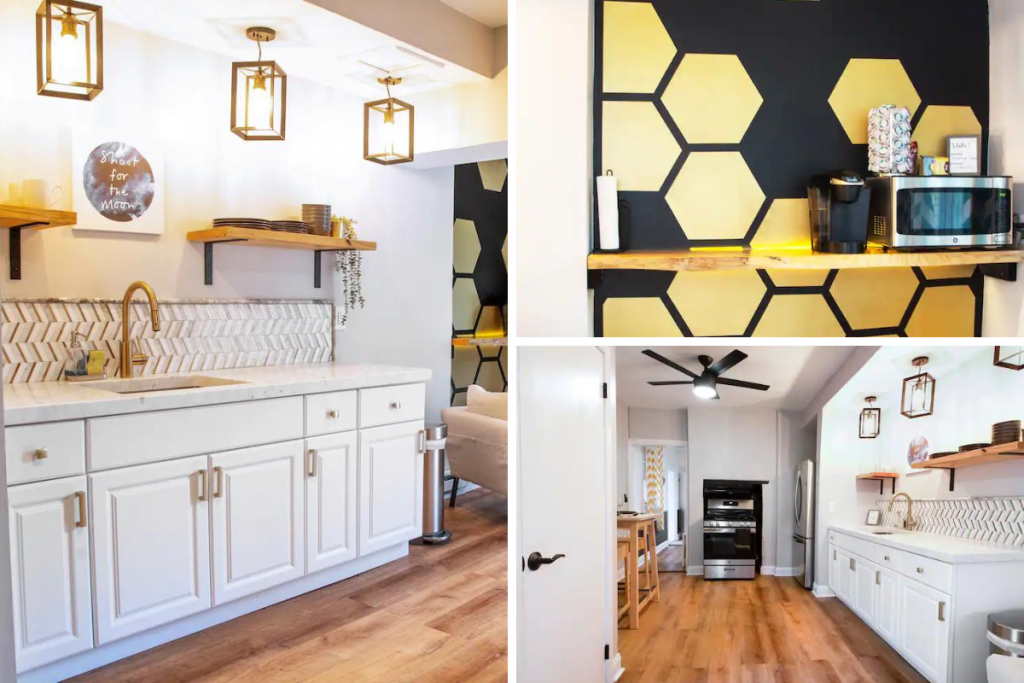 On the Jersey side of the Delaware, this newly renovated one-bedroom, one-bath apartment in the heart of Lambertville (Church Street) is all about design. The studio features a carrara marble kitchen with stainless steel appliances and a back-lit, floating ash coffee bar with a gold leaf accent wall. The bedroom comes with a tasteful tropical wall mural, live-edge hickory nightstands, and rainfall shower with antique bronze fixtures. An enclosed yard, with festive patio lights, completes the ambiance.
Price: $152 per night
Inside tip: Continue the design theme with a walk around the corner to Foxy Reds (Bridge Street), where our Travel Curator Editor in Chief, Deanne, is 'obsessed' with the jewelry.
To book: Airbnb.com
Historic Stone Cottage, Buckingham, PA
(Accommodates 4 guests)
While this tranquil stone cottage accommodates four, it is honestly too romantic. Keep it to two. Located on 11 wooded acres of a circa 1783 farm estate, the house features both a plush king-size bed and an oversized wood-burning fireplace. There is also an outdoor firepit, perfect for stargazing.
Price: $200 per night

Inside tip: Make an afternoon of it at nearby Peddler's Village, a historical colonial village with great shopping, dining, and festivals throughout the year.
To book: Airbnb.com
Riverfront Townhouse, New Hope, PA
(Accommodates 5 guests)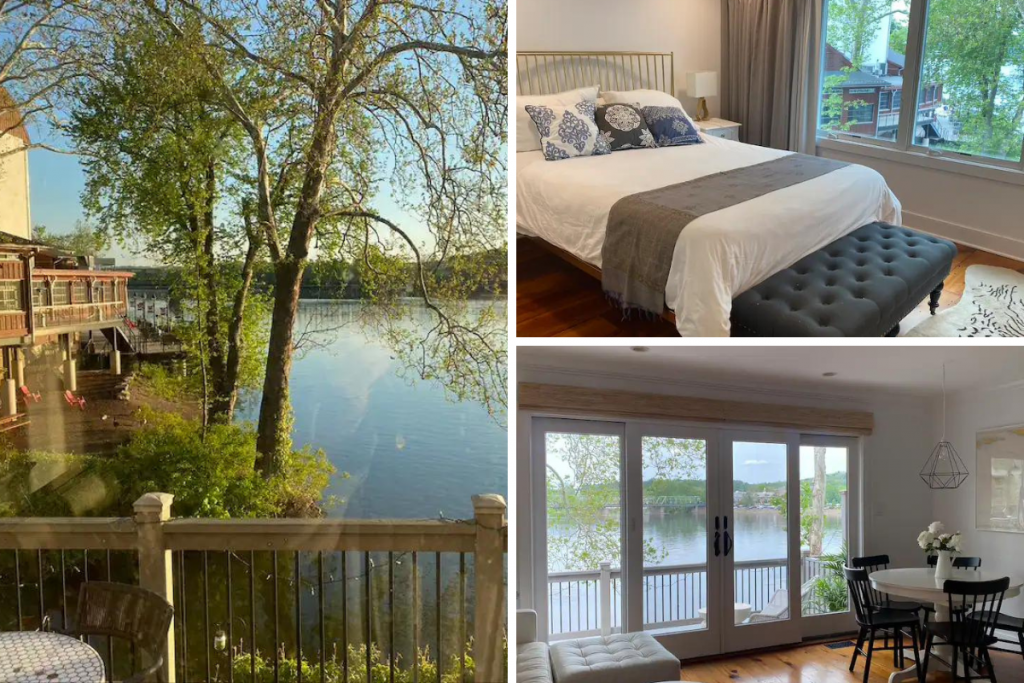 For dreamy river views, check into this three-story townhome. Originally built in 1808, this modernized townhome retains many of its original architectural details. The kitchen, dining room, and living room comprise the first floor; while the bedrooms occupy the top (second and third) floors. There is also a deck, patio, and small backyard with steps down to the river.
Price: $424 per night

Inside tip: See a show at the Bucks County Playhouse. Once a mill (in the 1800s), it is now an equity theater. The riverfront townhouse was actually built to house the workers of the mill.
To book: Airbnb.com
The Belle House, Hopewell Township, NJ
(Accommodates 5 guests)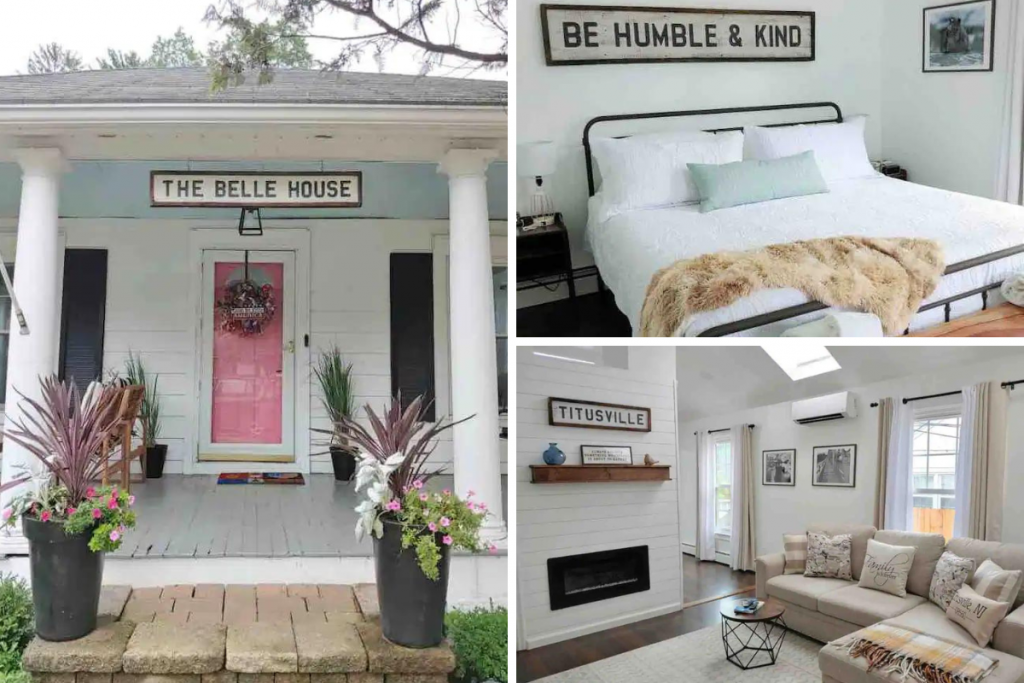 Just steps from where George Washington famously crossed the Delaware River, this renovated bungalow — with its front porch swing and private backyard — feels blissfully like home. We love the neutral color palette with pops of pink (front door, cushions, and patio umbrella), the modern kitchen, and the deck off of the primary bedroom, perfect for morning coffee.
Price: $265 per night

Inside tip: Play in Washington Crossing State Park, followed by dinner at the historic Washington Crossing Inn (on the PA side), known for its seasonal menus and handcrafted cocktails.
To book: Airbnb.com
Fisherman's Cottage, Upper Black Eddy, PA
(Accommodates 2 guests)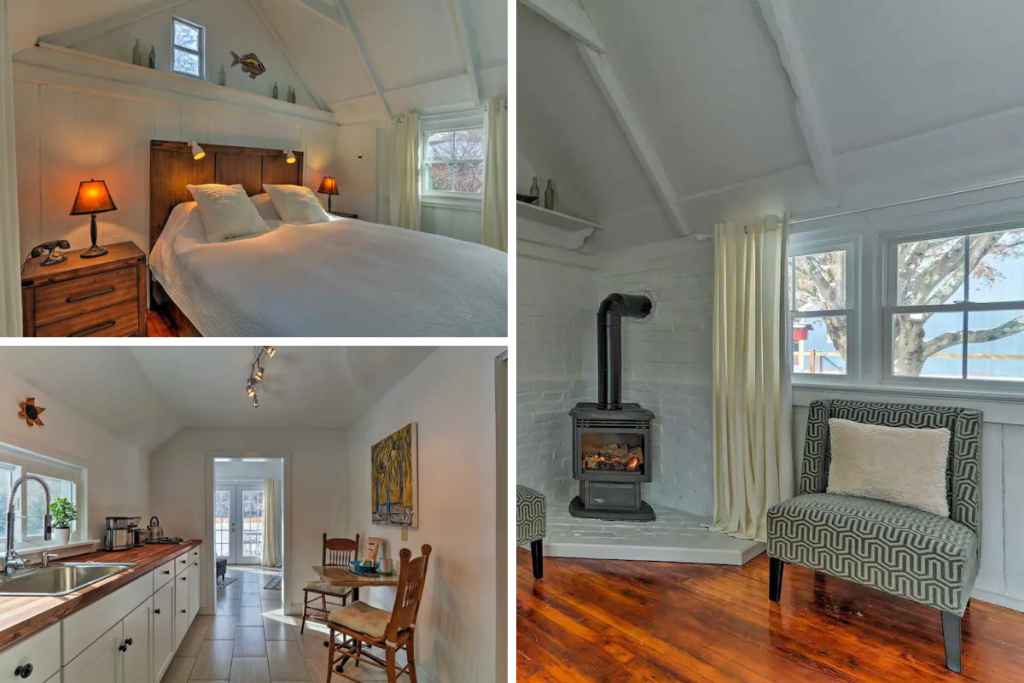 Fishermen — and nature lovers — take note. This one-bedroom, one-bathroom fisherman's cottage is the perfect place to decompress, disconnect, and even catch a fish or two. Perfect for a couple (although solo works too), the cottage comes with a small kitchen, vintage gas stove, exposed beams, and hardwood floors. Outdoors, there is a patio area with Adirondack chairs.
Price: $140 per night

Inside tip: Bring your own kayak or paddleboard, and set sail directly from the cottage's riverfront.
To book: Airbnb.com
Ferry Boat Cottage, Lambertville, NJ
(Accommodates 4 guests)
Completely updated, this 1800s cottage is just steps from the canal towpath (walking and biking path), and Lambertville's array of restaurants and art galleries. Standouts include original wide pumpkin-pine floors, four-poster beds, a dressing room, and enclosed backyard. The best amenity, however, are the two complimentary (and much-coveted here) parking spots.
Price: $345 per night

Inside tip: Order a fresh-garlic pizza from Giuseppe's Ristorante. Top it off with a walk to Owowcow for homemade ice cream, featuring flavors like cookie monstah, honey and lavender.
To book: Airbnb.com
Carriage House in the Trees, New Hope, PA
(Accommodates 4 guests)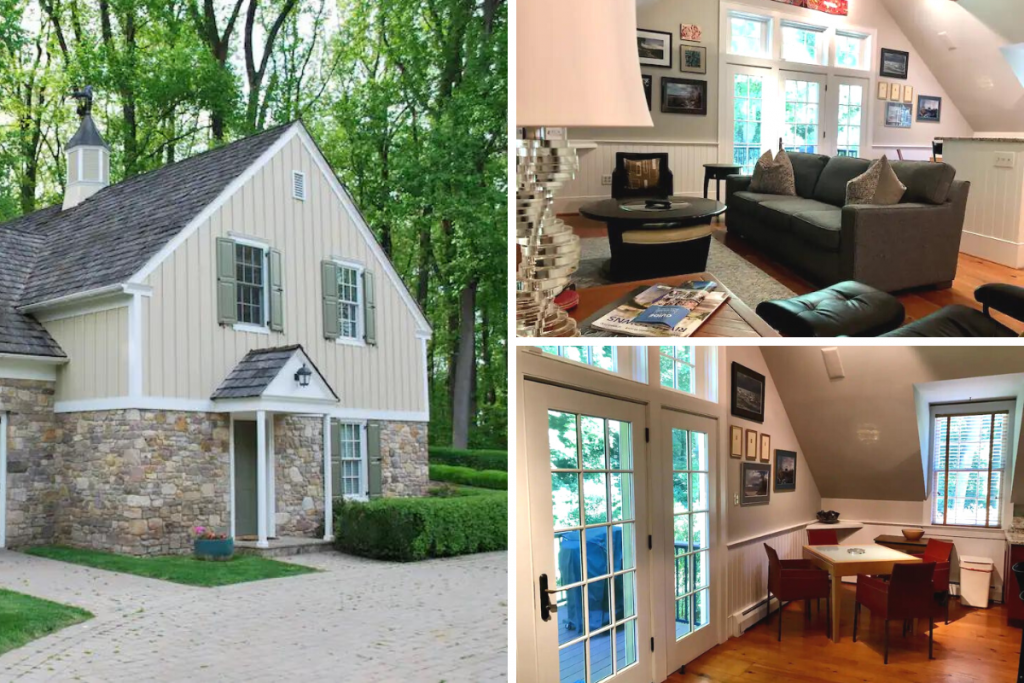 Set on 15 acres and just minutes to town, this two-bedroom, two-bath, second-story carriage house stretches into the treetops. Originally designed as an artist's home, the carriage house comes with high ceilings, exposed beams, hardwood floors, and art (of course). The back deck, surrounded by woods, gardens, and flowers, is ultra private.
Price point: $293 per night

Inside tip: Walk, bike, or jog, the tranquil towpath, keeping watch for wildlife — herons, chipmunks, turtles, ducks, and geese galore.
To book: Airbnb.com
Idyllic Guesthouse, Frenchtown (NJ)
(Accommodates 4 guests)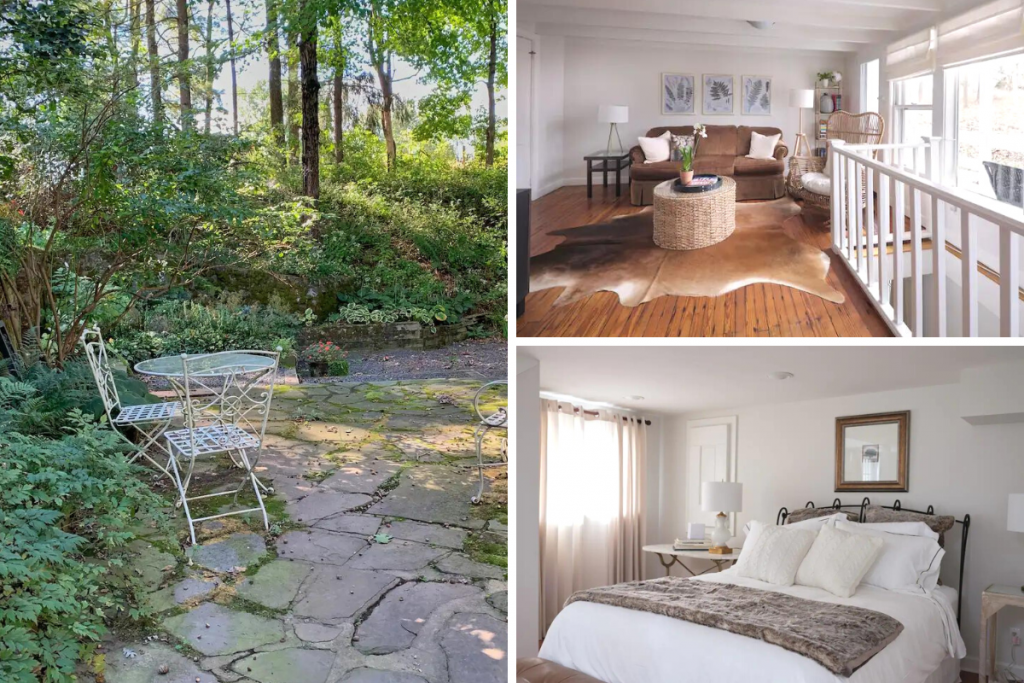 In the tiny river town made famous by writer Elizabeth Gilbert (best known for her novel-turned-movie Eat, Pray, Love), who once owned a home here, Frenchtown offers a mini version of down-river, Lambertville. This sun-filled cottage comes with a thoughtfully appointed bedroom, laundry room, complete with washer and dryer, and a private covered porch — lovely for sipping morning coffee or evening cocktails.
Price: $175 per night

Insider tip: Pop into the Gemstone Gallery (Bridge Street) for healing crystals, rose quartz, aquamarine, amethyst.
To book: Airbnb.com
The Canoer's Cottage, Upper Black Eddy, PA
(Accommodates 2 guests)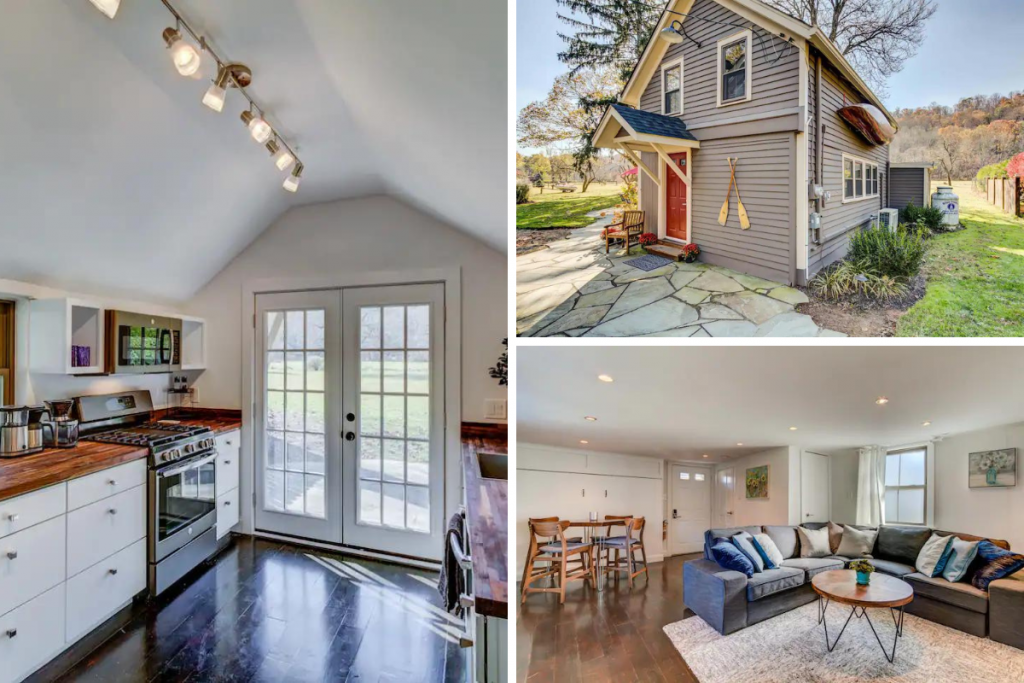 Canoeing, kayaking, tubing, and standup paddle boarding are part of the river lifestyle. This newly renovated cottage pays homage to water enthusiasts with its wooden oars and canoe firmly anchored on the front entrance and outside of the house. Separate from the main house on the estate, the cottage comes with a comfy bedroom, gas fireplace, and river view (note: a road stands between the house and river).
Price: $149 per night

Inside tip: Walk ten minutes on the towpath to a sweet little cafe for breakfast. Or walk a bit further down the trail (and spruce up a bit) to The Golden Pheasant Inn, in Erwinna for Saturday or Sunday Brunch. The bloody marys are divine.
To book: Airbnb.com