Nestled between the opulent Opéra Garnier and the iconic Louvre pyramid is one of Paris' most renowned addresses: 1 Rue Scribe. For over a century, life has ebbed and flowed in and out of this quintessential Parisian hotel, which once housed a social club, the first-ever film screening, and icons like Marcel Proust and Josephine Baker.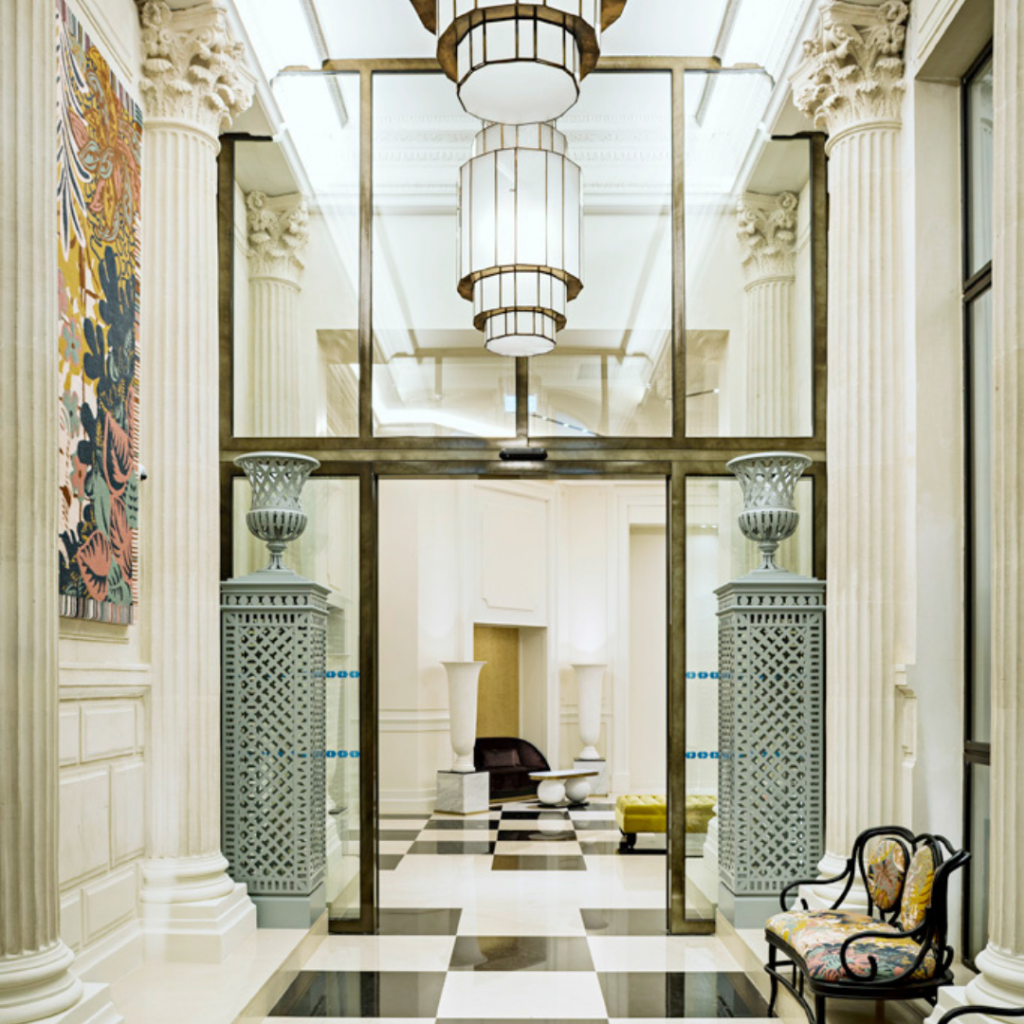 Today, the historic Hôtel Scribe lives on in its most recent iteration, Sofitel Le Scribe Paris Opéra. The prestige of the address and luxury of the hotel remains — drawing guests who want to experience the Parisian lifestyle and enjoy the wonders of the city.
From the doors of Sofitel Le Scribe, Paris is at your feet.
Steps from the Louvre, Champs-Élysée, and Opéra Garnier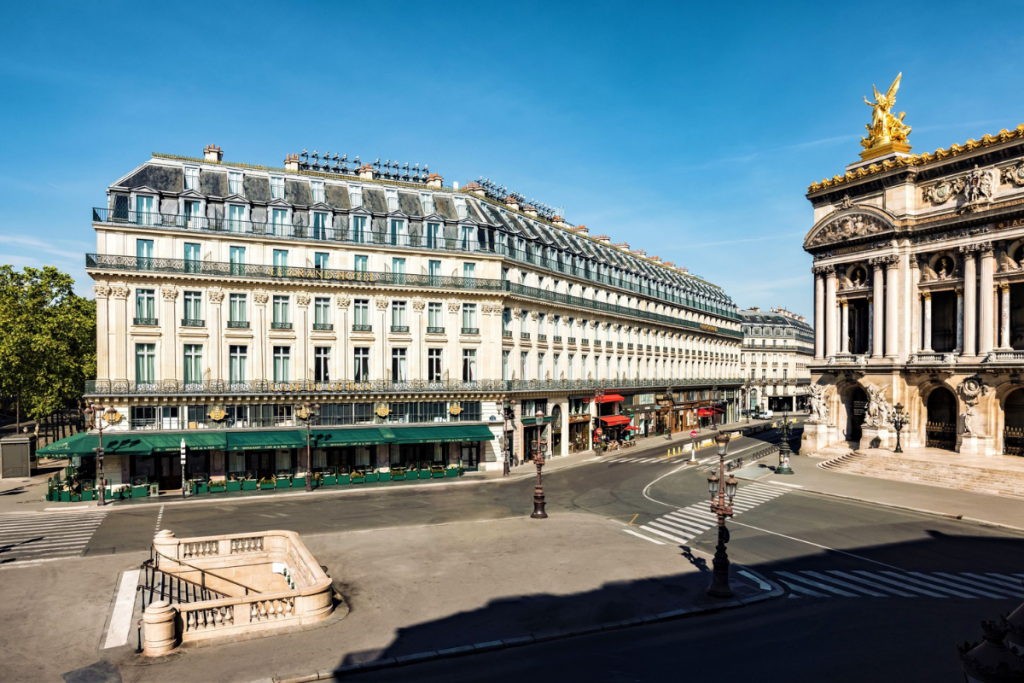 There truly is no better homebase for travelers looking to explore Paris. Sofitel Le Scribe is located in central Paris in one of the city's most beautiful neighborhoods. The opulent Opéra Garnier (Palais Garnier) is mere steps away, while most of the city's main sights — the Louvre, Jardin des Tuileries, Place de la Concorde — are just 15 minutes by foot. Further afield, the Eiffel Tower and Arc de Triomphe tower.
Those in search of the latest Parisian fashion will find themselves perfectly situated between the iconic shopping avenue of Champs-Élysée and the smattering of shops and department stores found along Grands Boulevards. Perhaps most notably, the hotel is near two of the city's best hidden passages. From the nearby Passage Jouffroy you will pass into Passage Verdeau, which are both lined with quaint shops selling vintage finds and oddities.
Bright, luxurious rooms — including multi-floor suites and sunny terraces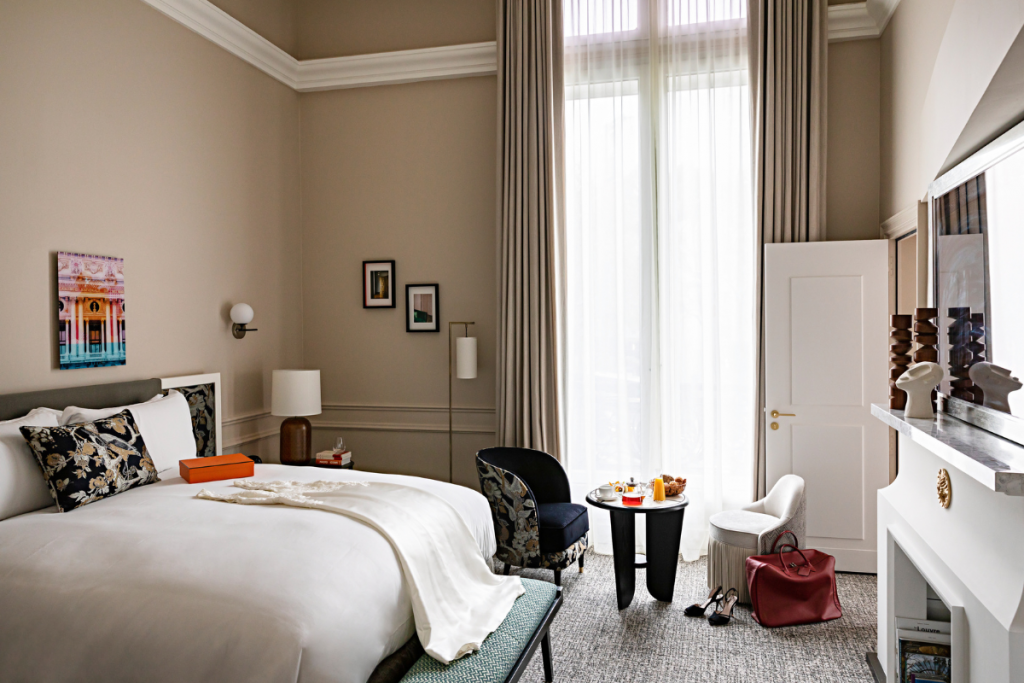 With its latest evolution, Sofitel Le Scribe both embraces its history and looks to the future. Each room is designed to feel like a real Parisian apartment — fireplace included — with tasteful touches that nod to the hotel's history as a high-end social club. Bright pops of color and painted bathroom ceilings give the space a fresh, feminine feel.

Each room has tall, airy windows that let in plenty of light, minibars, and spacious bathrooms with waterfall showers and deep tubs. The property's most prestigious offerings include the Duplex Opera Suite, which spans two floors and boasts a spacious living room flanked by a long Parisian balcony. Meanwhile, guests booking the Terrace Suite are treated to a wide-open floor plan with a free-standing tub, double waterfall shower, and most notably, an expansive private terrace with chaise lounges.
A glass-ceiling restaurant set around a cherry blossom tree, a historic bar, and a Parisian café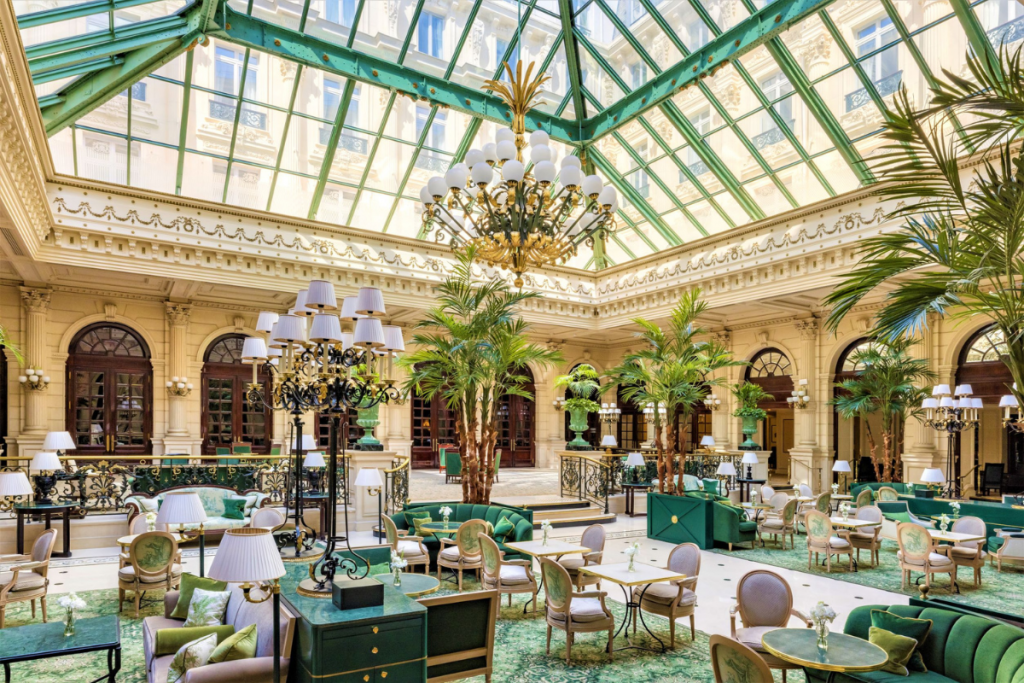 The dining at Sofitel Le Scribe is nothing short of phenomenal. The plush seating at Rivages is thoughtfully situated around the room's focal point — a budding cherry blossom tree set under a high, glass ceiling. As light streams in from above, servers bring out colorful Mediterranean fare inspired by the French Riviera.
Nearby, at the eye-catching bar, it's not hard to imagine the patrons who once gathered there over a drink — literary greats and visionaries in the worlds of cinema and photography once met at this historic bar to discuss their work and the libération. Today, the half-moon bar and cozy lounge area is the centerpiece of the hotel lobby, beckoning guests to curl up with a cocktail and soak up the bar's storied history.
At the front of the hotel is a multi-level café that's connected by a spiral staircase. With views over Rue Scribe and an authentic Parisian feel, Le Café Scribe is both a morning café serving up warm croissants and the perfect gathering place for afterwork cocktails.
Room service at Sofitel Le Scribe is available 24 hours a day.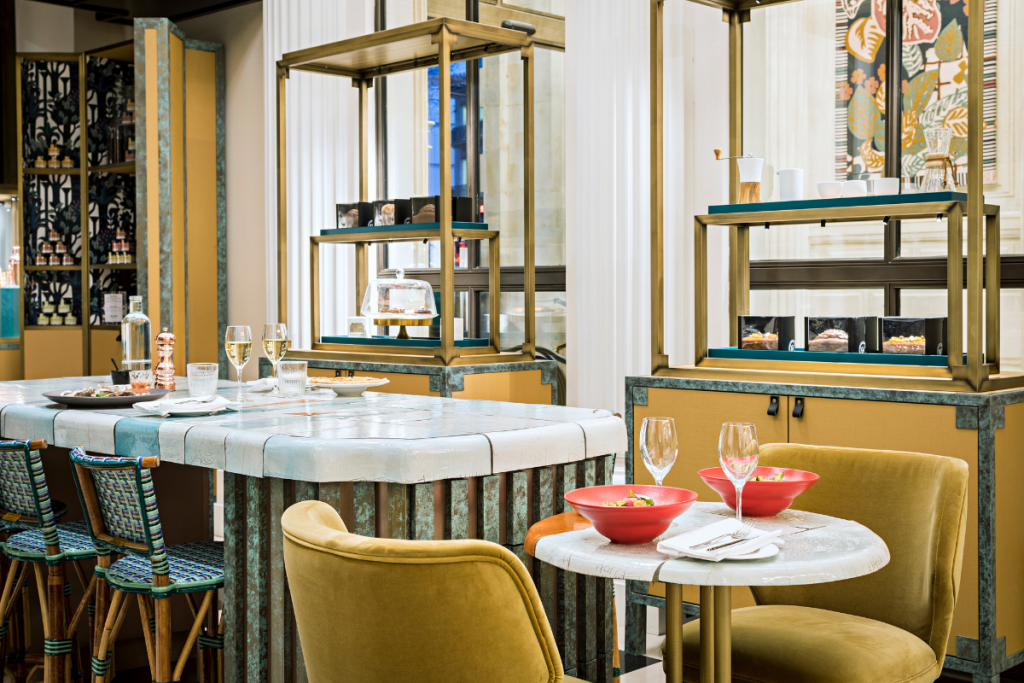 In-room treatments and a wellness center
In addition to a small gym and wellness center, Le Scribe's spa services, which includes everything from manicures and facials to makeup and eyelash application, can be done in the comfort of your room. 
There is nothing quite like being pampered in your Parisian home before enjoying a night at the Opéra or a meal spent under the eye of the Eiffel Tower.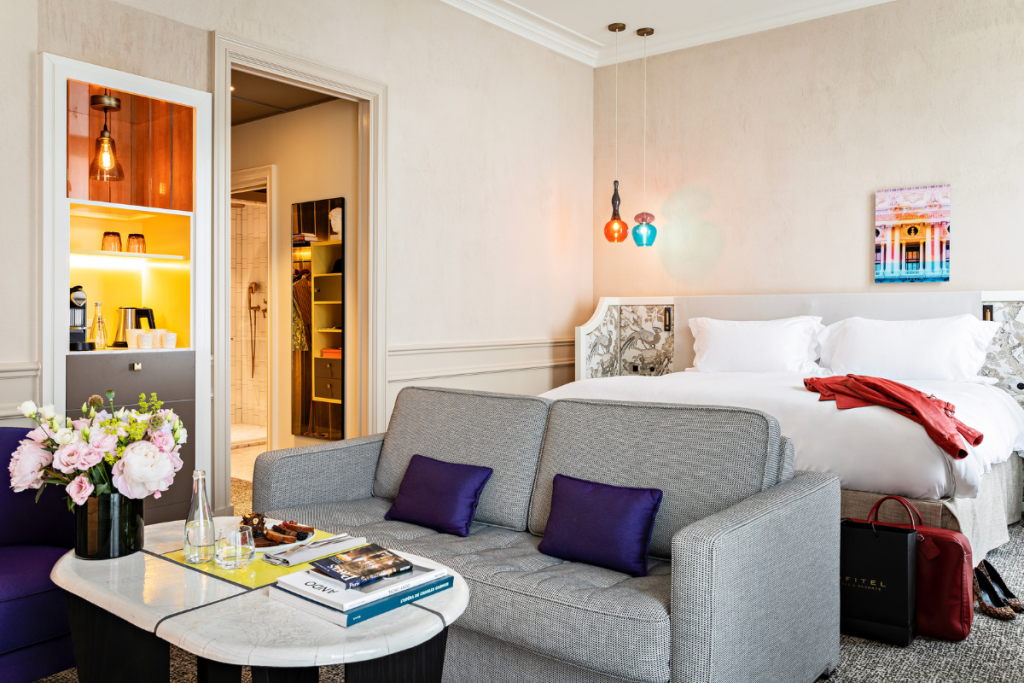 A 150-year history as one of Paris' best hotels
Le Scribe has been welcoming guests from all over the world since 1861. Its central location and proximity to the city's biggest draws has made it a long-standing top choice for travelers who want to truly experience Parisian life.
The building's Haussmann-style exterior and storied history — one that has welcomed reporters, celebrities, artists, and visionaries for well over a century — remains today, allowing modern-day guests to experience a property that has long served as a revered Parisian gathering place.
Perhaps most notably, the hotel has a small museum dedicated to the Lumière brothers, who screened the first-ever film at the hotel, and a bright and spacious exhibit space.