Florida, with its white sandy beaches, picture-perfect islands (and even more spectacular sunsets), small towns, stunning national parks, year-round warm weather, amusement parks, and delicious seafood, is a top vacation destination. Whether you are craving a weekend of fun and world-class entertainment and dining in Miami or Palm Beach, or a tranquil and upscale family getaway in Naples, the Sunshine State has it all, and the best way to enjoy it is to rent a private home on Airbnb.
Like a five-star hotel, many of these residences come with high-end amenities like pools, firepits, private beaches, chic decor, and stunning waterfront views.
So start packing because we found the 11 chicest Airbnbs across Florida — from bustling Miami to tranquil Little Conch Key.
Waterfront Home with Pool in Fort Lauderdale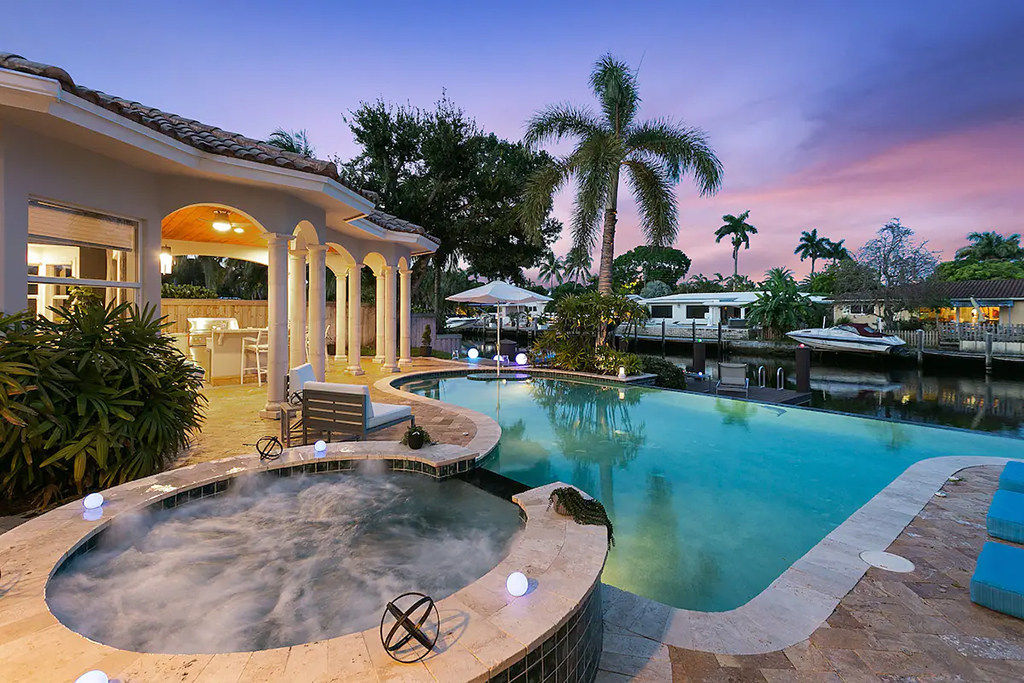 Enjoy the Florida sun in this stunning three-bedroom, two-and-a-half-bathroom waterfront mansion in Wilton Manners, just outside of Fort Lauderdale. This stunning home comes with a swimming pool, hot tub, and an outdoor kitchen for quaint al fresco dinners. Inside, the open-concept kitchen/living room is perfect for family gatherings and movie nights.
To book: Airbnb.com
Greek Villa in Fort Lauderdale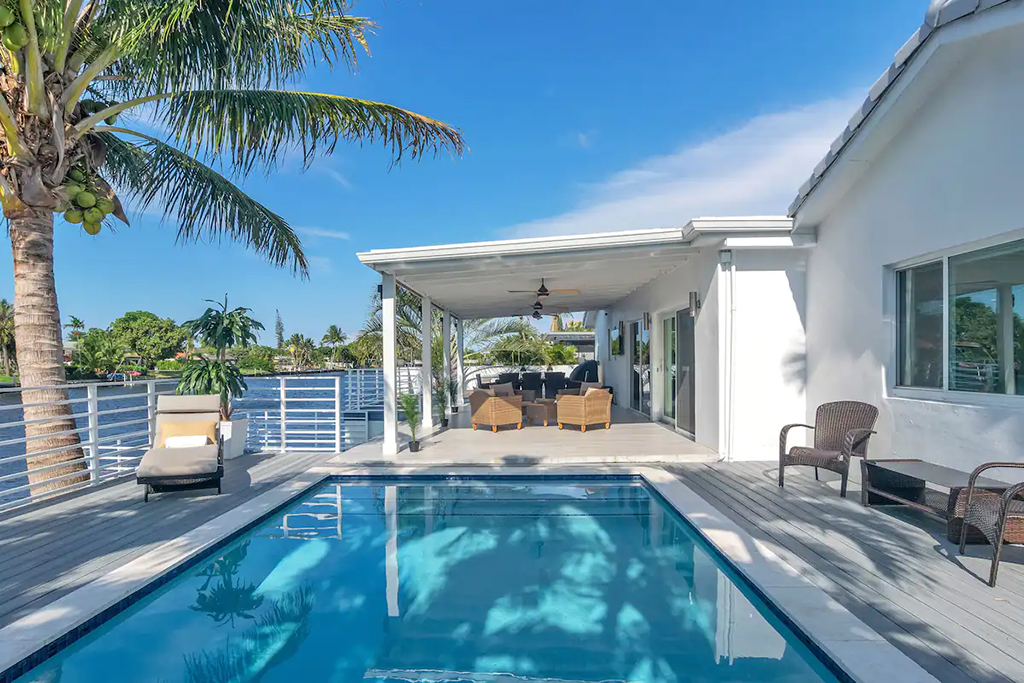 Inspired by Greece's dreamy whitewashed houses, this ultra-chic villa sits on a canal in Fort Lauderdale, offering modern decor and high-end amenities such as a swimming pool, sundeck, covered patio with a dining area with waterfront views, and a fire pit. The kitchen blew us away with its sleek marble island and six-person breakfast bar.
To book: Airbnb.com
Corner Beachfront Condo in Miami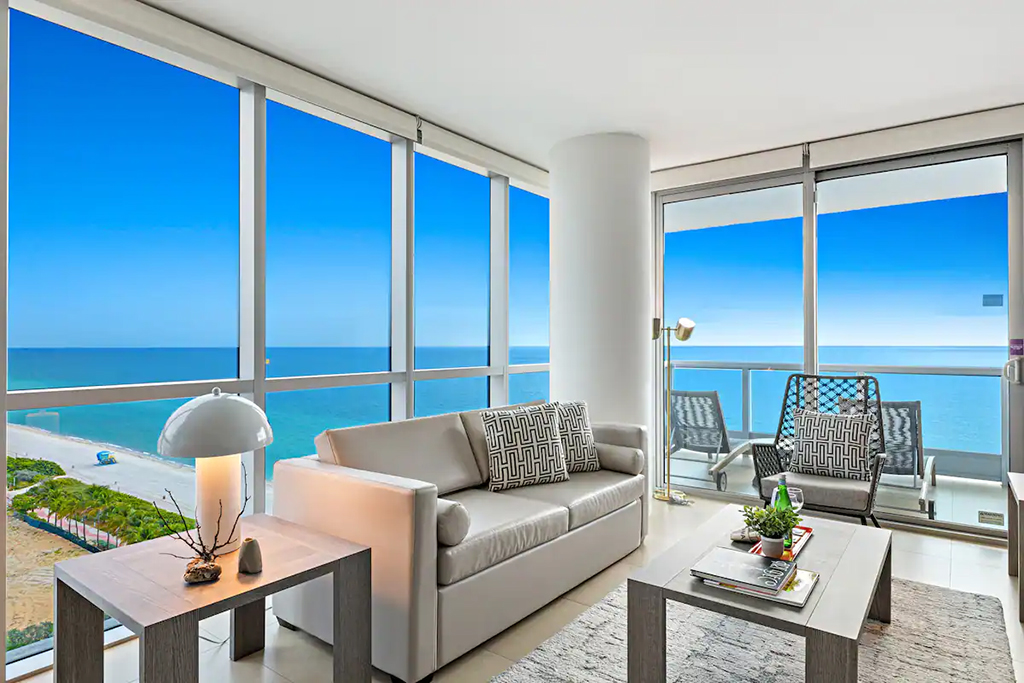 Welcome to Miami! This one-bedroom, one-bathroom, condo is perfect for a romantic getaway in Florida's most eclectic city. Wake up to gorgeous ocean views pouring in from the floor-to-ceiling windows, grab a cup of coffee on your private balcony, and head straight to the beach that happens to be just steps away.
To book: Airbnb.com
Loft Apartment in Miami Beach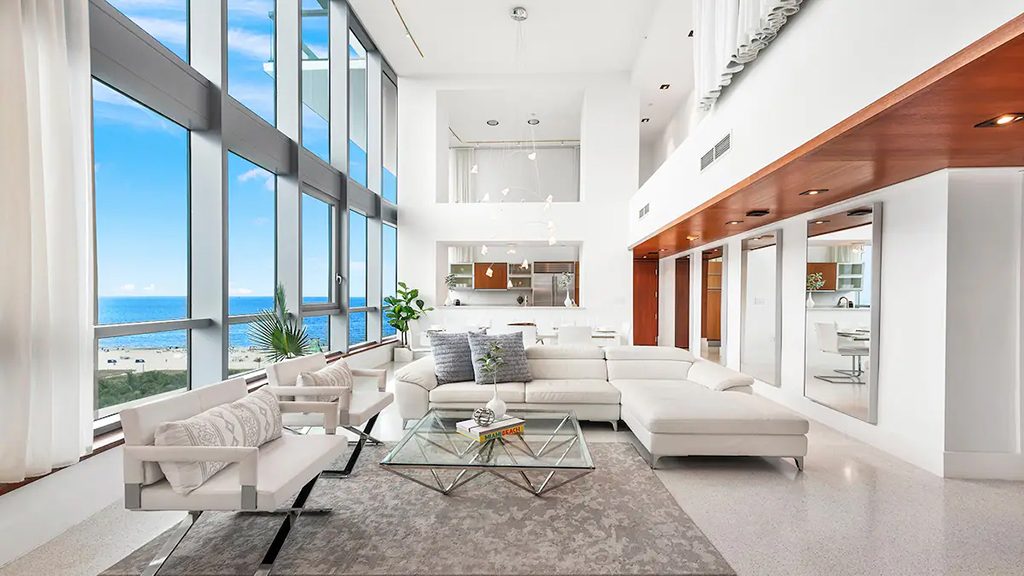 This two-bedroom penthouse residence looks like it belongs in a JLo video. The ultra-high ceilings and private balcony with lounge furniture overlook a palm-fringed beach. By the way, the deep-soaking bathtub provides a magnificent view of the ocean as well.
To book: Airbnb.com
Modern Townhouse in South Beach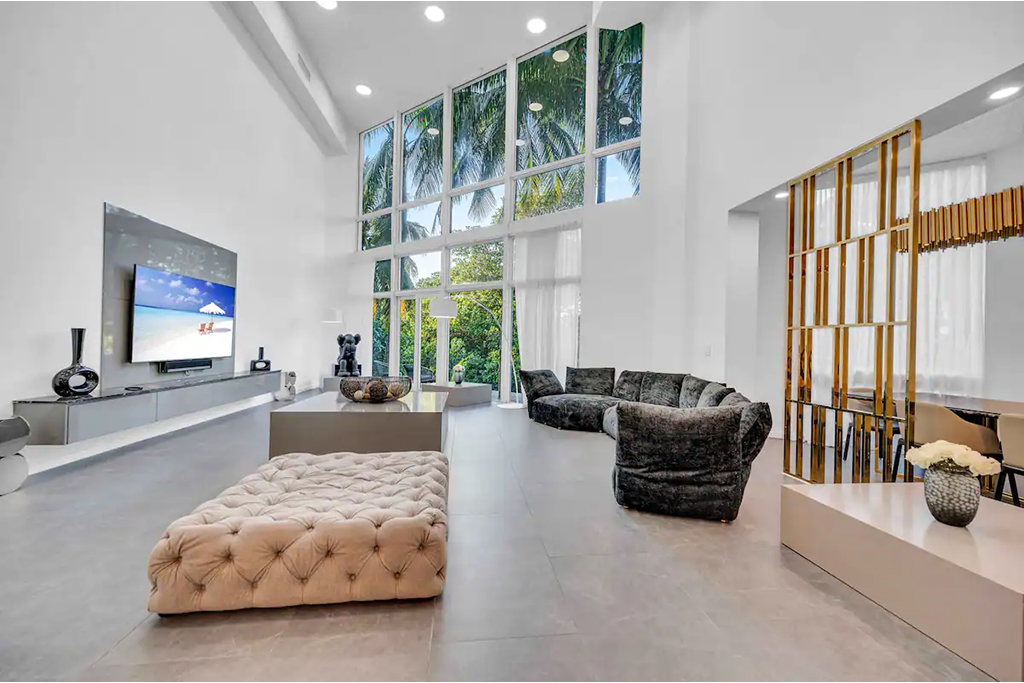 If privacy is key, book this incredible five-story, five-bedroom townhouse that boasts almost 6,500 square feet of impeccably designed space, equipped with everything a large group needs for a memorable getaway. A game room, a 2,000-plus square foot terrace, a sauna, a pool, and a rooftop deck with lounge furniture are just the tip of the iceberg.
To book: Airbnb.com
The Lilly in Palm Beach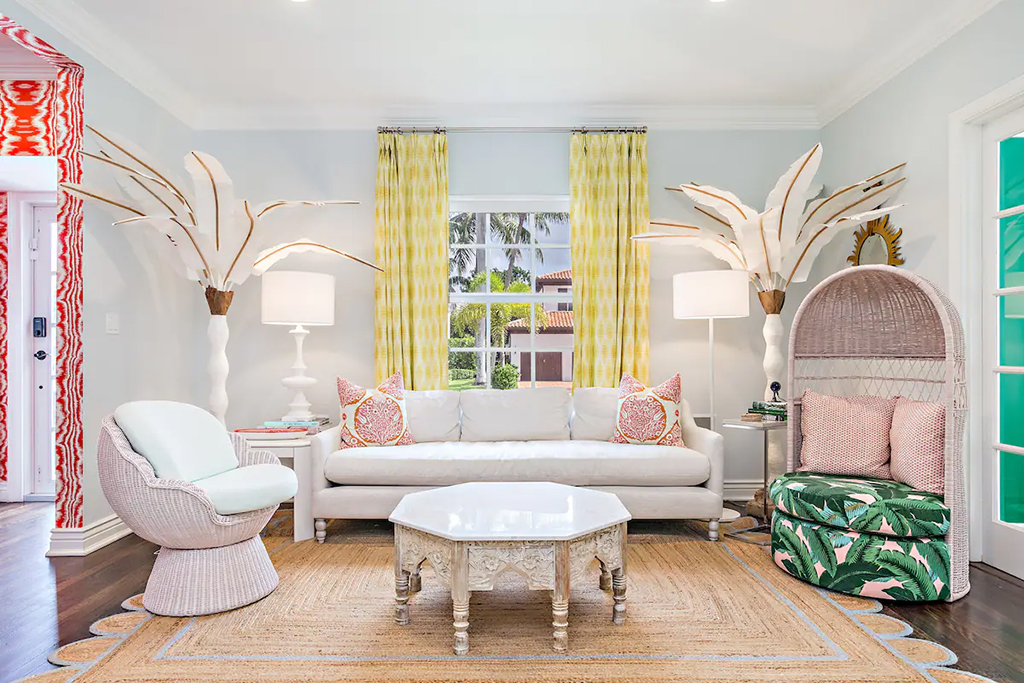 Immerse yourself into a whimsical world in this beautiful, luxurious, four-bedroom, five-bathroom home named The Lilly. The decor is inspired by classic Palm Beach — think palm-printed upholstery, vibrant wallpaper, and lots of pastels. The spacious lawn and pool were made for chic outdoor living.
To book: Airbnb.com
Mediterranean Villa in Palm Beach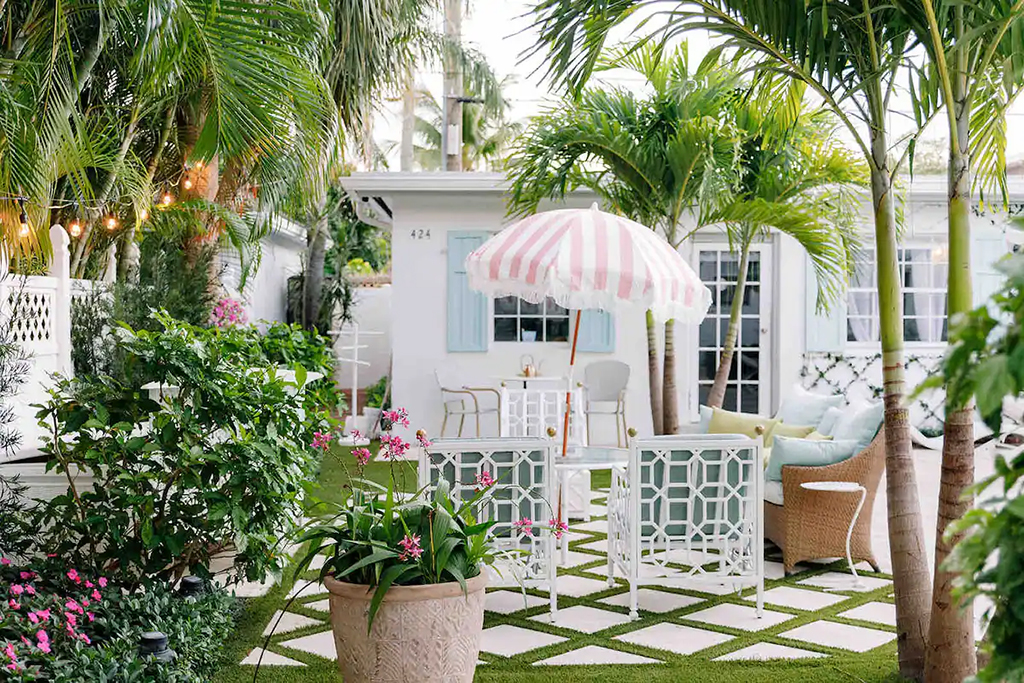 This stunning villa will transport you to the Mediterranean coastline the minute you see it. With striped umbrellas, swaying palms, and a turquoise-hued pool, it is certainly Instagram-ready. Inside, three bedrooms and three bathrooms can accommodate a family or a group of friends seeking a warm and chic escape this winter.
To book: Airbnb.com
Castle La Florentia in Lake Worth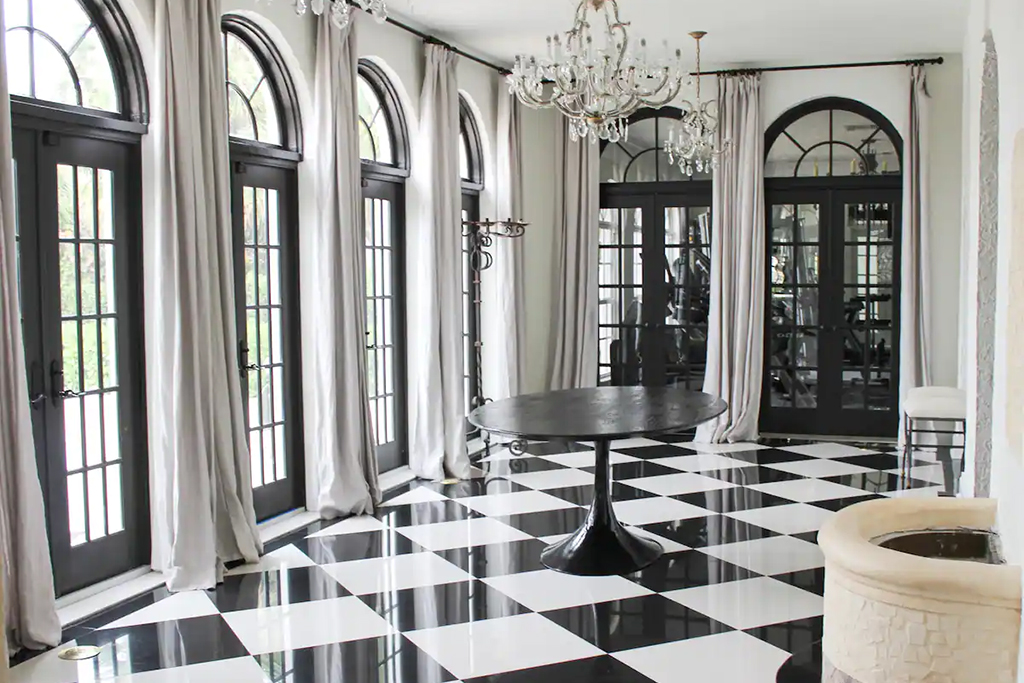 Located along the Intracoastal Waterway, this one-acre estate is the pinnacle of chic coastal living. The architecturally stunning building houses three bedrooms, four bathrooms, a gourmet kitchen with a wine cellar, and a glamorous hallway that we think should double as a ballroom. We also love the sprawling and meticulously landscaped backyard with private pool.
To book: Airbnb.com
A Modern Waterfront Estate in Naples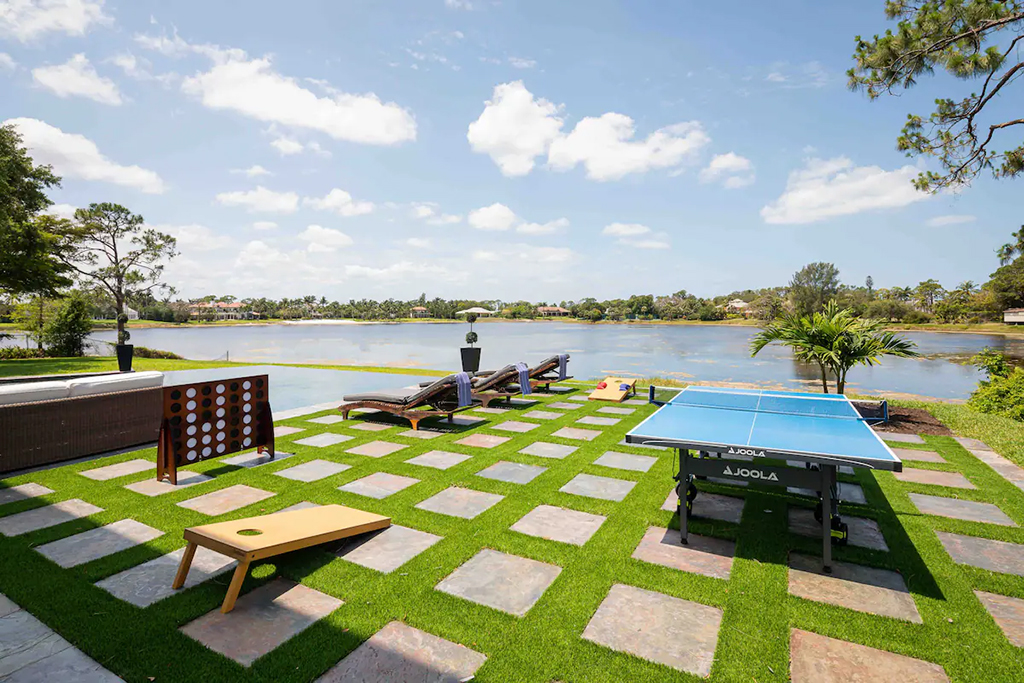 This two-acre compound is a sight to behold in Naples' Palm Ridge Estates neighborhood. Enjoy privacy, modern decor, and postcard-worthy waterfront views from every corner of this architectural gem. The backyard infinity pool overlooks the water and is surrounded by a lawn that kids will love.
To book: Airbnb.com
Modern Home in Naples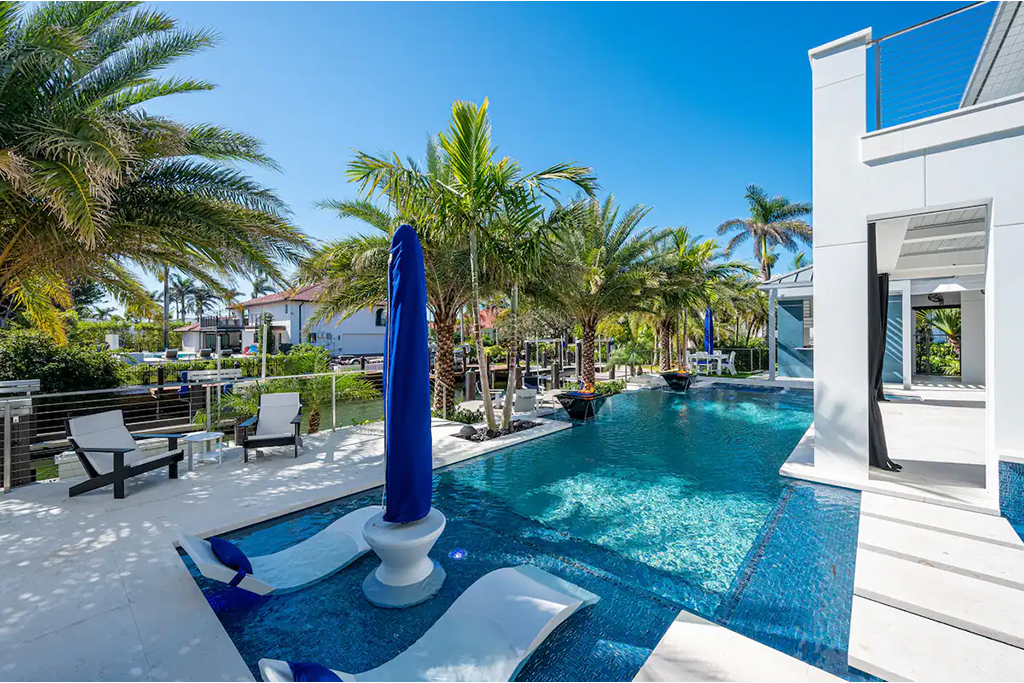 This home offers 6,000 square feet of pure Florida paradise. With four bedrooms and four-and-a-half bathrooms, guests have plenty of space to play and enjoy. A few blocks away from the beach and with direct access to the Gulf of Mexico, it's hard to find a better location (the owners have a golf cart that you can rent for the full Florida experience). The outdoor fireplace and covered patio overlook the pool, and is perfect for post-dinner drinks and cocktails.
To book: Airbnb.com
Residence with Private Beach in Little Conch Key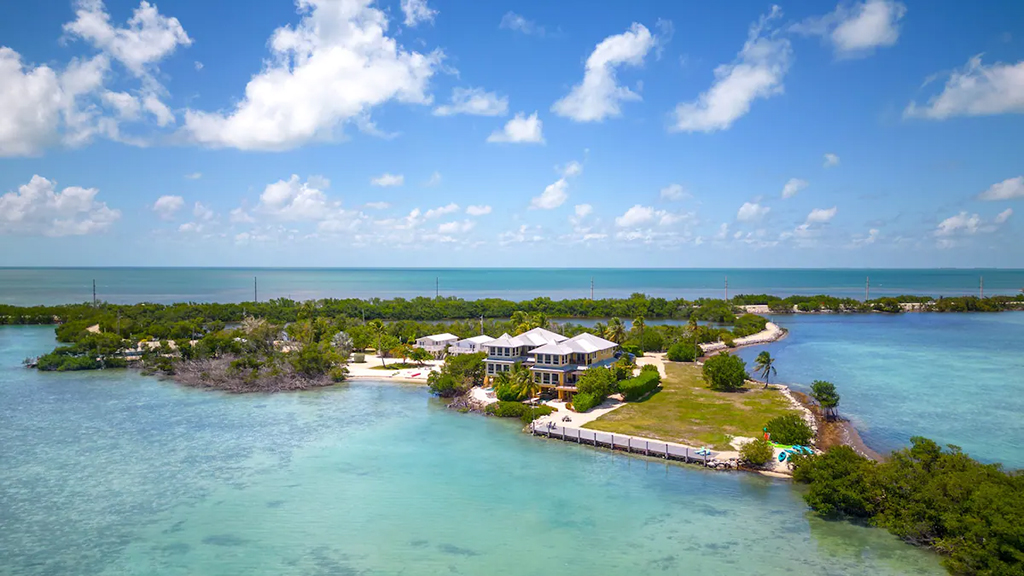 There is no place like the Florida Keys. This home in Little Conch Key is a secluded oasis with a private beach and a pool and a hot tub. The five-bedroom estate is located on a corner lot and is surrounded by water on three sides, so you really don't have to go far to take a peek at the ocean's turquoise waters.
To book: Airbnb.com