My first visit to Florida was in the '70s. Six of us (my parents, grandparents, sister, and I) packed into our pale-yellow Ford Mercury to make the 1000+-mile road trip from our home near the Mason-Dixon Line. It took three full days (pre super highway), and we stopped often for novelties like boiled peanuts (from Virginia) and outlet towels (the Carolinas) and fresh-from-the-tree peaches (Georgia). Insistent to find the absolute best peach in the state of Georgia, my dad pulled off at every rickety roadside stand to sample. I remember thinking that Georgia would never end and that it must be the largest state in the entire U.S., although I fell instantly in love with its intoxicatingly sweet-smelling white magnolias and live oaks dripping with Spanish moss.
My cramped-in-the-middle-seat patience was ultimately rewarded when we finally crossed into the Sunshine State and my dad — before our final destination of towering coconut palms and cerulean ocean — made his last spontaneous stop: Weeki Wachee Springs for my sister and I to see real-life mermaids.
Weeki Wachee's enchanting live mermaid show (still in operation) started in 1947, and during my '70s-something visit was performed on the hour. Watching the mermaids, with their flowing hair and colorful, iridescent tails, I was completely and utterly mesmerized, and never ever wanted to leave. My grandfather — the sweetest, kindest soul who ever walked this planet — indulged me. As the rest of the family perused the orchid garden and springs, we returned over and over again to the mermaid show (at least seven times during our brief overnight stay).
While I have returned to Florida (the Keys, Miami) many times in my life, I have always treasured my first little-girl impression of Florida: one of shaded gardens, vibrant tropical flowers, crystal clear spring waters, and mermaids. Although the 'city' of Weeki Wachee was officially dissolved by the Governor in 2020 (with a population 13) and absorbed into Hernando County, there are many other best small Florida towns — modern yet with a touch of old Sunshine State — worth traveling for. Among our favorites:
Amelia Island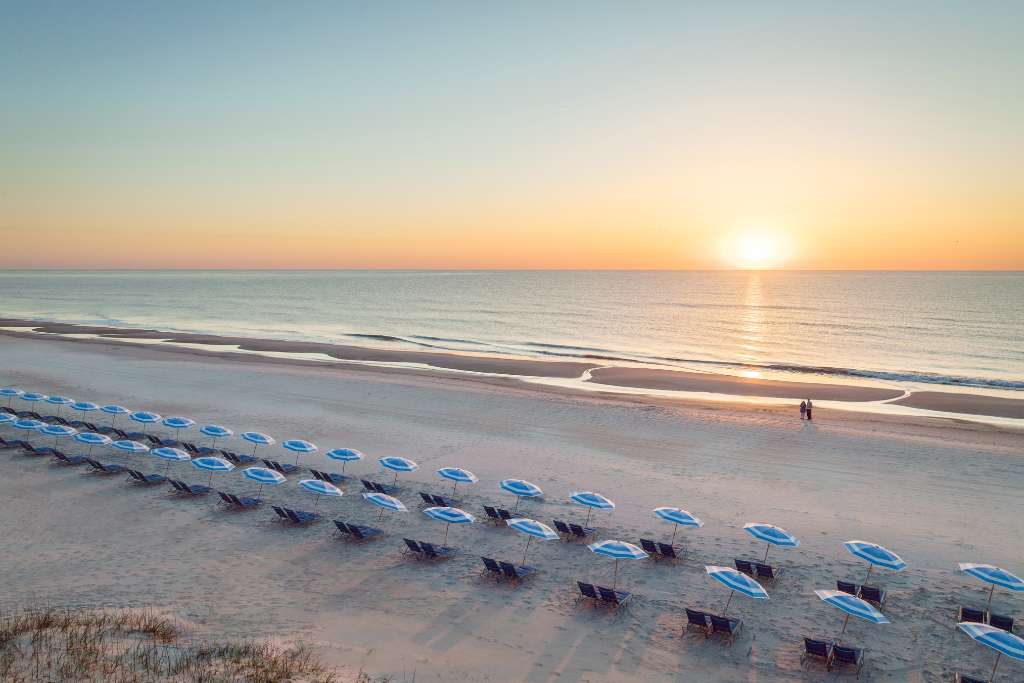 Amelia Island encompasses 13 miles of pristine beaches and is as far north as you can go in Florida. The island's walkable, waterfront downtown, Fernandina Beach, is known for its fresh seafood restaurants, vibey boutiques, famous fudge shop, and mix of Queen Anne, Italianate, Gothic Revival, and Victorian architecture. Although Hollywood has discovered this hidden gem — The New Adventures of Pippi Longstocking (1988) was filmed here — the island has maintained an Old Florida, Old South vibe. Shrimping continues as a family business. Kayakers still randomly launch in creeks along the side of the road, and fishermen troll the backwaters or cast from bridges.
Where to Stay: The Ritz-Carlton, Amelia Island
The sunrise views at The Ritz-Carlton, Amelia Island are spectacular here, so be sure to reserve a beachfront room. Wake up early to watch from your private terrace while sipping coffee, then spend days on the beach, riding complimentary bikes along paths lined with live oaks and Spanish moss, enjoying treatments in the spa, and meandering the catwalks built over the dunes in search of the island's famed lumbering Gopher tortoises. Be sure to reserve dinner at Salt, under the helm of Chef Okan Kizilbayir (formerly of 3-Michelin-starred Le Bernardin and Blue by Eric Rupert).
Rosemary Beach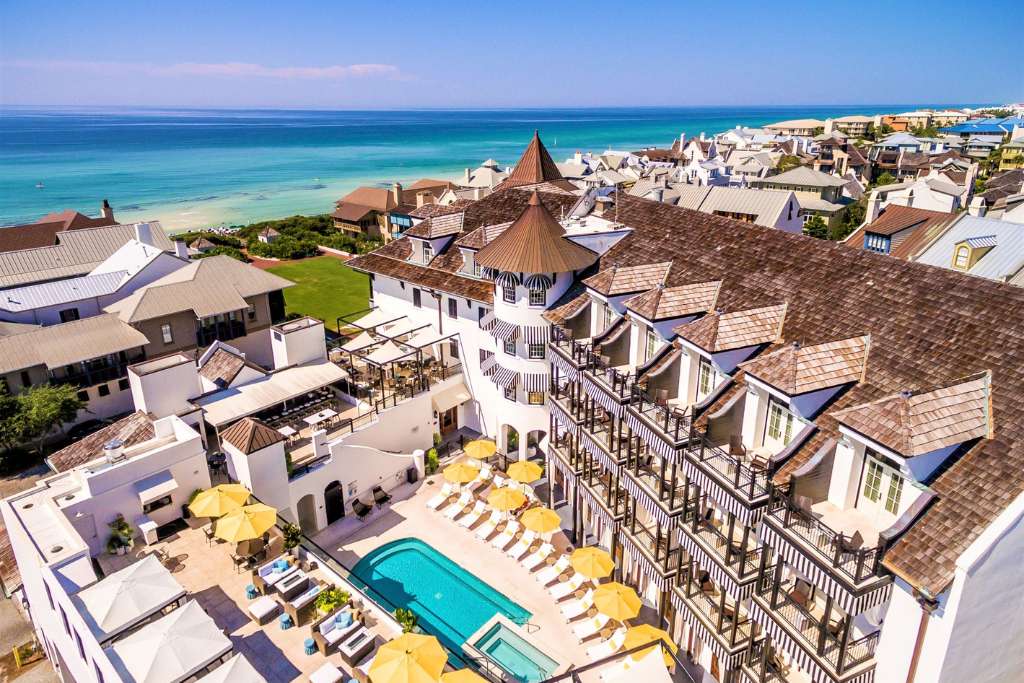 Rosemary Beach, on Florida's laidback northwest coast, off Scenic Highway 30A, offers an unexpected oceanfront downtown. Think cobblestone streets, lighthouses, pastel cottages, old-school trolleys, and a plethora of coffee shops, cafes, and restaurants. The beach, never crowded, is stunning as is the 18-mile bike trail that meanders through South Walton's coastal dune lakes and villages.
Where to Stay: The Pearl
You will know it by its signature black-and-white awnings and turrets. The 55-room The Pearl Hotel, with private beach access, features a coastal chic aesthetic with tropical-inspired decor. Walk to downtown, lounge under one of the hotel's black-and-white umbrellas on the beach, opt for pearl-inspired spa treatments and savor farm- and sea-to-table cuisine at the Havana Beach Bar & Grill. End your day with drinks in the hotel's speakeasy-style, adults-only lounge.
Delray Beach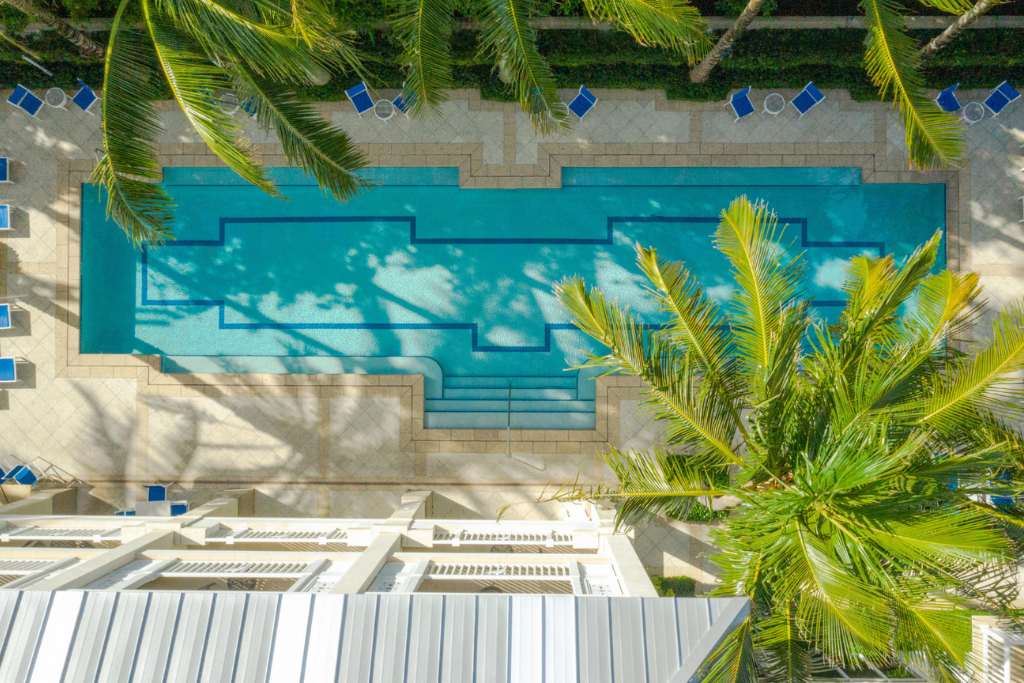 Located between Boca Raton and West Palm Beach, this small Florida city is known equally for its beaches (among the most beautiful in the state) and its art. Home to the Pineapple Grove arts district, Delray Beach offers a trove of galleries, boutiques, and chic eateries. The Morikami Museum & Japanese Gardens is yet another treasure.
Where to Stay: The Seagate Hotel & Spa
The Hamptons meets Key West charm at The Seagate Hotel & Spa, renowned for its iconic Beach Club with private beach access, Hockney-esque swimming pool, and spacious rooms — the most spacious on Atlantic Avenue. Lounge under striped cabanas by the pool or beach, slip into the spa for a plethora of relaxing treatments, or enjoy a romantic dinner at the surf's edge.
Apalachicola
With a population of only 2,230, there may be more oysters in this small town (a.k.a. The "Oyster Capital of the World") than people. Located in Florida's tranquil panhandle, Apalachicola is laden with historic 1830s homes. Stroll the Scipio Creek boardwalk along the estuary, savor the local seafood: oysters (of course), shrimp, and crabs. And spend time on the nearby unspoiled beaches of St. George's Island.
Where to Stay: The Gibson Inn
This self-described "New Old Florida" hotel — originally constructed in 1907 and listed on the National Register of Historic Places — comes with a rich history and is heavy on the Southern charm. Each of its 45 rooms is light and airy (lots of whites and blues); the historic and iconic Parlor Bar today serves craft cocktails. There is also a billiards room, wrap-around porches, Bentley chauffeur service, and complimentary bicycles for exploring.
Palm Beach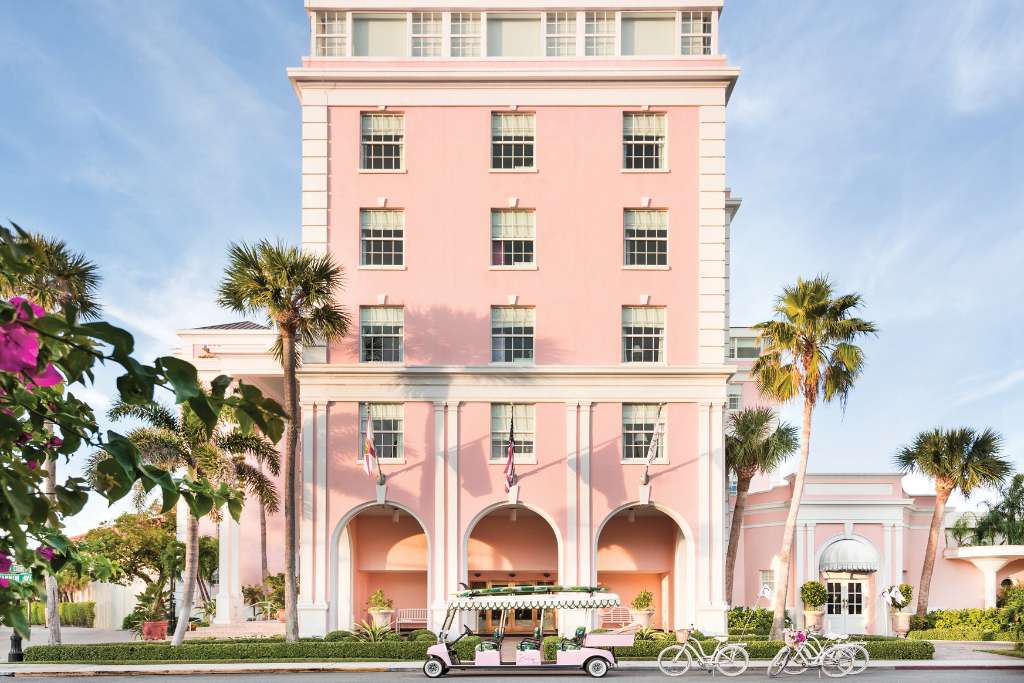 Home to gilded mansions and Worth Avenue shopping, South Florida's Palm Beach has always been linked to extravagance, opulence, and socialites (Kennedy, Pulitzer). But there is history too (the Henry Morrison Flagler Museum) and truly stunning beaches and parks. Be sure to pack your pink (shoes, dress, shirt, bag); the hue is forever a favorite here.
Where to Stay: The Colony Palm Beach
We have a few faves in town. But we love the pink-hued (reportedly the pinkest in town) The Colony, which since the late 1940s has been welcoming dignitaries and film stars. Recently renovated (in celebration of the hotel's 75th anniversary) rooms exude an Old Palm Beach vibe. Among the many amenities: beach butlers who deliver gourmet snacks in Yeti coolers, beach cruisers, Matouk linens and robes, and art from significant Palm Beach photographers.
Seaside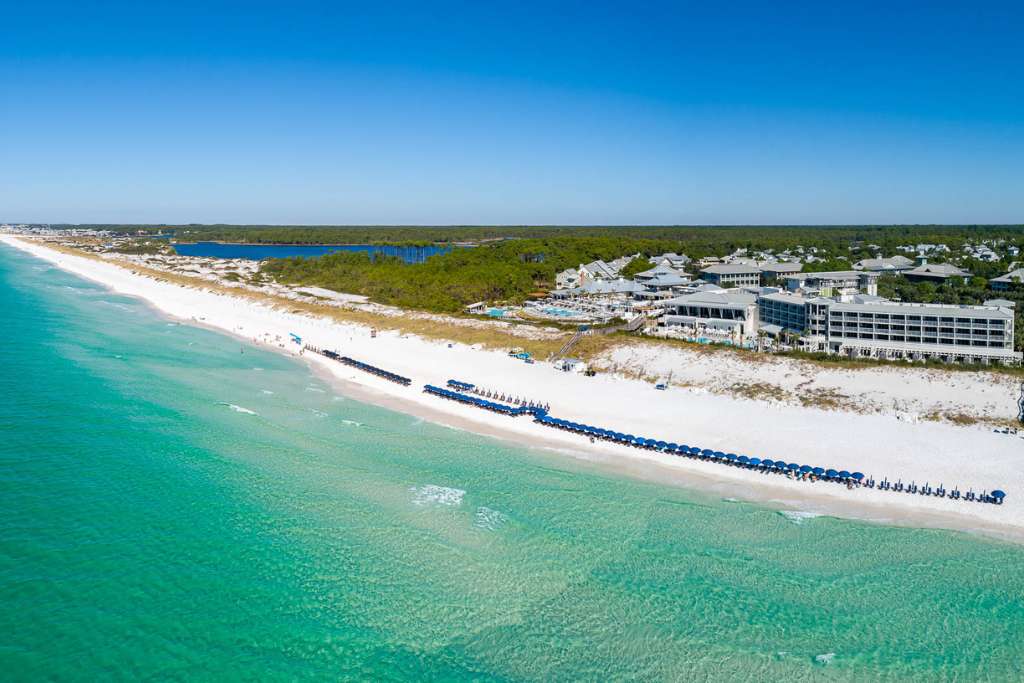 If you watched The Truman Show (starring Jim Carrey, Laura Linney, and Ed Harris), you may recognize this colorful coastal town lined with pastel houses, as it served the film set. Feasibly Florida's prettiest town, the pink, blue, yellow homes are offset by sugar-white beaches and turquoise sea. Downtown is laden with coffee shops and cafes, along with food vendors in silver airstream trailers. Once there, you can move easily about (by foot or bike) without a car.
Where to Stay: Watercolor Inn & Resort
Close to residential Seaside (in Santa Rosa Beach), The Watercolor Inn — designed by architect David Rockwell — is set on 500 acres between the Gulf of Mexico and a coastal dune lake. The hotel features 67 rooms and suites and is best known for its Southern hospitality and stellar views. Enjoy the complimentary standup paddle boards and kayaks, and the homemade cookies delivered nightly at turndown.
St. Augustine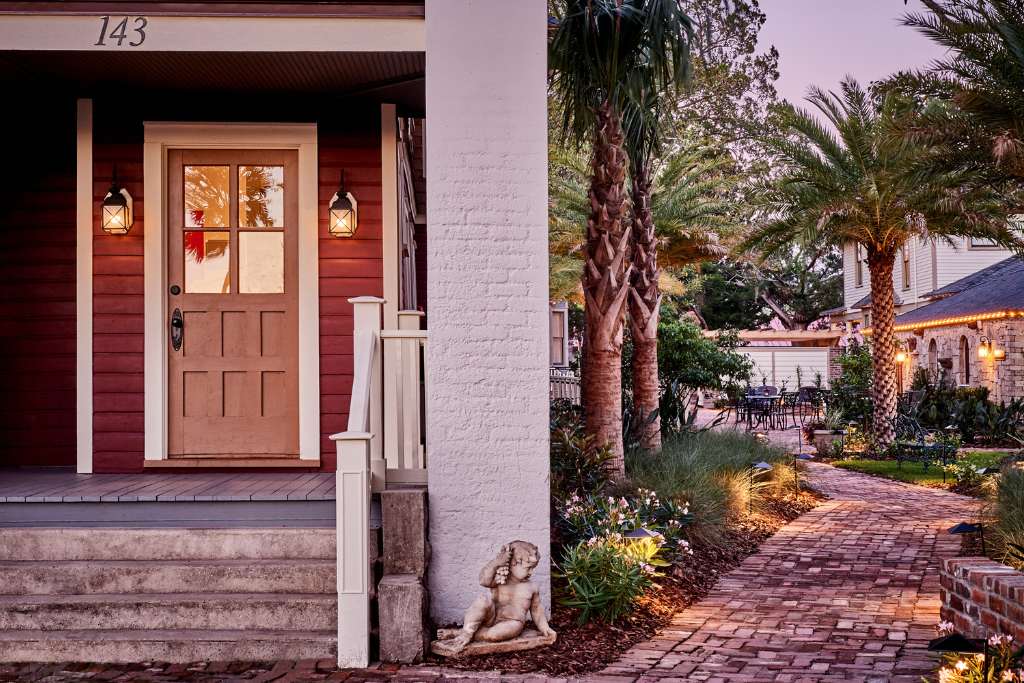 The oldest city in the United States — settled by the Spanish more than 450 years ago — St. Augustine offers a living and picturesque history lesson. Walk the cobblestone streets, take in the stunning architecture and museums, and spend time on the beaches. St. Augustine is, of course, also the home of Ponce de León's Fountain of Youth Archaeological Park and Flagler College, a former hotel built by Florida magnate Henry Flagler in 1887.
Where to Stay: The Collector Luxury Inn & Gardens
This restored, adults-only, 30-room hotel stretches an entire block in downtown St. Augustine. Talks with art and history docents, watercolor paintings with local artists and walking tours are all part of the experience. Rooms are uber romantic with original fireplaces, coquina walls, rough-hewn linens and silks.
Gasparilla Island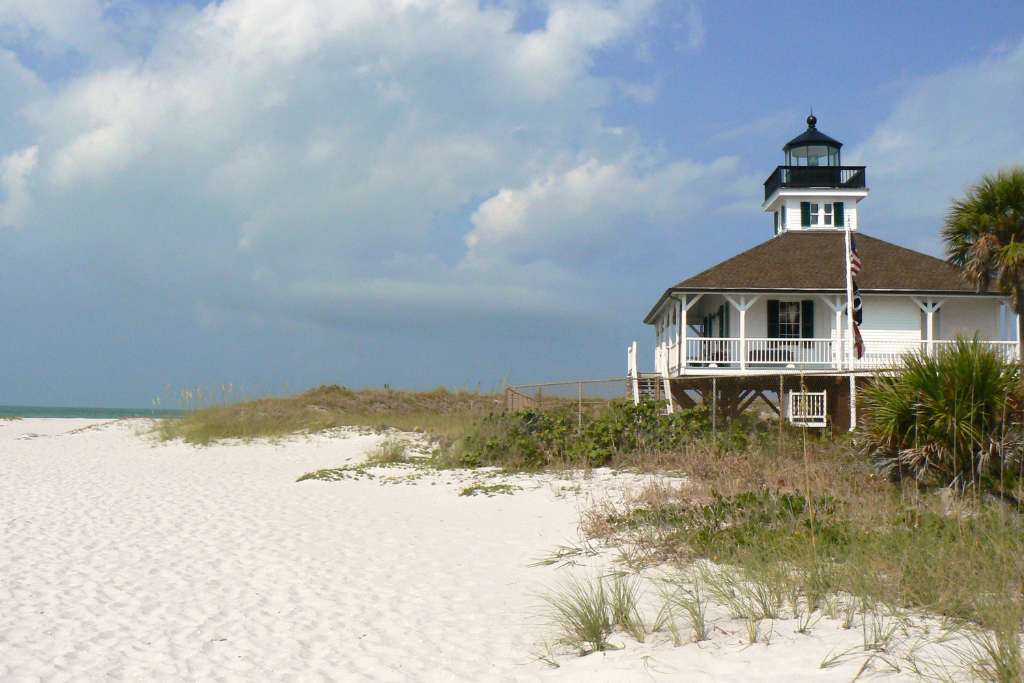 Legendary actress Katharine Hepburn vacationed on this idyllic island off the Gulf Coast between Fort Myers and Tampa. Known as "The Tarpon Fishing Capital of the World," the village of Boca Grande is a magnet to both fishermen and shellers who come for the island's treasured seashells and sand dollars. Home to two lighthouses and magnificent sunsets, the island is void of traffic lights. Most get around on foot, bike, or in golf carts to get where they want to go — the beach or village, lined with palm trees, restaurants, and boutiques.
Where to Stay: Gasparilla Inn & Club
This classic old Florida resort (circa 1913) is a Historic Hotel of America Landmark Inn. Completely renovated, the hotel's 142 rooms, suites, and cottages are flooded with natural light and feature a soft, soothing (yet tropical) color palette of soothing greens, yellows, creams and sea blues.
Feature photo image courtesy of The Pearl