Some places just call you back, but (for me) none so much as one special little hotel in Malibu, California, not far from my longtime LA home, and where I've marked significant chapters in my adult life. When I first checked into The Surfrider Malibu, it was then a newly opened 20-room boutique hotel that felt akin to an effortlessly chic beach house boasting clear views of California's renowned surf breaks. A single, globe-trotting 30-something at the time, I arrived solo and thrilled — at not only living my Malibu fantasy but at the opportunity to converse over craft cocktails with the hotel's visionary owners. Young, cool, easygoing Aussie with impeccable taste, Emma Crowther-Goodwin owned and opened the hotel with her Californian surfer-architect husband, Matthew Goodwin. Everything they had created spoke deeply to my jet-set surfer girl sensibilities, an energy I'd craved even growing up smack dab in the middle of Georgia.
Upon arrival, the double-height lobby area, complete with cozy living room-like loft, had me at hello, but I swooned extra hard over my accommodation, the Surfrider Suite. Its shiplap walls, Belgian linen slip-covered sofa, braided jute rug, original Picasso line drawing, and minimalist wooden four-poster bed screamed California cool. It felt designed to lower blood pressure, especially thanks to the waffle-textured Parachute bathrobe, hand-braided-in-the-Amazon buriti palm hammock (a sublime place to exist come afternoon), and locally handmade custom soy wax candle, tagged with the hotel's coordinates. Its wick was dancing with a flame when I walked in, infusing the room with the bright, delightful scent of sage, orange, and tangerine.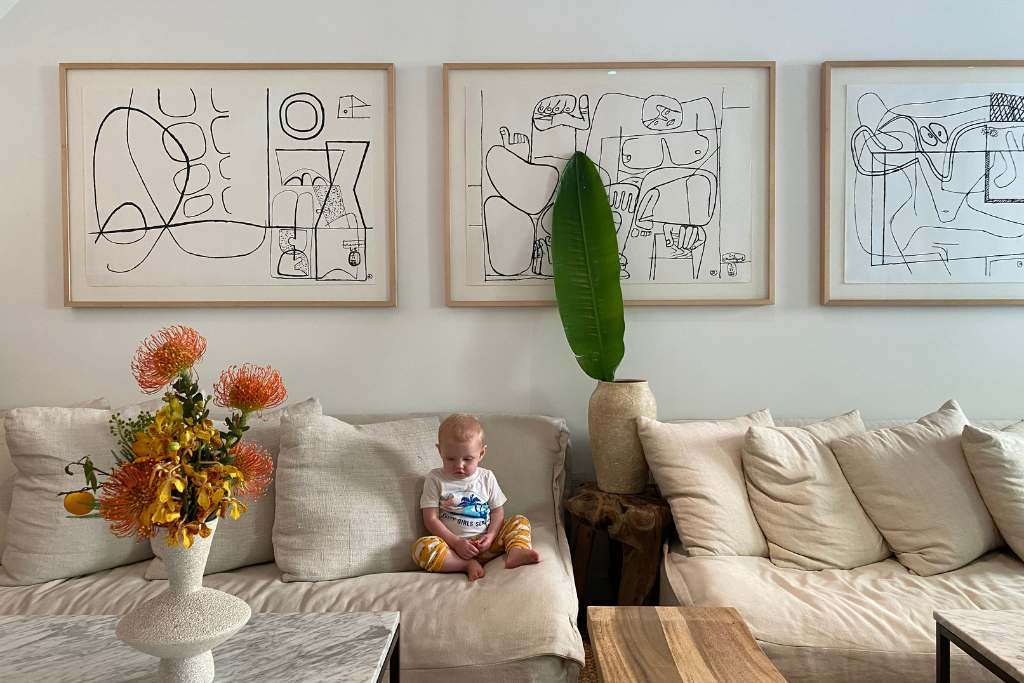 Everywhere I stepped revealed another detail or space of which to be enamored: the verdant back corridor framed with lush tropical greenery that I've been fortunate to watch mature and thicken over the years; the free-to-borrow Malibu-shaped surfboards and SUPs; and the avocado smash. The now-ubiquitous toast — an Australian import — was locally baked sourdough sprinkled with pea shoots and edible flowers, Meyer lemon oil, and Big Sur Salts' Tassafari blend, and it was the best of my life. The hotel's exclusive-to-guests rooftop, where I slowly savored the toast, certainly upped the dish's exceptionality. If ever there was a place to be a surf voyeur, this is it. The open-to-the-elements restaurant, bar, and fire table–accented lounge is intimate but also expansive, embracing panoramas of not only Malibu's historical and legendary Surfrider Beach and First, Second and Third Point breaks, but the circa 1905 Malibu Pier and Santa Monica Mountains. Every seat is beyond cushy and within view of something virtually guaranteed to take your breath away.
Returning as a Party of Two
Of course, a longtime dream was to eventually have a travel (and life) partner. Lucky me, the next time I returned to the hotel (and room) was as a party of two — technically two and a half — as a pandemic babymoon with my new husband. Venturing carefully just 45 minutes from our then-home, we donned wide-brimmed straw hats and melted into the place that is so laid-back, beachy, and, perhaps most exciting to a pregnant person, barefoot. I never wore shoes on the rooftop, it just didn't feel right.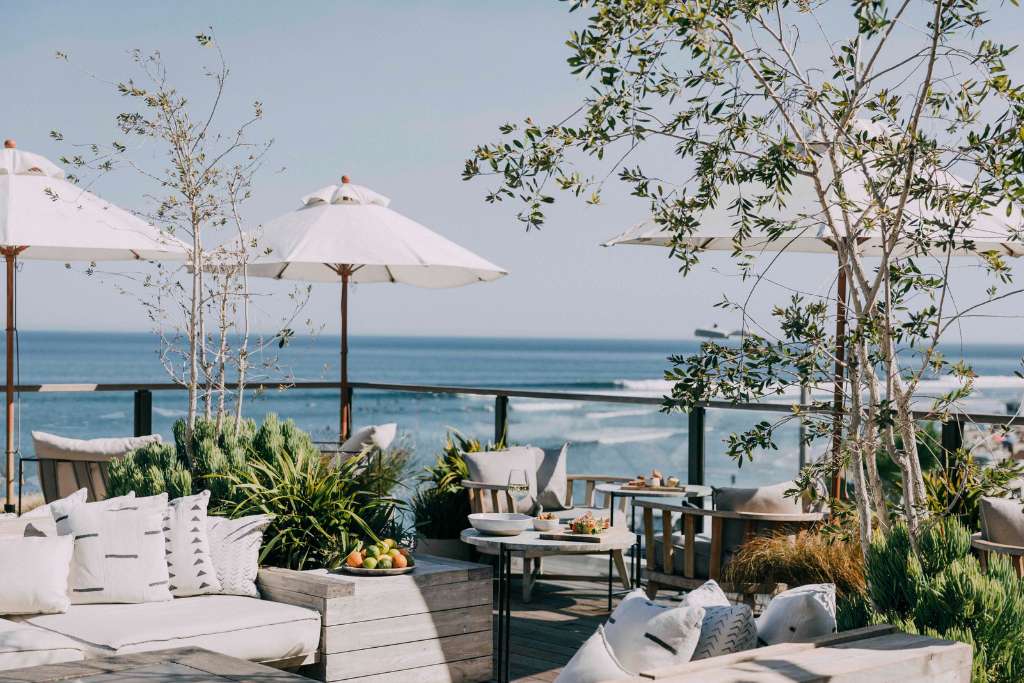 We indulged in hand-rolled pasta and sustainably caught fish; I spent lazy afternoons with my nose in a book, occasionally peeking out to watch a surfer stylishly catch a long right-hander, and to admire my husband's hand in his sketchbook. We took long strolls on the beach, and went paddleboarding amid local wildlife. The foggy morning chill was the perfect condition for wrapping ourselves in robes and staring out into the nearly black and white abyss of the Pacific Ocean before the haze burned off and the sky brightened to blue. It was an entirely different energy than my last time — more insular, cuddly, and filled with love.
Before our Transcontinental Move
The sensations sweetened still when we returned two years later as the last stop before a big transcontinental move to Bali, our ebullient one-year-old in tow. We chose The Surfrider as our last hurrah in Los Angeles, the city where I'd resided for 15 years. This time a wooden crib consumed a bit of my favorite suite's real estate — the one I'd, by then, begun feeling partial ownership of — and the candle remained unlit as curious little hands don't mix with fire. It was like she sensed she'd already been there and settled right in.
It's the little things that always make me feel so taken care of, like the hand-drawn welcome cards and handwritten weather and surf report delivered to the room each morning. The cloud-like lounge chairs that force you to recline, relax and take it all in. They're impossible to work from, which is a very good thing.
Over the years the hotel has evolved, accouterments shifting ever so slightly and treasures added here and there. But the core of the experience has remained consistent, and I feel instantly at home when I climb the stairs to the lobby loft and see the Le Corbusier prints, Pray for Surf tapestry, and wide wooden bowls bursting with sunshine-yellow lemons. The lemons are a mainstay. The cheerful offerings, dotted throughout the property, made me smile particularly wide on that trip. They were like toddler catnip — our daughter obsessed over them and never ceased picking them up, placing them in new spots, rolling them and seeing how many she could hold. They were her favorite play toys and, wonderfully, ubiquitous.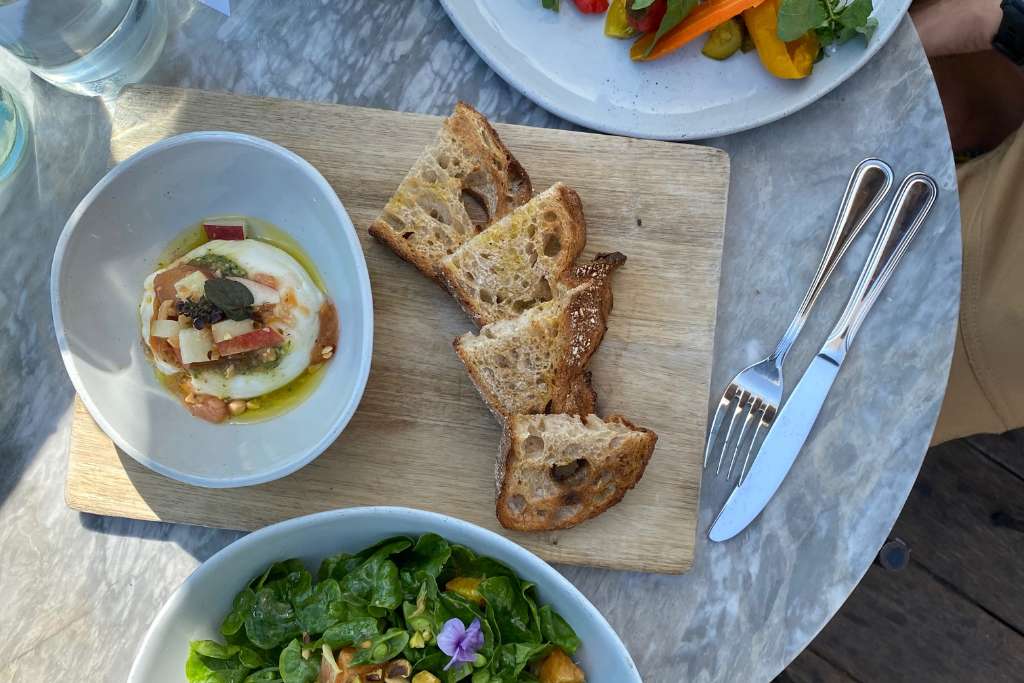 That time we ate well yet again — burrata, ceviche, spaghetti dressed in the ripest tomatoes and zested with lemon — while the sky changed colors before us and dolphins jumped by the pier. That sunset showing teased what was to come, as the next morning after we all snuggled in the California king bed, admired the bougainvillea bursting beyond our balcony, and threw on beanies to breakfast on the roof, we spotted hundreds of my favorite sea creature once again frolicking between the pier and waves.
We ran to get SUPs, grabbed our daughter, and rushed across Pacific Coast Highway to take turns paddling giddily between leaping dolphins, soaking up our last hours as Californians in the place that, to me, epitomized what I had always envisioned the moniker to be about. That memory, etched into my bones, acted as a flawless grand finale for our LA chapter. For us all it was, in a word, magical.
And Yet Another Major Life Milestone
This past summer we returned once more in yet stronger numbers as three and a half, with our second baby girl making herself known in my burgeoning belly. We were only stopping through LA, but it felt necessary to mark this passage of time and growth with yet another Surfrider visit. I am admittedly nostalgic and I love how it feels to commemorate these major life milestones in a consistent place, where even if the staff changes, the casual warmth with which they welcome us remains the same.
As expected, it was divine to take in that familiar view, once again ogle the surfers (after all I'd hung up my longboard until after baby comes), feel the sun's rays before they sink behind the hill, and dine on dependably delicious food set to an easy coastal soundtrack that always makes me want to Shazam every song. The vibe was still unimaginably cool yet un-intimidating. The lemons still attracted our now two-and-a-half-year old. Personable staff still made us feel like it was our own personal beach shack. And the beautiful weather bubble in which the hotel seems to exist — whether it's November, August, April, or July — was still intact.
As much as I thrive in faraway, foreign places, discovering unique cultures and flavors and architecture, there is something I find downright blissful about the familiarity of returning to not only an effortless hotel, but a specific room over and over and over. In this consistently exceptional setting, the discovery aspect of travel turns inward and becomes more nuanced. And the sense of connection is, truly, palpable.
Featured image courtesy of The Surfrider Hotel