Frequent visitors to Italy know that the soul of the country isn't in Florence or Venice or Rome. Rather, it is in the smaller lake towns, the ones that Italians visit during their escapes from the big cities. Here, la dolce vita comes in a long, leisurely lunch of crudo, fresh pasta, and grilled fish besides a sparkling expanse of water. While Lake Como is certainly the most famous, it's far from being the only lake in Italy. There's a whole cluster in the north, with their Alpine views and posh visitors cruising around in  Riva yachts, but there are also many others further south. What all have in common is their picturesque lakeside towns, charming hotels, and delicious cuisine. Among our favorites: 
Bolsena
Bolsena owes its name to a nearby, lovely lake, the largest volcanic lake in Europe. After being inhabited by the Etruscans and the Romans, it became a thriving trade center in the 13th century and continued into the 17th. Because it's in northern Lazio, where it nestles up against Umbria and Tuscany, it's a stone's throw from the storybook Civita di Bagnoregio, the sculpture garden in Bomarzo, and the epic religious procession in Viterbo. Bolsena itself is home to historic palaces and basilicas.
Stay
The 16th-century palace of the noble Cozza Caposavi family, Vesconte, was reborn as a guest house and transformed into a full-service hotel a few years later. Staying here isn't merely a visit to an opulent building but a venture into living history (the family still lives upstairs). Most recently, it opened a wine bar, where sommelier Gianni Casciani leads tastings in the ancient cellars of the Palazzo, and the restaurant Il Filo d'Oro, led by young chef Andrea Ranocchia.
Eat
Ristocantina Gio occupies a medieval wine cellar that the Etruscans excavated more than 2,000 years ago. Local chef Giorgio Bufalari recently returned from tenures in Michelin-star kitchens around the world to transform it into a gourmet destination. The menu emphasizes fish from the lake, as well as local produce and livestock.
Orta San Giulio
Orta San Giulio is a picturesque town on the shores of Piedmont's Lake Orta with narrow
cobblestone streets and colorful buildings. Romantic and picturesque, it's a maze of passageways and lanes, many of which date from the 15th or 16th century, surrounded by old stone walls. Several small squares invite lingering over coffee or a spritz (only amateurs say Aperol) or poking around in craft boutiques and antique shops. In June, the medieval atmosphere comes to life with a festival of ancient music, with concerts given in the 18th-century Casa Tallone.
Stay
The lakeside Hotel San Rocco is an ideal place to stay, with stunning lake views and winsome decor. Its owners, the Giacomini Group, have managed to combine the austerity of the architectural features with high-tech functionality and a commitment to sustainability. In 2002 the complex was enriched by the prestigious Villa Gippini, an elegant baroque building attached to the hotel.
Eat
Ristorante San Giulio serves traditional Italian dishes made with local ingredients, with a particular focus on freshwater fish and seafood, pasta, and tasting menus. The location is in an 18th-century building with a panoramic terrace on the mid-lake island of Isola San Giulio.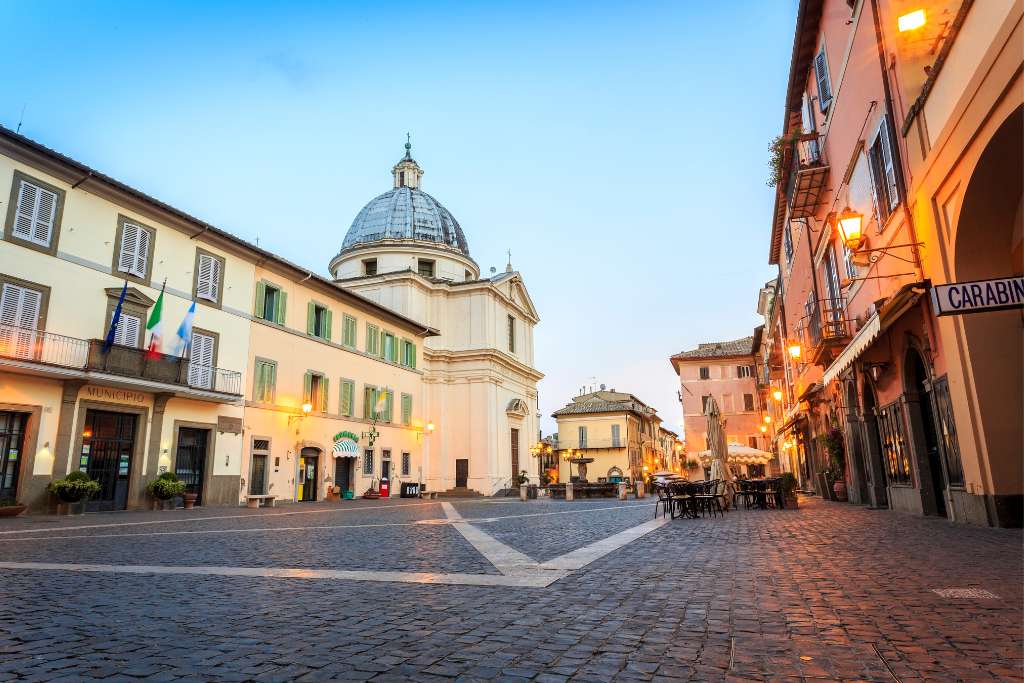 Castel Gandolfo
Castel Gandolfo is a quaint town on the banks of Lake Albano, just a short drive or train ride from Rome. It's a tiny place, with only about 8,000 permanent residents, but it has an outsized reputation. It was once the Pope's summer residence, with a palace that's still considered an enclave of Vatican City. It retains some of that grandeur, as well as a divine hilltop location with views over the volcanic crater lake.
Stay
The four-star Hotel Castelgandolfo has luxurious accommodations with stunning lake views. Its terrace is possibly one of the best places in Italy to begin the day with a cappuccino or wind it down with a glass of wine. The restaurant, Bucci, is divided between indoor and outdoor dining rooms and aims to create a "magical atmosphere" between the village and the lake.
Eat
Since 1882, Il Ristorante Pagnanelli has served traditional Roman cuisine with a modern twist, on a terrace with a dazzling lake view. The restaurant has been singled out by the New York Times, the Michelin Guide, and no less than actor and hotelier Robert De Niro himself, who praised its beautiful energy, passion, and creativity.
Bellagio
It doesn't get much more glamorous than Lake Como, and among the towns and villages that surround the lake, it doesn't get more glamorous than Bellagio. Sometimes called the Pearl of Lake Como, it's a village on a promontory that sticks out into the lake, known for its cobblestone lanes, elegant buildings, and Villa Serbelloni Park, an 18th-century terraced garden with lake views.
Stay
For more than 150 years, the Grand Hotel Villa Serbelloni has been one of the most prestigious hotels in the northern Italian lake district, and the only five-star in Bellagio. Each room is different, full of period furnishings and details, but all are elegant, and have access to the hotel's large gardens and private beach.
Eat
The hotel's fine-dining restaurant, Mistral, is listed in leading Italian food guides. Chef Ettore Bocchia sources local ingredients and uses them in tasting menus, which Michelin calls "moderately creative" — in an age of the overly avant-garde, we'll take that as a compliment.
Sirmione
Sirmione is a resort town on the southern bank of Lake Garda that's known for its thermal baths and the medieval Rocca Scaligera castle overlooking the lake. The Archaeological Site of Grotte di Catullo encompasses a Roman villa, a museum, and olive groves, and the church of San Pietro is decorated with beautiful frescoes.
Stay
The four-star Hotel Olivi has a classic, old-world design, stunning lake views, and a natural wellness center. Its 53 rooms have feminine colors, patterned wallpapers, and plenty of other romantic details.
Eat
La Rucola 2.0 sits on one of the most attractive alleyways in Sirmione, next to the Castello Scaligero. It holds a Michelin star for its a la carte and tasting menus that feel contemporary, and feature saltwater fish and seafood.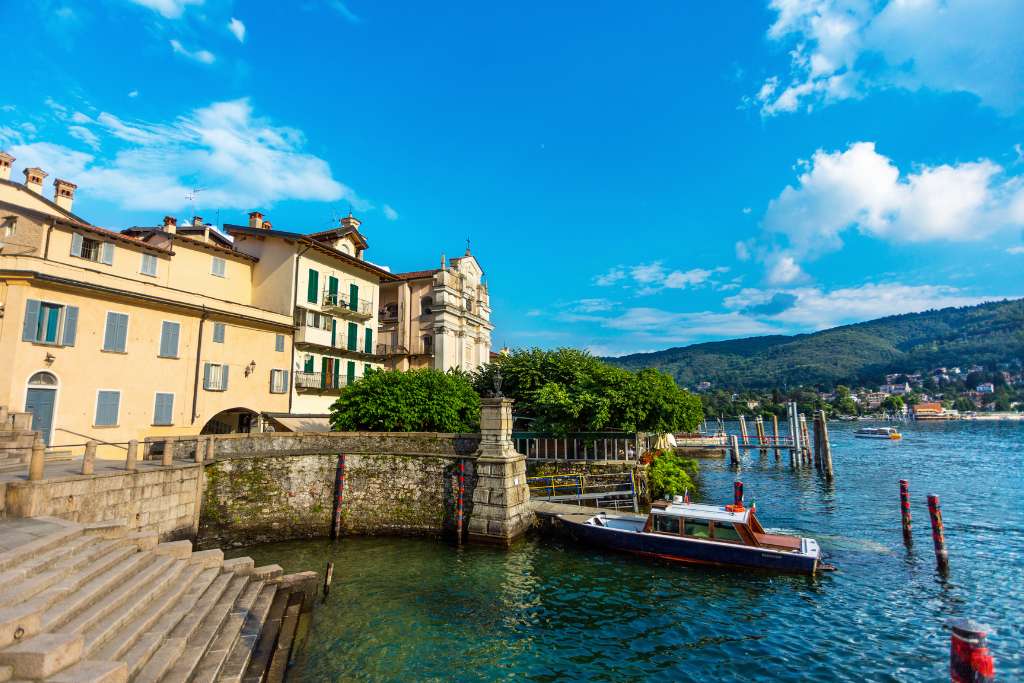 Stresa
On the shores of Lake Maggiore, Stresa is an idyllic town with excellent mountain views behind the lake. Its landmark buildings include Villa Pallavicino, with its gardens and zoo, and the Grand Hôtel des Îles Borromées, where Ernest Hemingway once stayed. It's the jumping-off point for the Borromean Islands, home to palazzos, villas, and the Museum of Dolls and Toys.
Stay
The lakeside Grand Hotel Des Iles Borromees is especially sumptuous, with its Art Nouveau rooms lavishly kitted out in purple, gold, and indigo. The grandest of all is the Hemingway Suite, which stretches out over more than 1,600 square feet.
Eat
The recently renovated Ristorante Lo Stornello has a casual but refined atmosphere and a menu that emphasizes products from Lake Maggiore and the Ossola Valley, as well as further afield from around Piedmont. Still unusual in Italy, the menu has an entire vegetarian section of fully realized dishes, and they can accommodate vegans.
Desenzano del Garda
On the south side of Lake Garda, Desenzano del Garda is steeped in history. It has the remains of a Roman villa, including elaborate mosaic floors. The Antiquarium displays artifacts excavated from the villa. The Rambotti Archaeological Museum displays items from the Paleolithic to the Bronze Age in a former convent.
Stay
The family-owned Piccola Vela is just a short walk from the historic center of Desenzano delGarda, The place is an exclusive villa that mixes history and modernity with a garden, a peaceful library, and a terrace with lake views.
Eat
At the Michelin-listed MoS, young chef Stefano Zanini has injected new life into an old trattoria right in front of the marina in the historic heart of Desenzano. His personalized cuisine focuses on seasonal ingredients, including meat and fish from the lake and sea.
Arona
Without the glitz and glamor of some of Italy's more famous lake towns, Arona is a charming enclave beside Lake Maggiore with a waterfront promenade, lovely piazzas, and mountain views. It developed as a Roman resort and grew exponentially in the Middle Ages, especially after it became the possession of the powerful Borromeo family, whose influence on Arona is seen even today, particularly in its churches and other sacred sites.
Stay
For a simple stay in the heart of Arona, the no-fuss Hotel Giardino has a lakefront location that's hard to beat. The rooms are comfortable and a good base for enjoying the surroundings.
Eat
Ristorante Vecchia Arona is a husband-and-wife project in the center of the lakefront that combines a refined atmosphere and traditional recipes with fresh ingredients and innovative approaches to gastronomy. There's a particular emphasis on fresh products from the lake.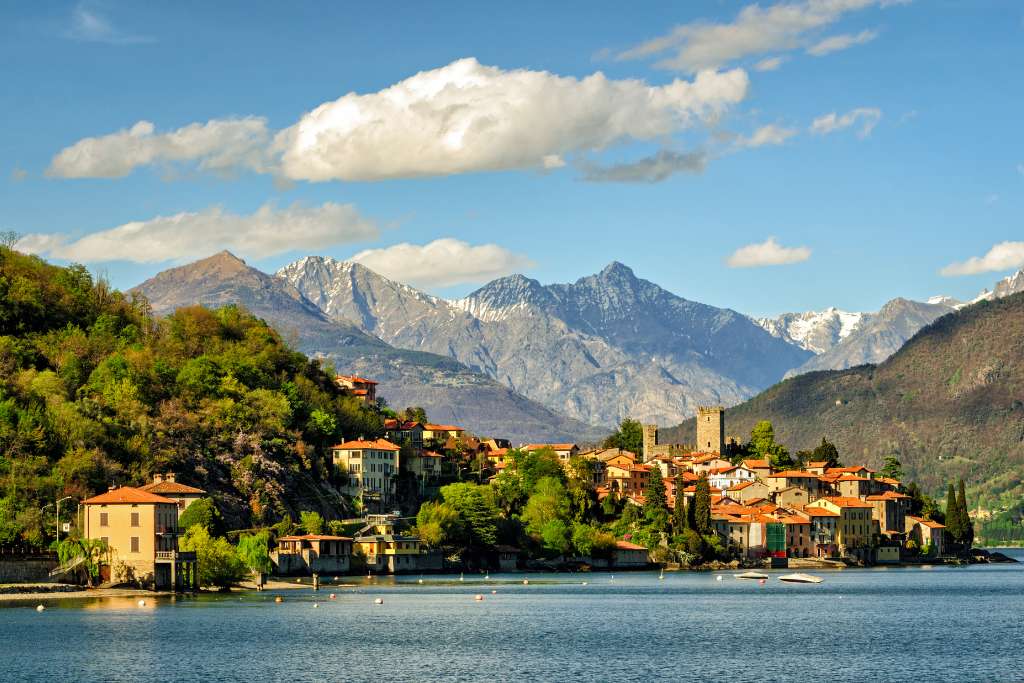 Como
The city that gives Lake Como its name, Como sits at the southern tip of the lake and is known for the Gothic Como Cathedral, a scenic funicular railway, and its waterfront promenade. It has a long history of silk production, which can be seen at the Museo Didattico della Seta, and the Tempio Voltiano museum honors Italian physicist Alessandro Volta. Just outside of town are stately villas such as Villa Olmo, which is known for its lakeside gardens.
Stay
The 15th-century Palazzo Albricci Peregrini is in the historic city center, inside the medieval walls and near the imposing Roman towers. The family-owned property is full of treasures that they've collected on their world travels, complemented by the work of local artisans.
Eat
Since 1813, Ristorante Sociale has been living up to its name, being a convivial place in the heart of Como, just steps away from the famous cathedral and the lake itself. After a location change 15 years ago, it's a place of fireplaces and frescoes, vaults, and exposed bricks beside the church of San Giacomo that serves modern renditions of typical northern Italian dishes.
Passignano sul Trasimeno
A bit off the beaten path, on the shores of Lake Trasimeno in Umbria, Passignano sul Trasimeno is a quaint town with a rich history. Among other things, it was home to a historic Italian airplane factory. Going further back in time, there's La Rocca, a medieval fortress that is now a museum, and Piazza Garibaldi, an attractive square fringed by ceramic shops and restaurants.
Stay
Hotel Lido is the only lakeside structure in Trasimeno, with 53 rooms and a private beach. Most of the rooms have lake views, and the restaurant is stylish enough to have inspired the classic Italian song "Una Rotonda sul Mare" (a roundabout on the sea).
Eat
The Michelin-listed Il Molo is a central spot that's a good choice for people who like top-quality lake fish. The family of owners is using its ancestors' recipes for pike, trout, char, and other freshwater fish, including some surprising ones — Michelin singles out the carp in suckling pig.
Featured image courtesy of Canva