Narrowing down the best Airbnbs in Mexico is as difficult a task as deciding what city to visit first. But we've gotta say, we enjoyed the challenge. From stunning Airbnb coastal homes in Puerto Escondido and Tulum to colonial-style Airbnbs in colorful Merida, each of these stunning Airbnbs offers its own signature and charm.
Punta Mita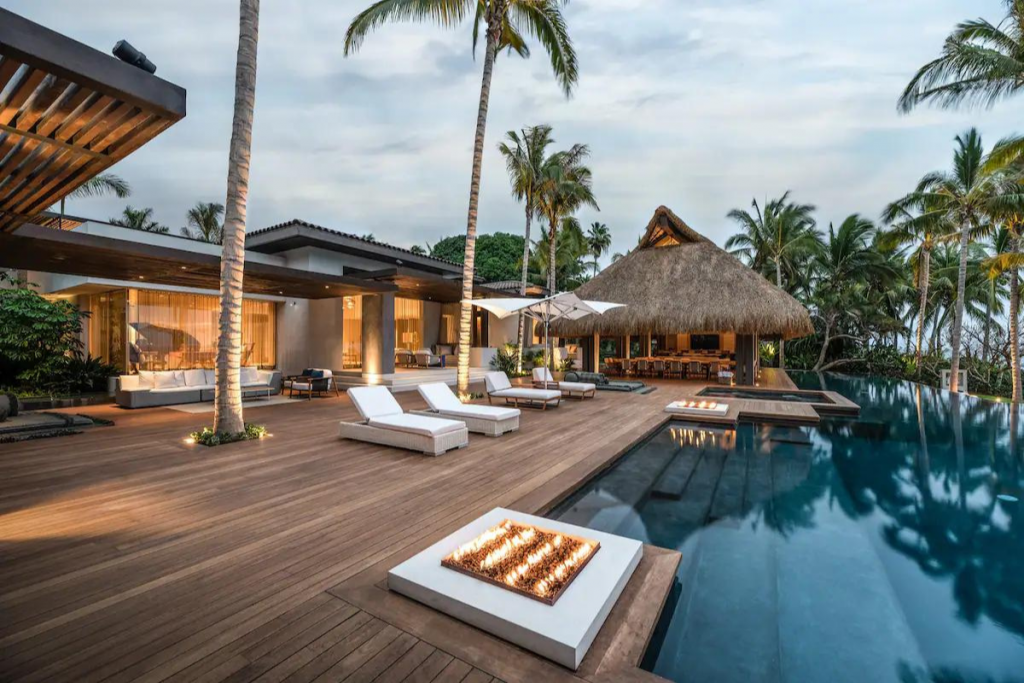 A secluded peninsula located just an hour from Puerta Vallarta, Punta Mita is best known for its stunning natural beauty. This spacious 10-bedroom, fully staffed waterfront Airbnb is built to entertain with an infinity pool, bowling alley, bocce court, golf simulator, and watersports toys. If you can pull yourself away, a stay here includes access to four of Punta Mita's most exclusive beach clubs like Kupuri Beach Club for snorkeling in the calm waters, or for drinks at the Sufi Ocean Club.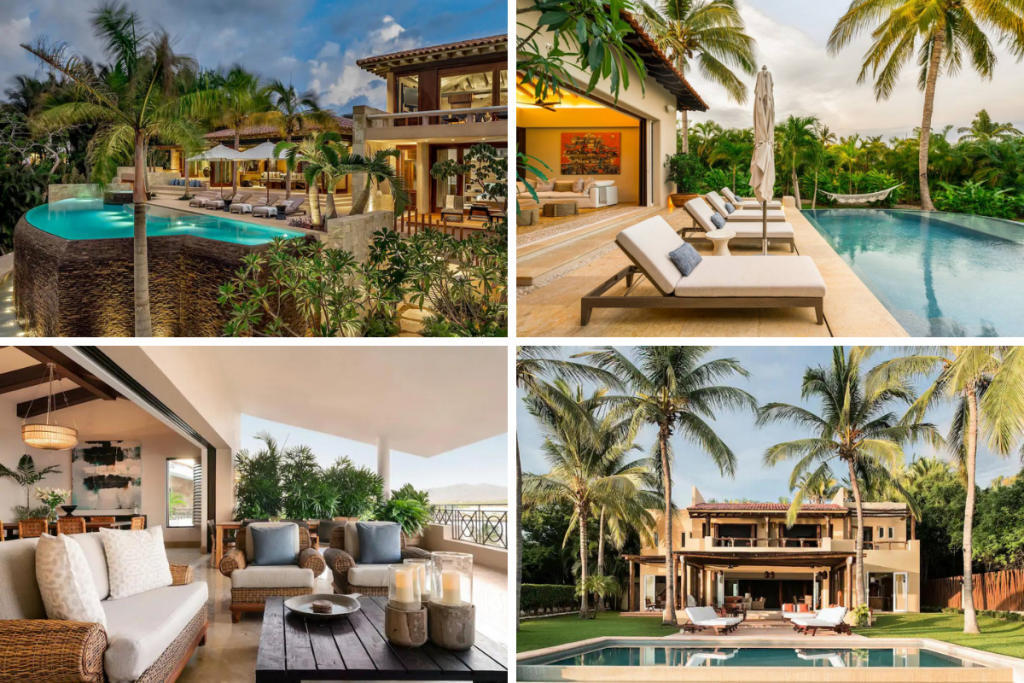 Also Consider: Casa Roka, El Encanto, Hacienda de Mita Penthouse, and Casa Tortugas
Cabo San Lucas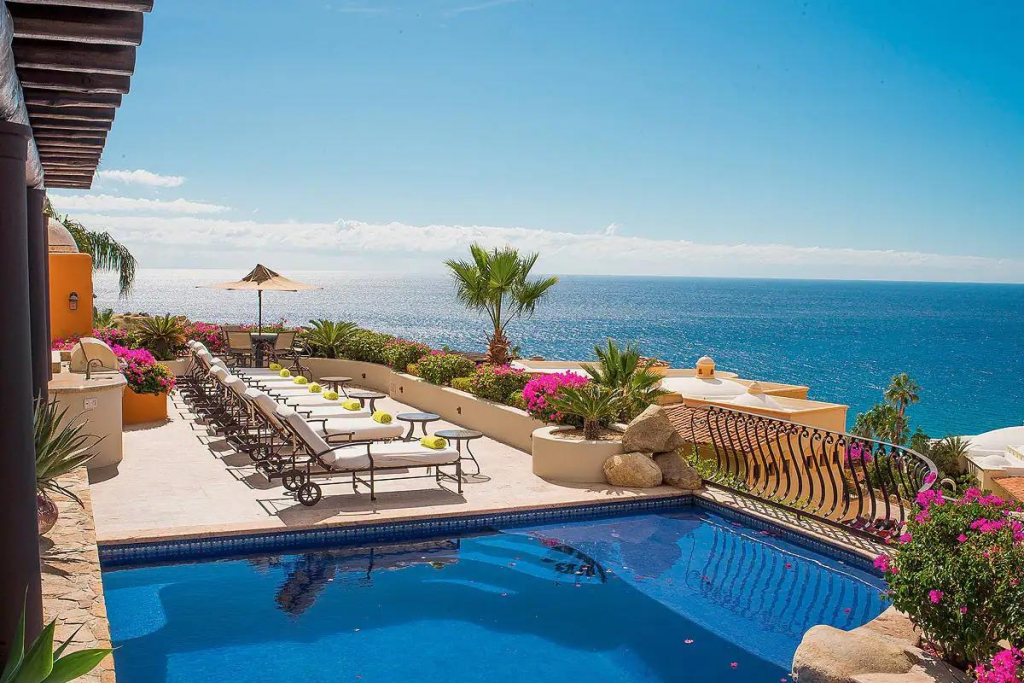 Soak up the Cabo sun at Villa Las Flores, a beautiful seven-bedroom property with so many amenities, it feels like a 5-star resort. Aside from the panoramic ocean views, private jetted tubs, and proximity to downtown Cabo, this luxury escape also boasts a gas fire pit, ample wine selection, a terrace for sun and shade, and two family suites perfect for multigenerational vacations. Primed for relaxation, the suite-style rooms are also outfitted with a jetted tub and steam shower and you can also enjoy the dreamy views from the gorgeous outdoor terrace and pool.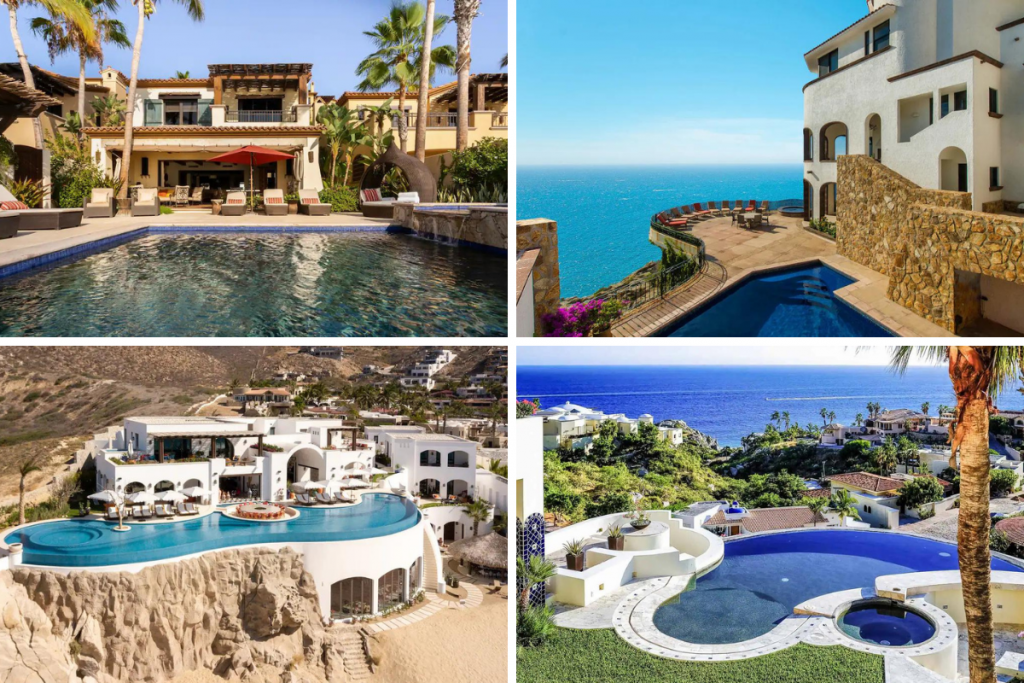 Also Consider: Hacienda Beach Villa, Villa Grande, La Datcha Cabo San Lucas, and Villa Perla de Law
Tulum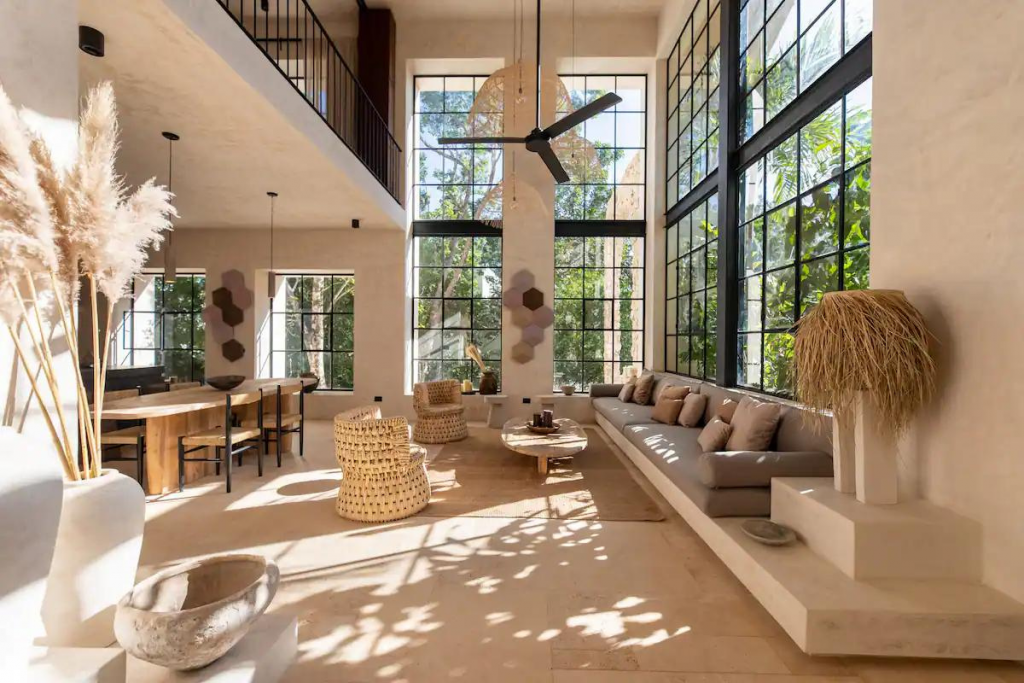 In Tulum, where the jungle and beach collide and the cool crowd gathers, there is no shortage of Airbnb Tulum luxury house rentals. This 2-bedroom luxury penthouse with its bright double-height ceilings, custom built-in couches, rooftop pool, and lush greenery that speaks perfectly to the chill vibe is one of our faves.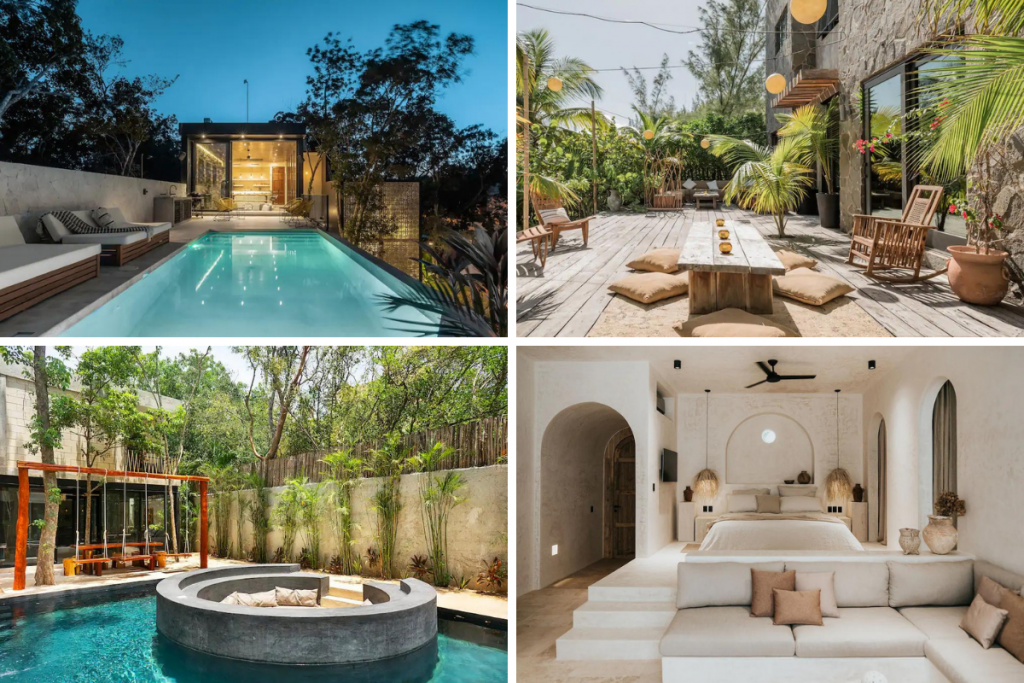 Also Consider: Villa LaGú, Casa Maya Kaan, Lux Concrete Jungle Escape, and Casa Sandalo
Merida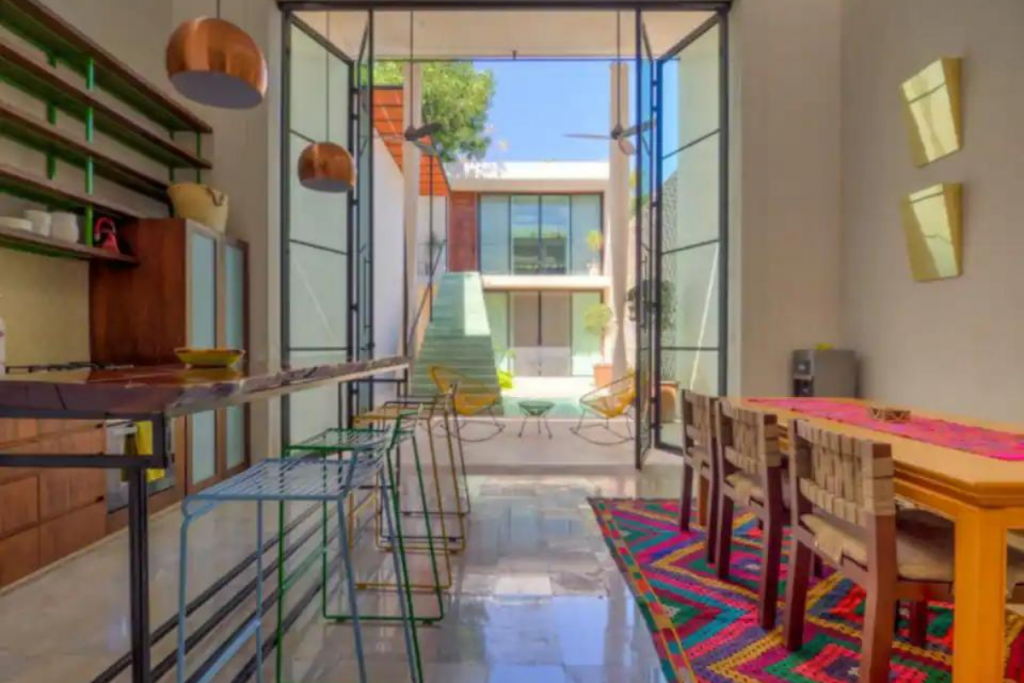 Merida is known for its stunning pastel-colored colonial homes, so staying in one is the best way to immerse yourself in the local way of life. This design-forward Casa Limonero Airbnb Merida is located in Santiago (one of Merida's best neighborhoods), and offers indoor-outdoor living with a private pool house feel. While the playful, vibrant furniture and textiles are a nod to the region's Mayan roots.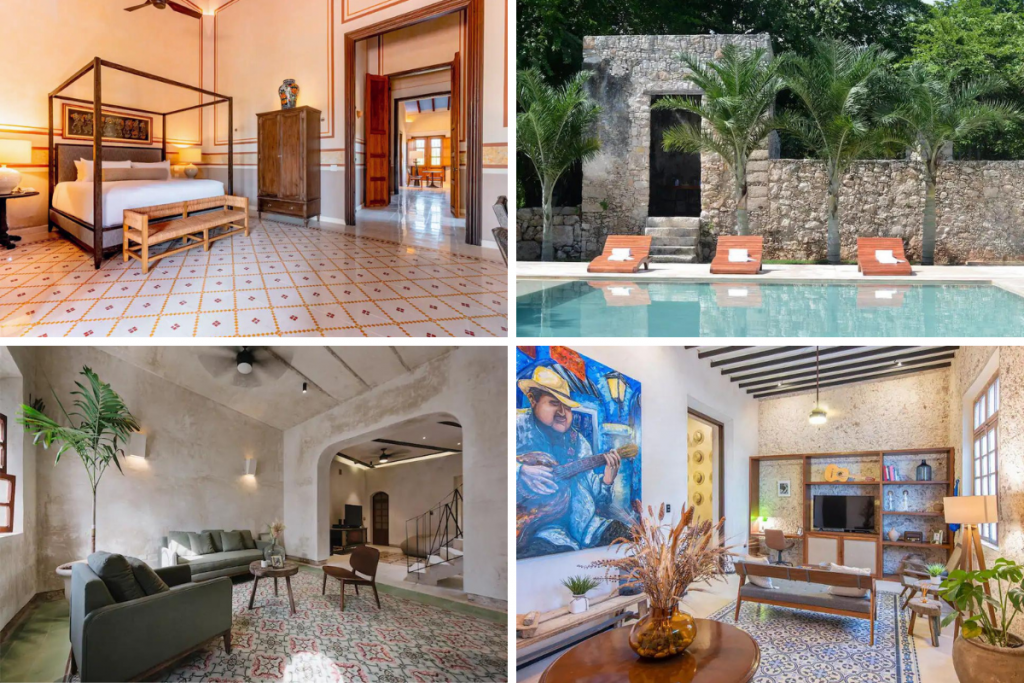 Also Consider: Hacienda San Antonio, 4 Bedroom Hacienda, CASA DECO, and Casa Trova
Sayulita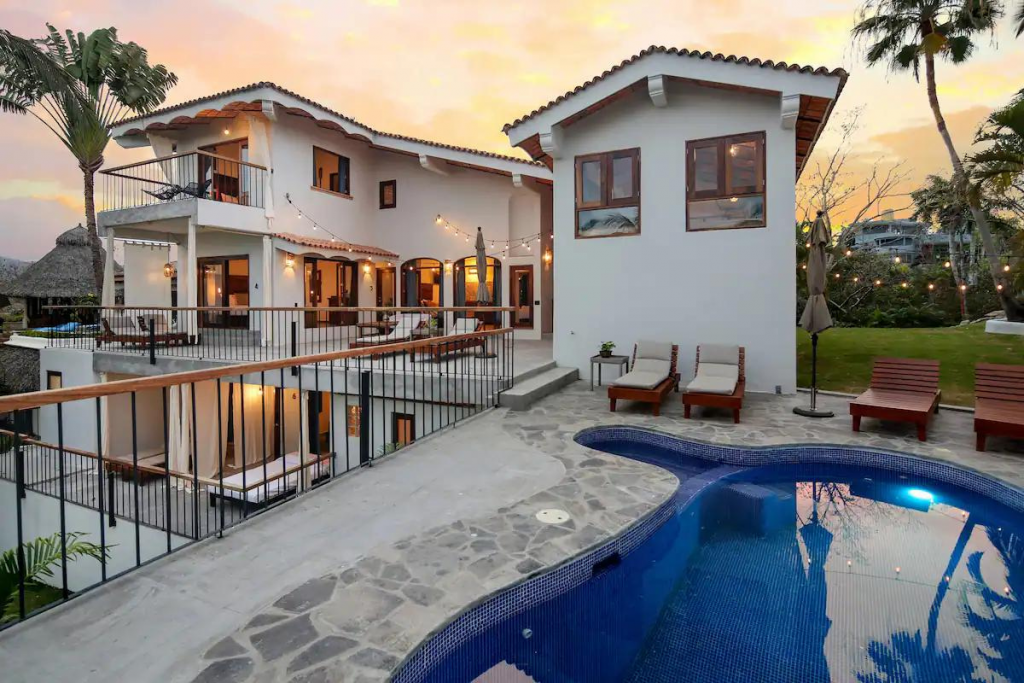 Those looking for a surfing trip, or to spend the day watching whales and dolphins, a trip to Sayulita is a perfect choice. Spend blissful days soaking in the sun and views from one of the many gardens, terraces, and pool decks of Casa Frida. The chic Airbnb Sayulita property features eight suite-style rooms, all equipped with a kitchenette and a private terrace, making it perfect for groups or families. On-site there is also an infinity pool, rooftop hot tub, cozy sun loungers, and more.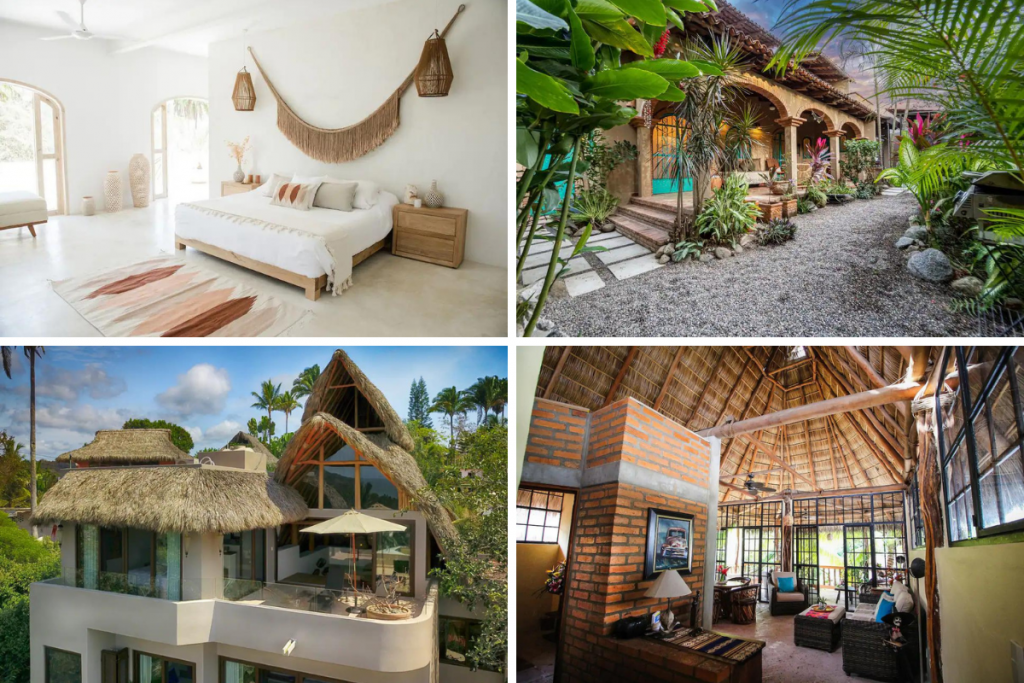 Also Consider: Litibu beach Hideaway, Garden Oasis, MÍSTIKA, and Palapa Style Home
Mexico City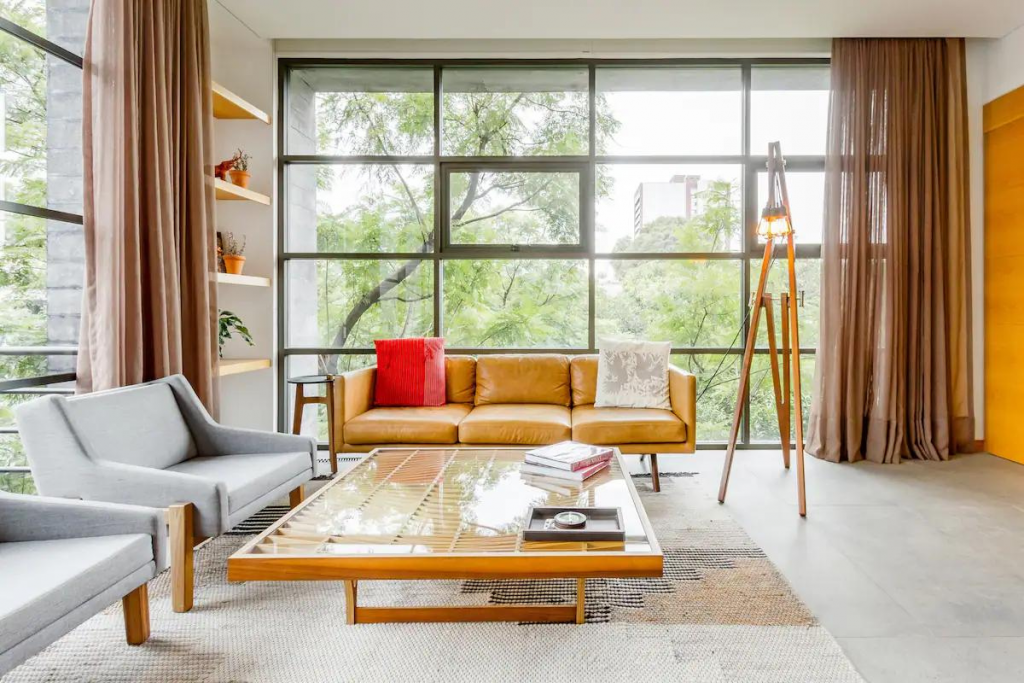 When exploring a buzzy city like Mexico City, you'll need a quiet place to recharge your batteries. Located in the incredibly hip La Condesa neighborhood (think of it as the Williamsburg of Mexico City), this modern two-bedroom Airbnb Mexico City apartment with a spiral staircase, large windows, and a private rooftop terrace offers access to the city's best dining and sites.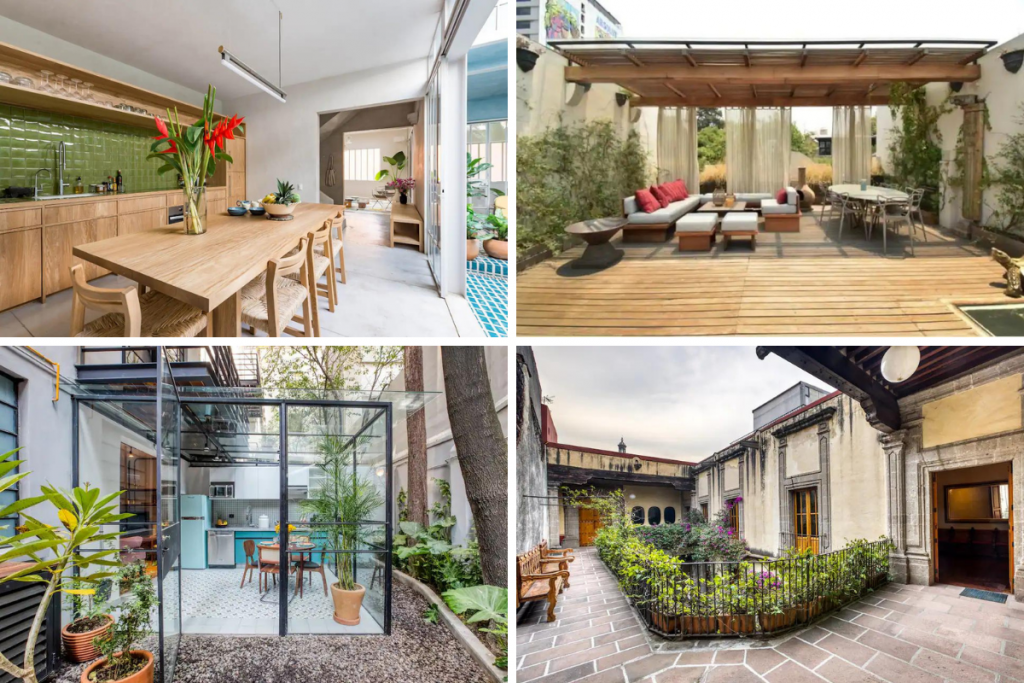 Also Consider: Casa Tepeji, Trendy 1900s House, Catarina, and Historic Mansion
Oaxaca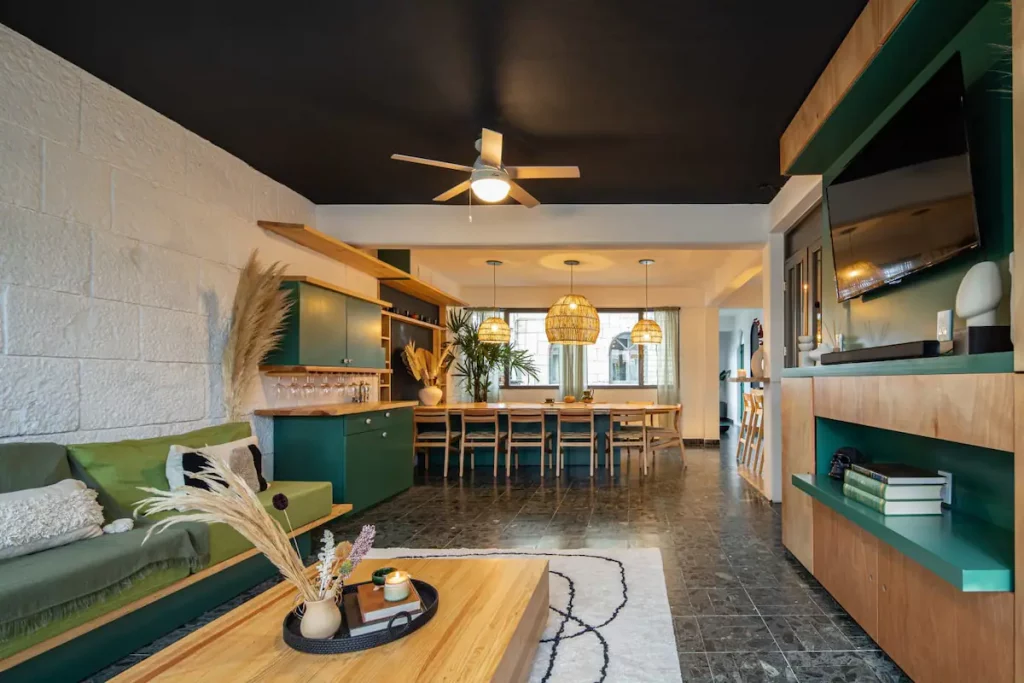 If you're a foodie, Oaxaca is probably already on your wish list for its varieties of moles and open-air kitchens. As for where to base yourself during your gastronomical stay, this spacious eight-bedroom Airbnb Oaxaca villa has an impressive fortress-style exterior and rooftop terrace with a hot tub looking out over the city. Inside the mid-century boho interior features colorful murals, rattan pendant lamps, and stylish jade green cabinetry.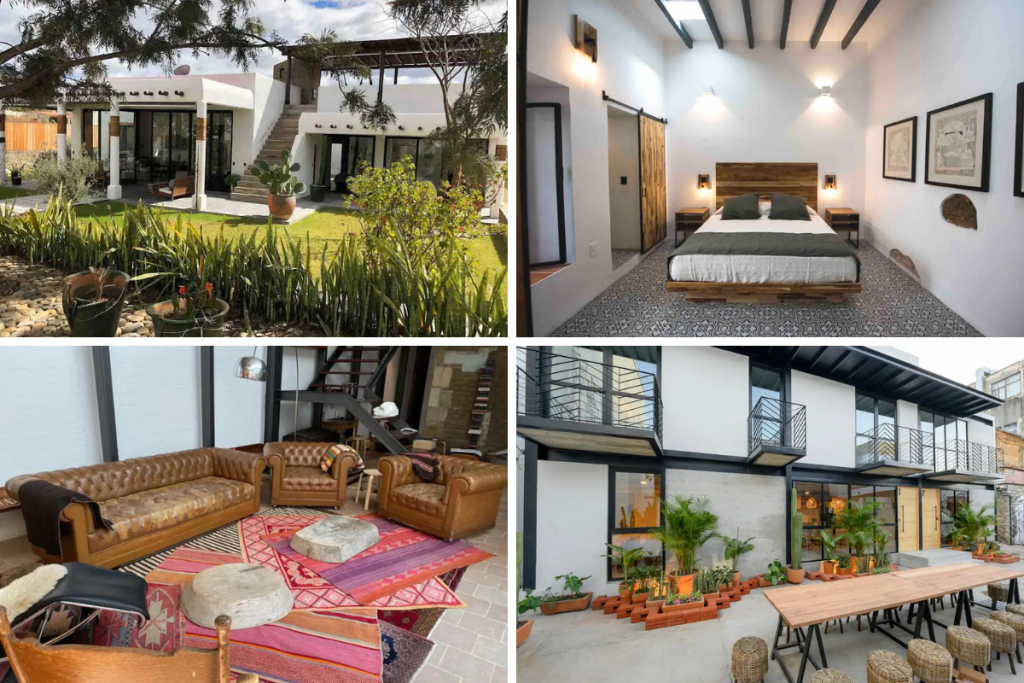 Also Consider: Casa Olivos, Las Magdalenas, Casa Ya'xe, and García
Puerto Escondido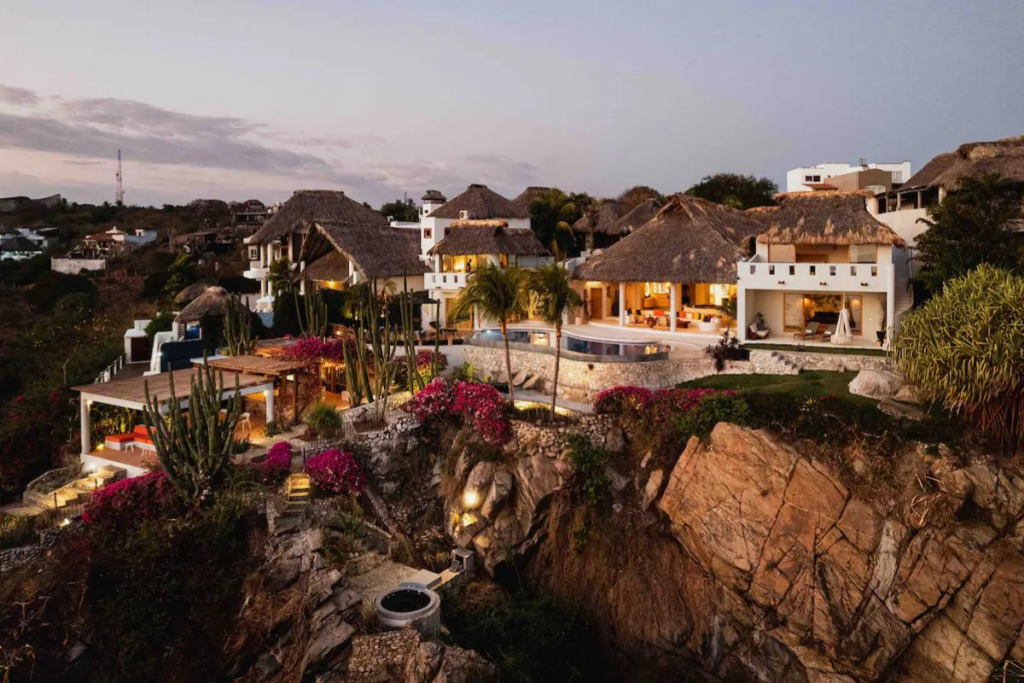 You'll feel like you're staying at a private luxury resort at this fully staffed five-bedroom villa perched on the cliffs of Puerto Escondito. The Airbnb Puerto Escondido property features Pacific Ocean views, a private spa, an infinity pool, and even a private chef who specializes in preparing Oaxacan cuisine. Depending on the season you can even spot whales and go flying fish from the comfort of your terrace.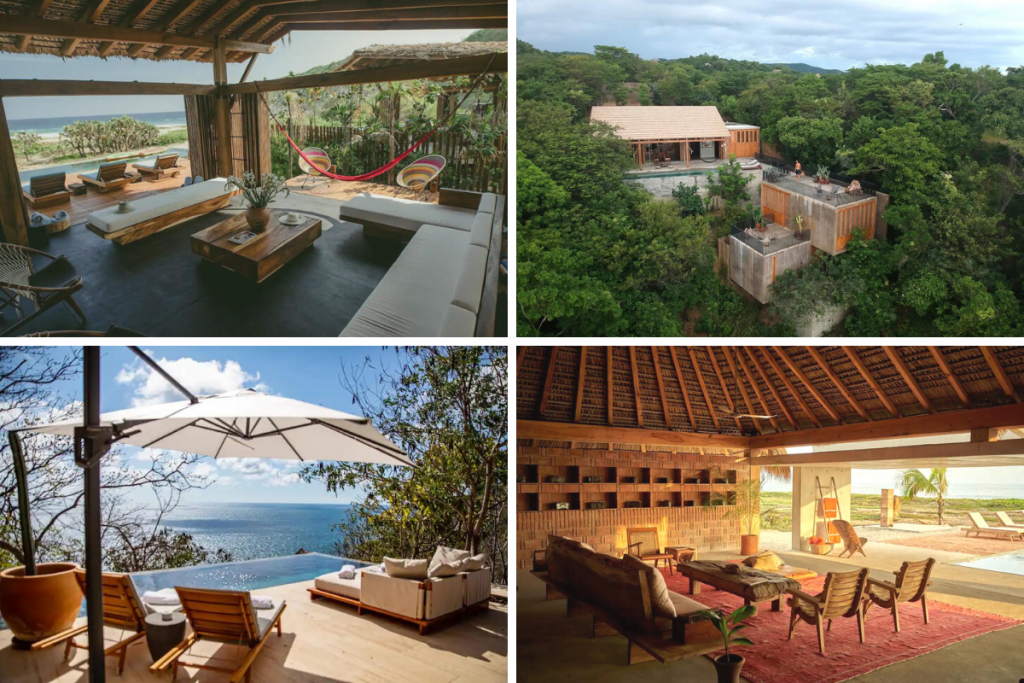 Also Consider: Casa Orgullosa, La Extraviada, Casa Cuachalala, and Las Marianas 1